KOKUYO DESIGN AWARD 2021
Report
An Opportunity to Reevaluate Products As Daily Life Changes Around Us
The Final Judging for KOKUYO DESIGN AWARD 2021 took place on March 13, 2021. One Grand Prix winner and three Merit Award winners were selected. The AWARD received 1,401 entries in total—795 from Japan and 606 from abroad. The Grand Prix went to "RAE" by Milla & Erlend from Finland. As a measure against COVID-19, the Final Judging and judges' talk show were streamed live online like last year.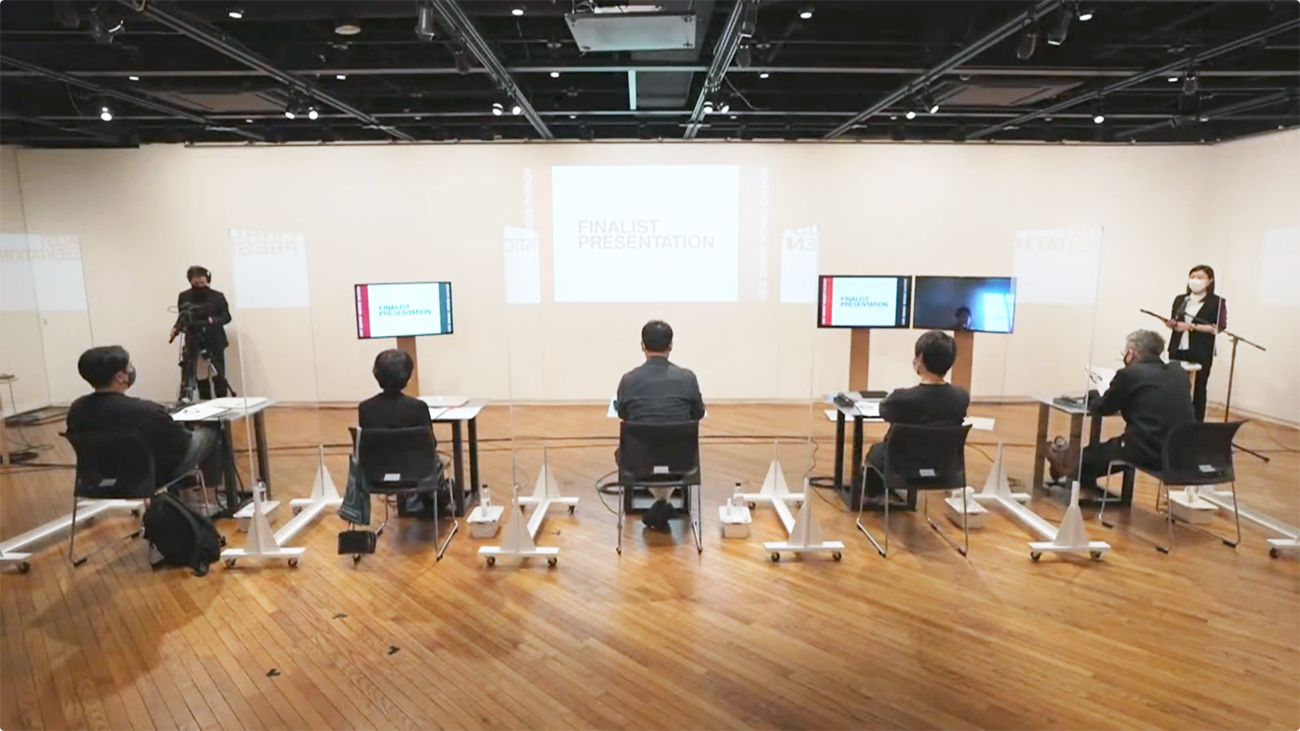 Going Back to the Origins as a Competition for Product Designs
The KOKUYO DESIGN AWARD 2021 marked the competition's 18th year, and its theme was "POST-NORMAL." With daily life changing significantly due to the pandemic, the judges chose a theme they hoped would inspire people to look again at the new normal and things around them, and think about what kinds of value will continue to be widely loved for a long time to come.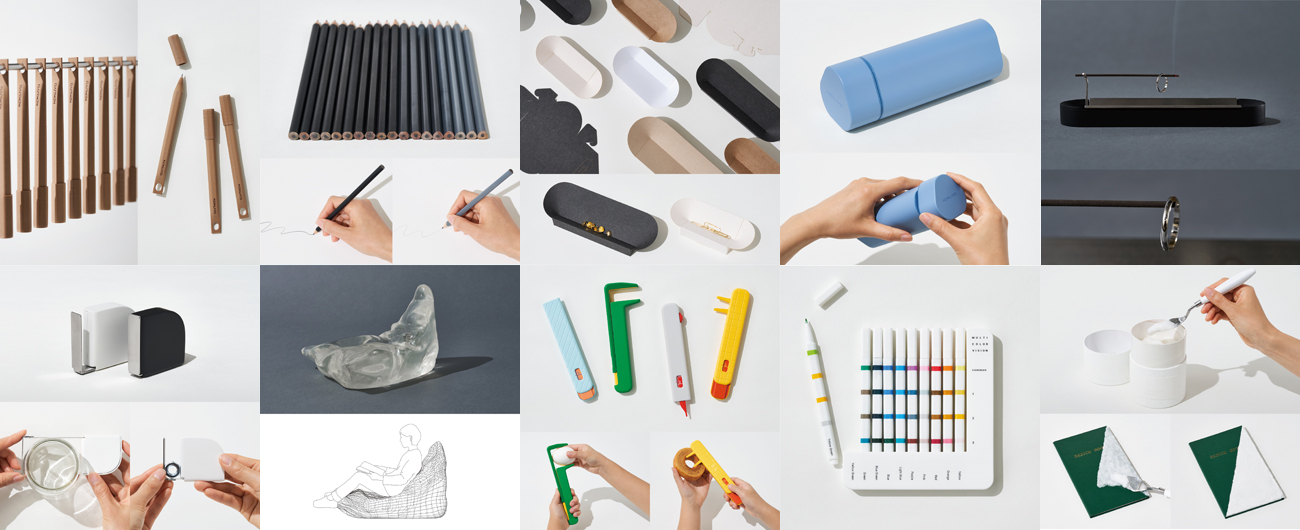 In recent years, as the level of the KOKUYO DESIGN AWARD has increased, the competition has begun to receive more works with conceptual designs than those with physical ones. In light of this, the judges expressed the opinion that it'd be nice to reset this trend. To that end, we decided to go back to the origins as a competition for product designs that include forms and materials as well as ideas and concepts.
A Finnish Work Won the Grand Prix
Pre-recorded presentation videos by the 10 finalists were shown at the final presentation judging. These were followed by a question and answer session at the venue or online. After that, the judges went into a separate room to judge the works and choose the award winners, while checking the prototypes again.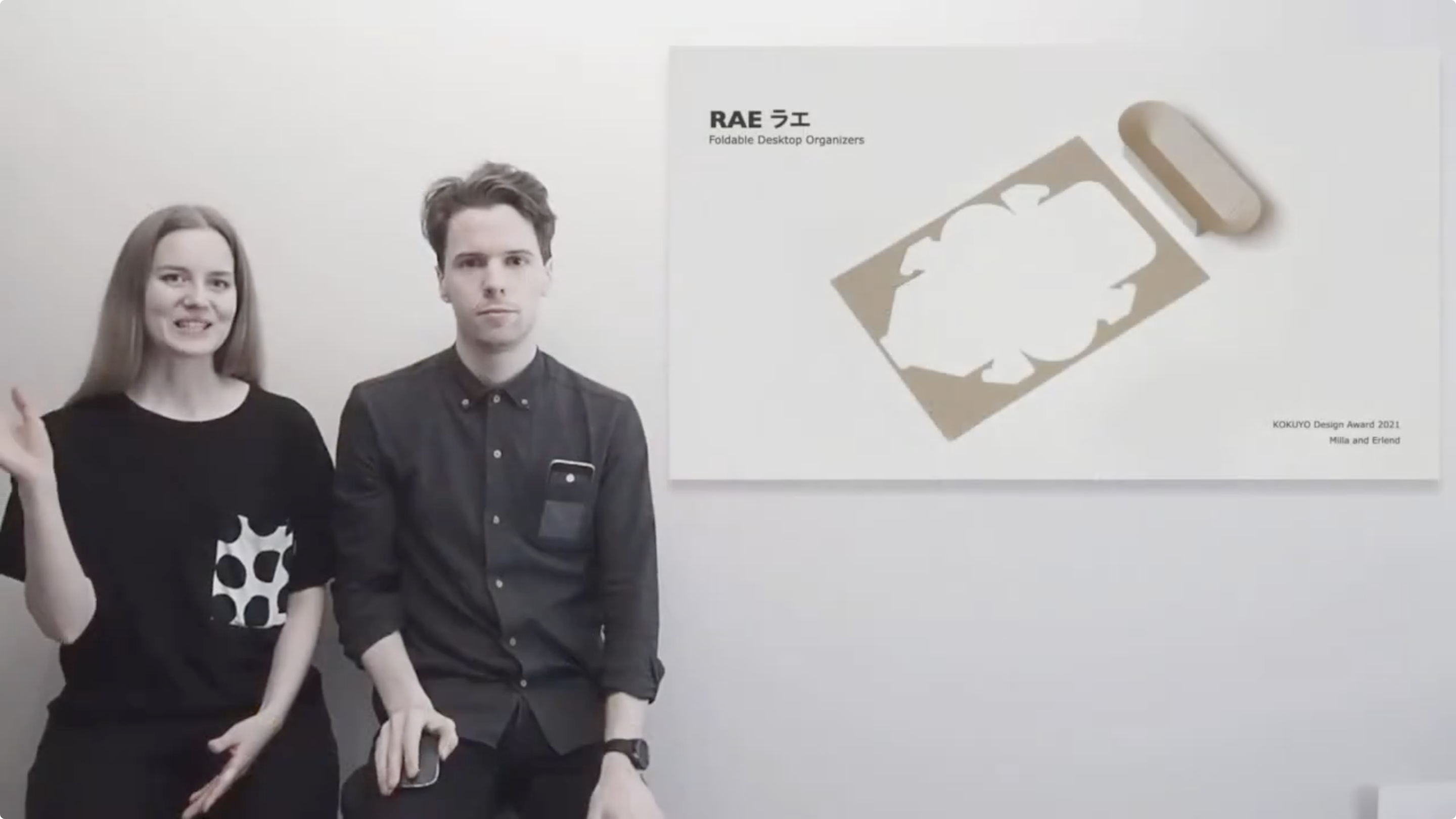 Grand Prix winners Milla & Erlend (Milla Eveliina Niskakoski and Erlend Storsul Opdahl)
The Grand Prix entry was chosen just two minutes after the judging started. This was extremely fast even compared to the last few years. Without hesitation, all the judges voted for the Finnish entry, "RAE" by Milla & Erlend. This design proposed a set of desktop organizers that people all around the world will find easy to use even in the new and unpredictable environments they might find themselves in as work and everyday life change. Inspired by cardboard boxes used when moving home, they let you create a 3D container from a single flat piece of paper, just like origami.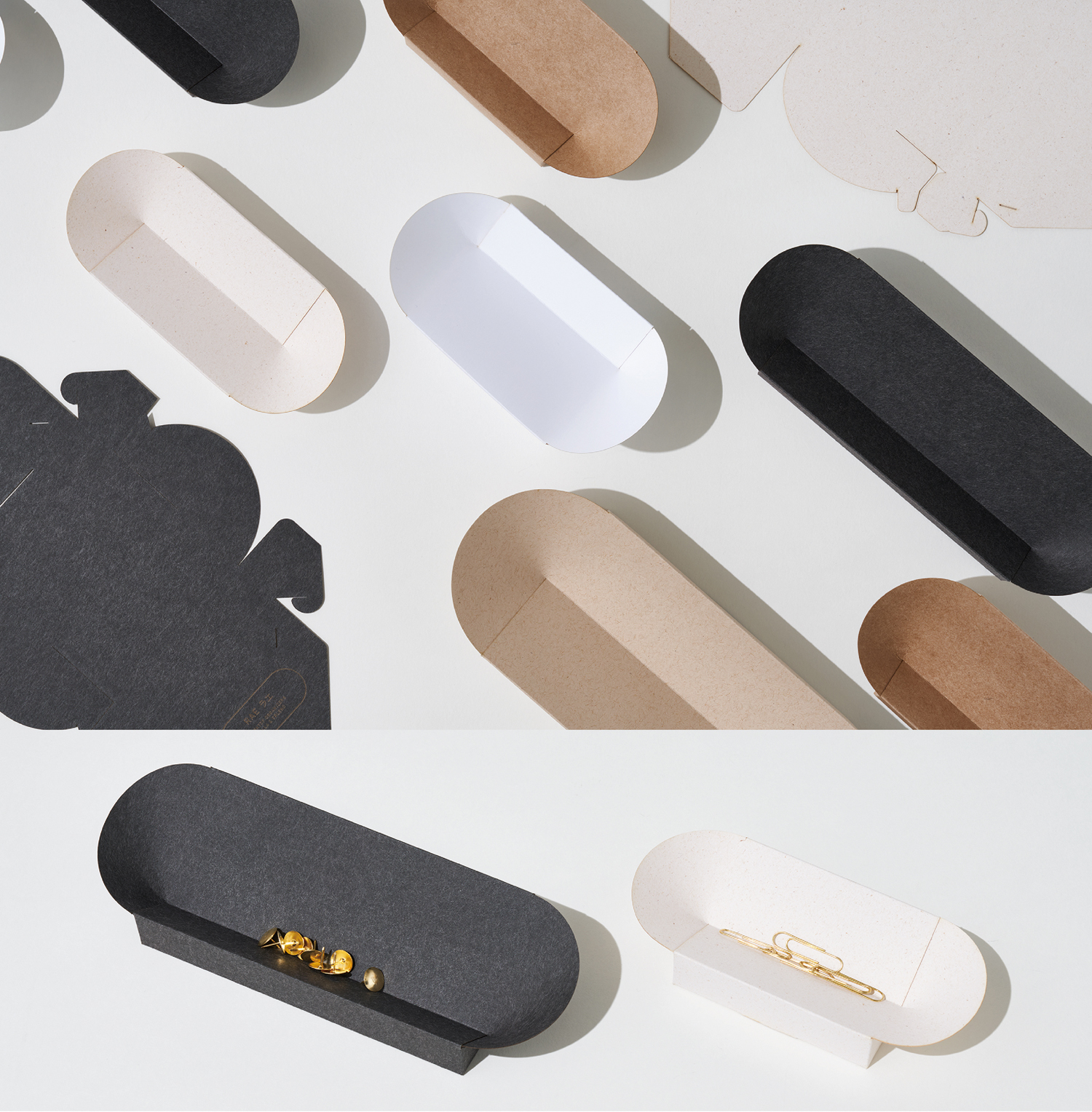 According to the designers Milla & Erlend, "Originally, they had to be taped or glued at the bottom, but we kept improving them so they could be assembled just using paper." The prototype created for the Final Judging had a box-shaped bottom, which made it stable and strong.

All the judges were impressed with the design, with praise including, "The finished form is beautiful" (Ryosuke Uehara), "It's sustainable in terms of both materials and distribution" (Masashi Kawamura), "The level of the idea, quality, and possibilities is very high" (Tsuyoshi Tane), "It enhances the value of paper as a material" (Teruhiro Yanagihara), and "Every aspect has been thoroughly thought out, and it looks like it can be developed into a variety of things" (Yoshie Watanabe).
The Merit Award Winners Were Highly Regarded As Products
The three Merit Award winners were "Leaden, the sensory pencil collection" by Soh YunPing, "Caliper for kids" by Koji Yamaura, and "Study Partner Bottle" by Yasuaki Matsuura.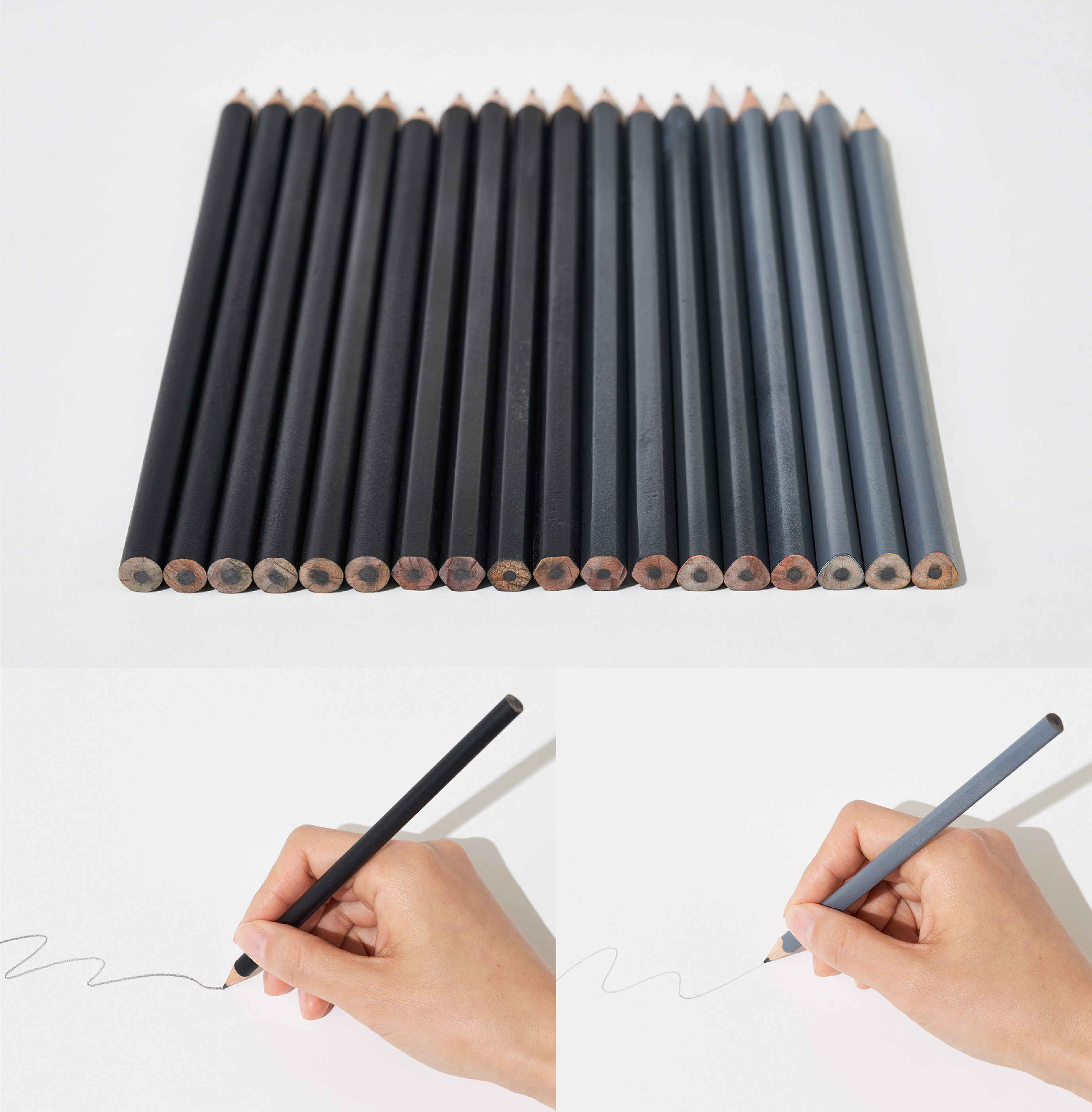 Leaden, the sensory pencil collection" creator Soh YunPing comes from Malaysia, and is studying industrial design at an art university in Japan. The entry consists of pencils whose colors and shapes represent the hardness of the lead and darkness of the color, enabling people to enjoy how they feel to use through their senses. The KOKUYO DESIGN AWARD sees a lot of proposals for pencils, but President Kuroda said, "These are unique in that they combine three things: the hardness and darkness of the lead, and how you hold them." Tane said, "After the Grand Prix winner, I liked this one the best." He said it impressed him as "a conceptual design that will change how we've perceived pencils up to now.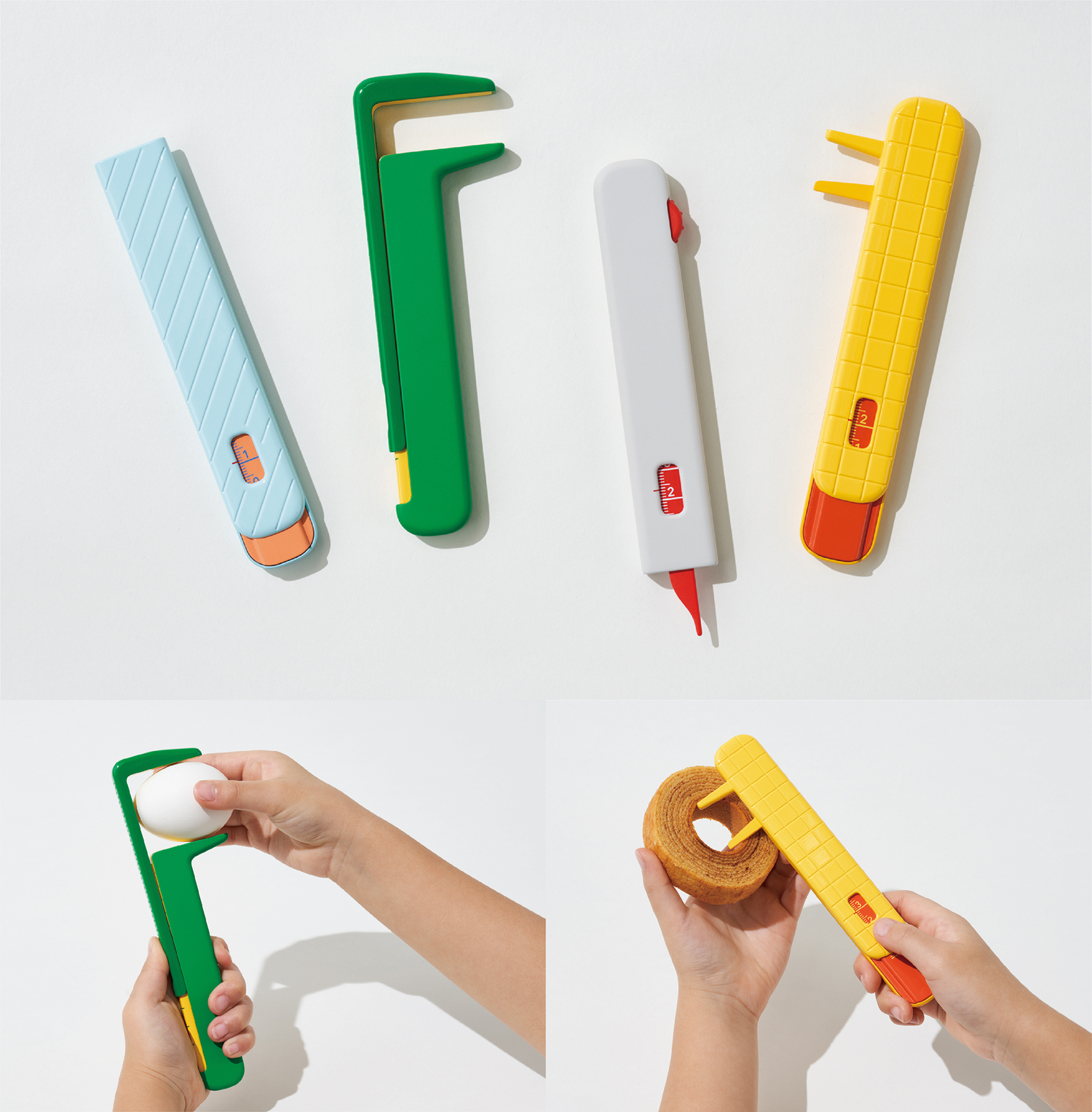 Caliper for kids" is a set of four tools for children that splits the functions of a caliper used to measure diameters and thickness. It caught the judges' attention with its toy-like interesting form and colorful graphics. "The concept of getting kids interested in learning through the act of measuring rang true" (Watanabe). "I was impressed by how the designer had developed the product to completion in a different direction from pursuing function" (Yanagihara). Yamaura expressed his joy online from San Francisco, where he's based: "I focused my efforts on the product design this time, so I'm delighted that aspect was well received.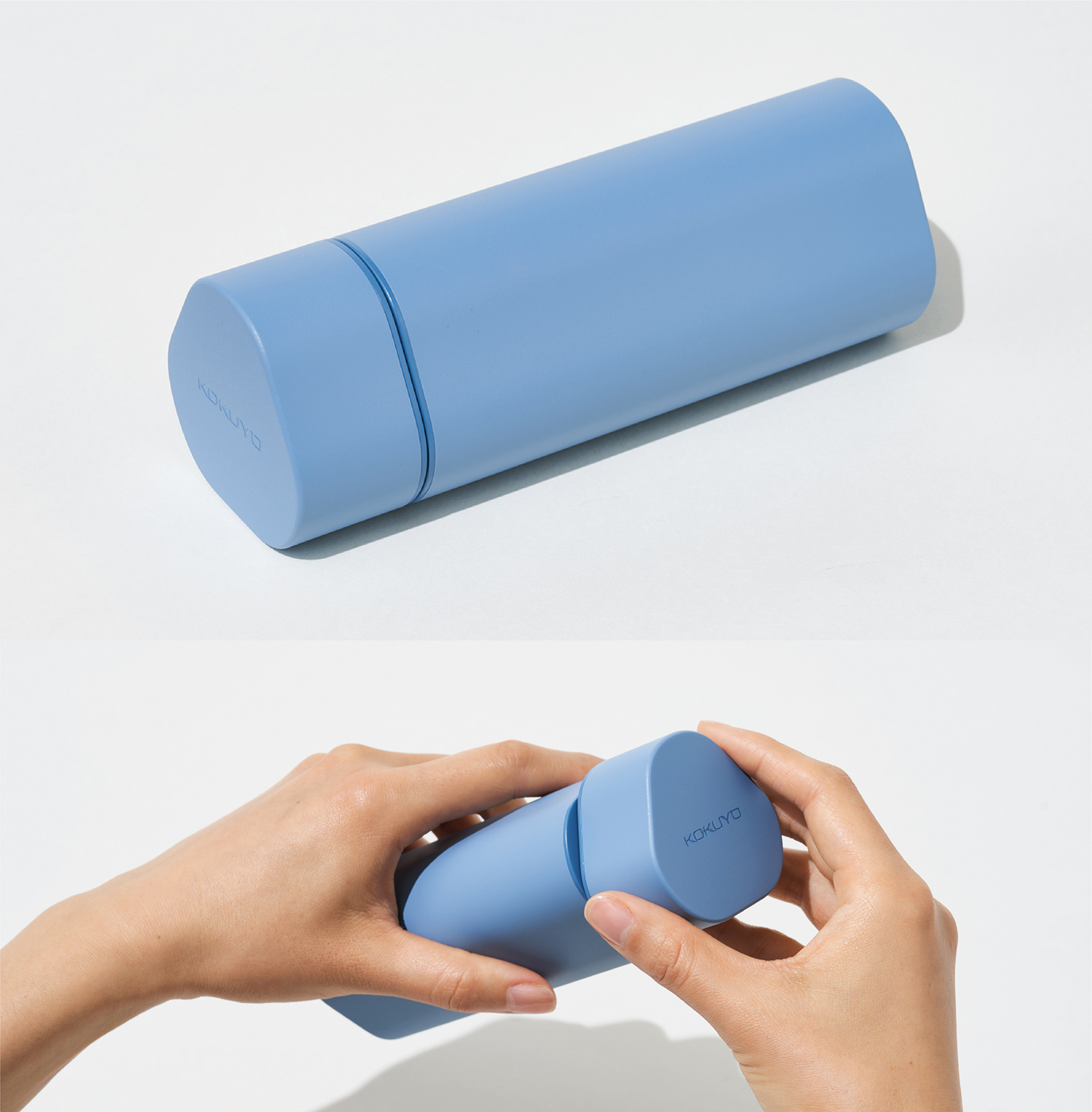 More and more people are using reusable water bottles to help prevent infection. "Study Partner Bottle" is a proposal that redesigned a reusable bottle as a piece of stationery that would fit onto a study or work desk. Kawamura: "By simply changing the circular cross-section into a triangular one, it achieved a minimal design solution to preventing the water bottle from rolling over." The judges were also impressed by how the prototype was so polished that it could probably be commercialized as is. Uehara: "You could see that careful attention had been paid to details people don't usually notice. I was impressed by how realistic a proposal that made it.
Surprises with the Audience Award, Too
Package of pen, Pen of package" by Taito Hasegawa was one of the works that missed winning an award, but had been tough for the judges to decide on. This design combined into one a pen and package made of recycled material, as a way to reduce waste. The designer had also thought about how it would be sold, and the judges were amazed by the fixture idea that combined rails for displaying new products and ones for collecting used ones.

Then there was "NURIKAMI ‒Spreading paper‒," a new kind of paint proposed by NEW+YOSHIOKA. Spreading it on things gives them a fuzzy texture like the surface of papier-mâché. It caught the judges' attention with its innovative idea of making paper into paint.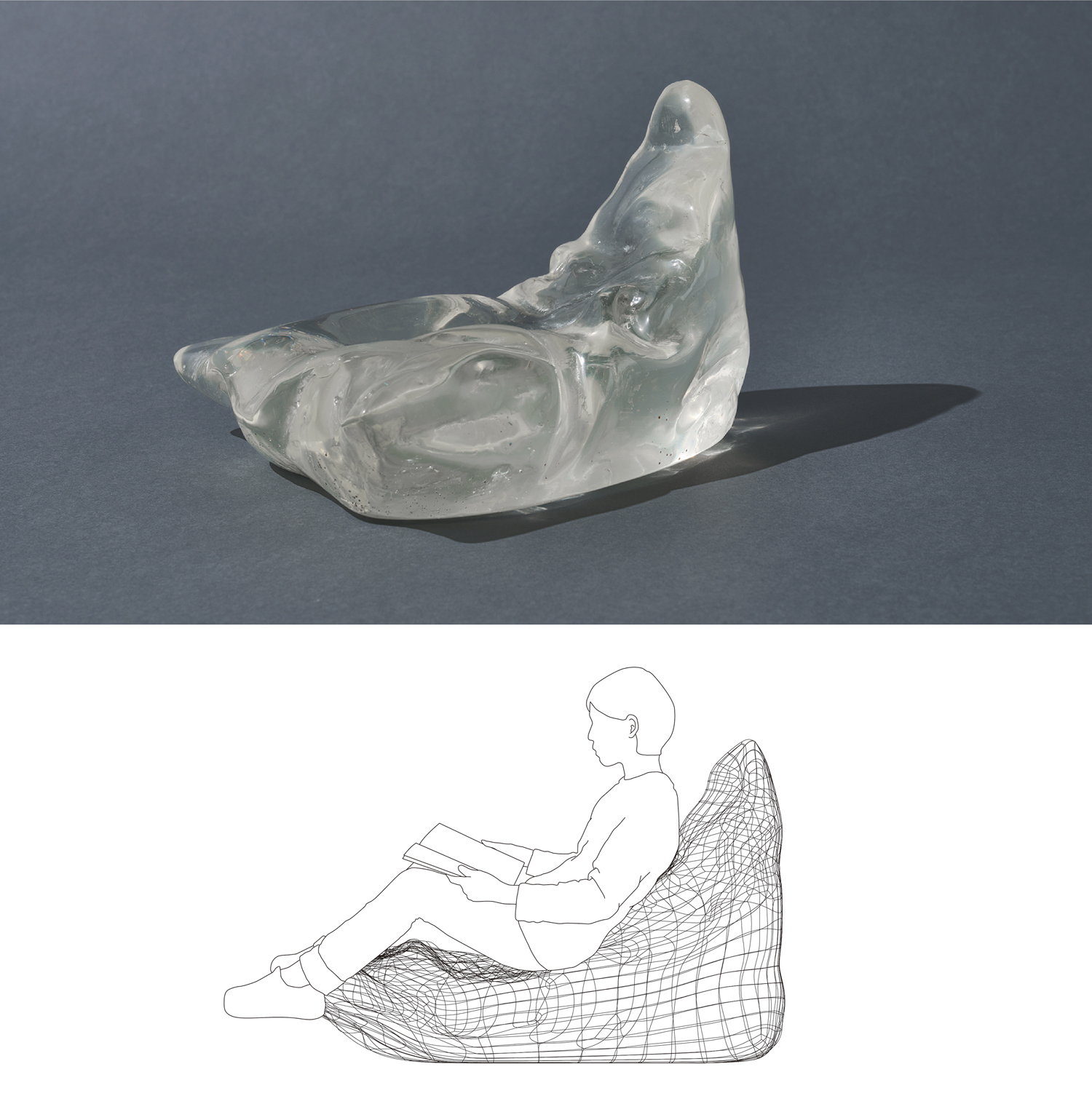 Decided by votes from online viewers, the Audience Award went to "Ghost Beans" by Yuliia Polozova from Poland. This result caused a stir among the judges. The reason was that in the final presentations, they'd felt that there was a big gap between the final prototype and the materials submitted in the Initial Judging, and that while the design was conceptual, its potential as a product was questionable. Regarding how differently the judges and audience had felt about it, Yanagihara said: "We don't see this kind of product design in Japan so much, but maybe for the audience, it was purely a case of wanting or hoping to see something like it.
It's Important to Keep Taking On Challenges Even in Difficult Times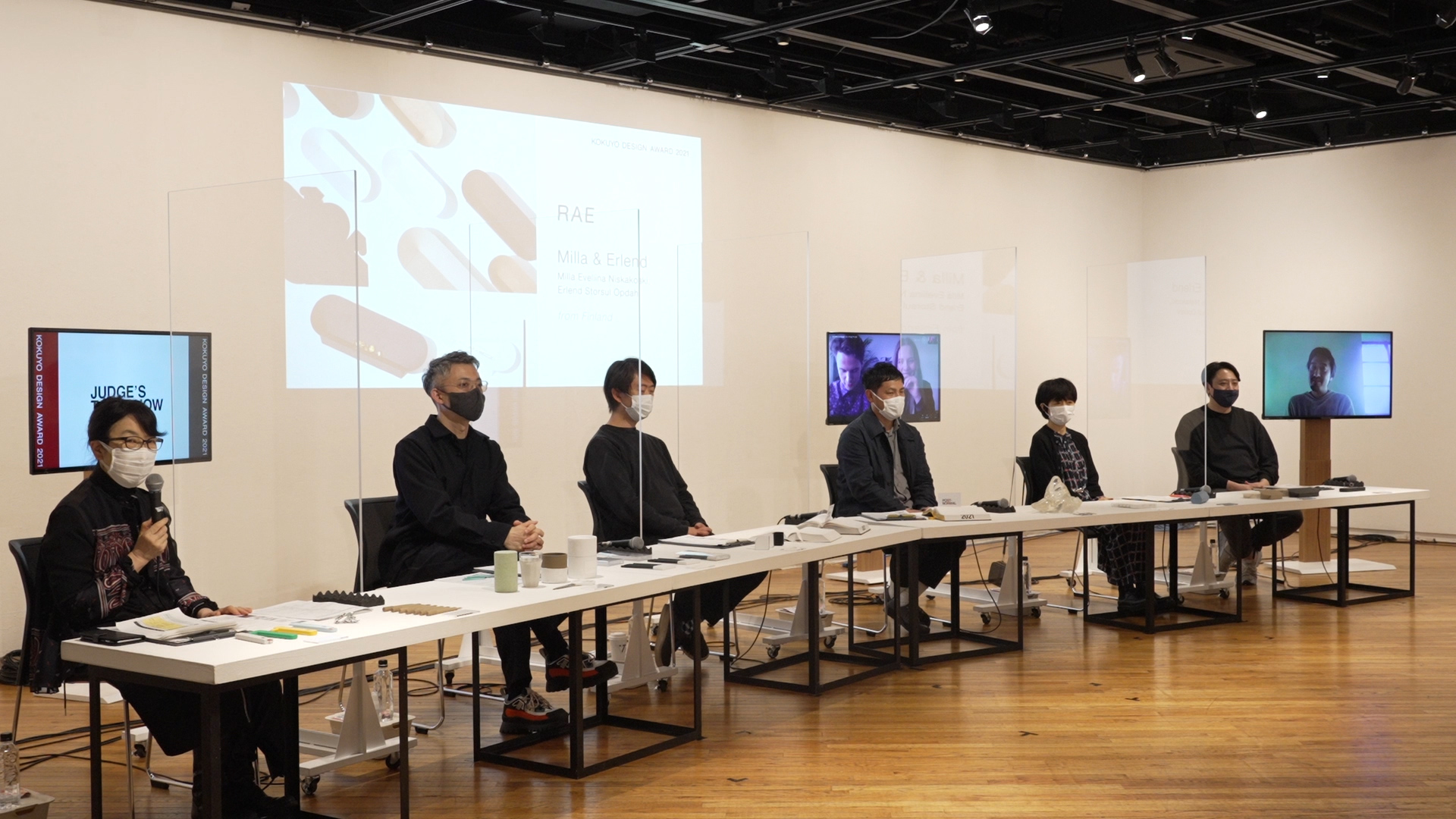 After the announcement of the winners and the award ceremony, the judges' talk show was held, welcoming Ryuko Kida (Brand Director of ELLE DECOR magazine) as the moderator. At the beginning, it was revealed that it had taken a long time and much discussion and rethinking to decide the theme "POST-NORMAL." Then, the judges looked back over the entries and shared their impressions. Here's a sample of their comments: "There were many ideas for realistic products and it had a good feel to it, so it was the most convincing result so far" (Uehara), "I was worried that we'd get entries linked to social distancing, so I'm glad we got so many works with a strong product design" (Kawamura), "It was a very meaningful design competition because the entrants had come up with physical items in answer to an abstract question. This also made it fun to judge" (Tane), "Each entrant had given their ideas form in a skillful way, making it a very constructive competition" (Yanagihara), and "We received lots of excellent entries, and they all surprised us with their amazing perspectives" (Watanabe).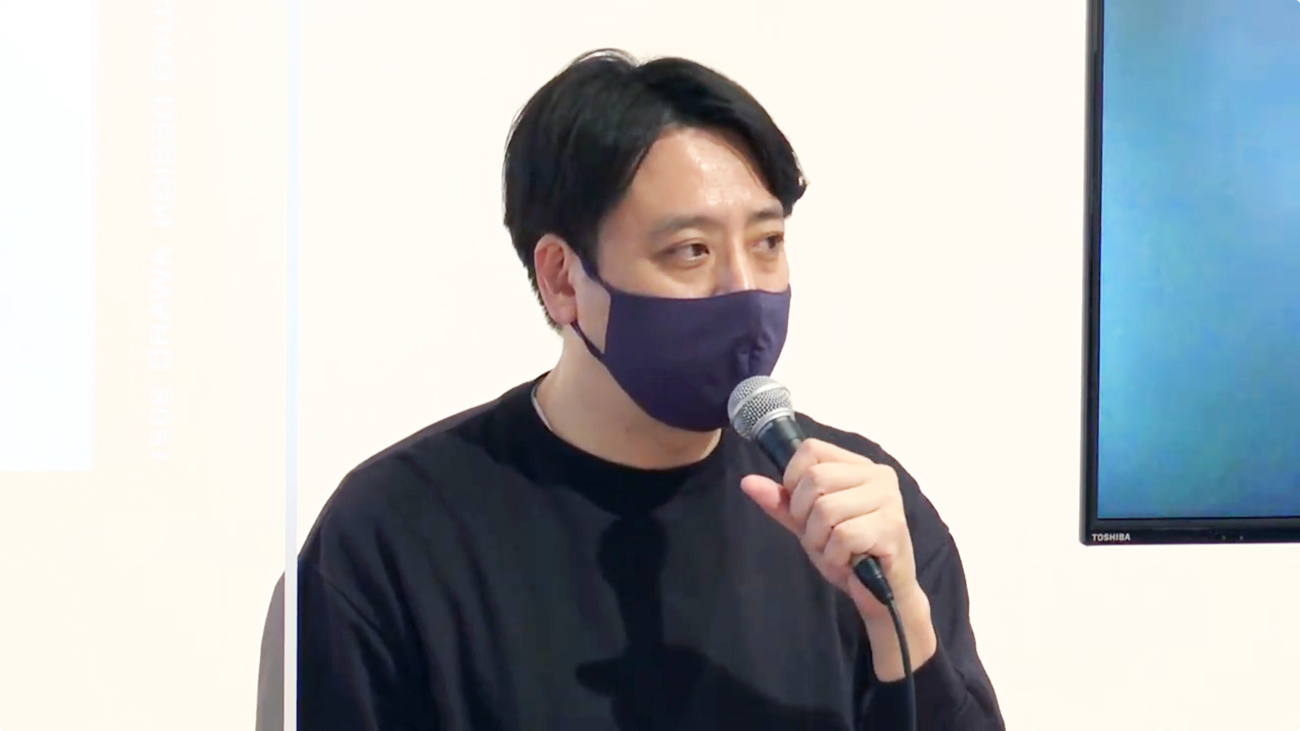 At the end of the talk show, KOKUYO President Kuroda wrapped up KOKUYO DESIGN AWARD 2021 with these words: "The mission of the KOKUYO DESIGN AWARD is to provide opportunities to seriously address challenges, so we always set a difficult theme. I think this year's theme was also very challenging, but we still received many realistic, powerful works that gave us courage by showing us the importance of continuing to take on challenges even in uncertain, difficult times. KOKUYO has just announced its long-term-vision, 'be Unique,' declaring its resolve to become a company that will go on stimulating creativity. I want to make the future awards exciting events, too, so even more people take part in them.