Release of KOKUYO Group CSR Report 2015
-Also available on the website-
OSAKA, Japan, September 9, 2015 – KOKUYO Co., Ltd. (headquarters: Osaka; president & CEO: Hidekuni Kuroda) is pleased to announce that the company published the KOKUYO Group CSR Report 2015 (abridged version) on July 9, which introduces the Group's approaches toward a sustainable society and information related to social responsibilities during the period of January 1, 2014, through December 31, 2014. The CSR Report is also available on the company's website, titled CSR and Environment
http://www.kokuyo.co.jp/csr/
The CSR Report was prepared in accordance with ISO 26000, international standards for SR (corporate social responsibility), the Environmental Reporting Guidelines of the Ministry of the Environment, and the GRI's Sustainability Reporting Guidelines, Edition Four (G4), as reference. The report summarizes activities for each target stakeholder, such as "With Customers," "With Local Communities," and "With Employees."
Outline of the KOKUYO Group CSR Report 2015
In commemoration of 110th anniversary in October this year, the CSR Report 2015 contains several sections tracing the history of KOKUYO. As is customary of the KOKUYO Group CSR Report each year, the top dialog invited the president and representative director Minesaburo Miyake of Kewpie Corporation, with its 100th anniversary rapidly approaching, to have a dialogue with KOKUYO's chairman of the board and representative director, Akihiro Kuroda. They engaged in a discussion on management based on their principles while reflecting back on the transition since inception. The special feature titled "Refine Value for Learners and Workers" used several examples of products to explore the history of development and introduced the transition of originality and ingenuity.
About the cover of the 2015 KOKUYO Group CSR Report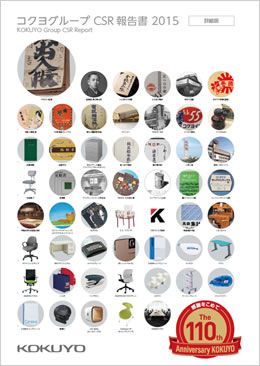 For the last 110 years since 1905, KOKUYO's founder cherished the ideas of the KOKUYO Creed, which states, "When born into this world, a child has nothing to call its own. Our bodies, minds and spirits grow and are nourished by … the encouragement of society…"
The unwavering will of repaying the encouragement he received to society has become the corporate philosophy, "Enrich the world through our products," and the business spirit has been passed down in the company even today.
The cover was designed using the products and buildings that represent KOKUYO's footsteps began from the production of Wacho (Japanese account ledger) cover.
Moving forward, we return to the root of inception to continue our efforts on environmental and social contributions through manufacturing.
For inquires about this press release, visit: