The KOKUYO Group is promoting safe, secure, and pleasant working environments as they are vital to smooth business operations while encouraging active exchange of opinions with the field site.
KOKUYO Health and Productivity Management Declaration
KOKUYO believes that to secure sustainable corporate growth, it is important to have environments and systems which allow employees to apply themselves safely and healthily in mind and body. Therefore, we undertake initiatives to maintain and promote the health of our employees. We promote health and productivity management together with employees, labor unions, and health insurance associations to create products and services that apply the creativity of each and every employee who are healthy in mind and body. This is so as to contribute toward society's vigor as well as healthy work and study, and to meet the expectations of our stakeholders.
Continuously improve the workplace to support the physical and mental wellbeing of employees.
Provide health checks and follow-ups and offer a range of medical options to maintain employees' health or prevent deterioration.
Analyze the results of stress checks and other employee surveys to identify how to enhance organizational support and promote employees' mental health and engagement.
Provide employees with information and education to promote self-care.
 Facilitate flexible work arrangements—allow remote working, reduce overtime, encourage uptake of annual leave, support employees with caring commitments, and help employees balance work with family obligations.
Health Promotion Management System
Some offices run "Cross!!!"—a get-together event based on a learning activity or hobby. In April 2020, we started an online version of the event called "TeleCross!!!" Amid the pandemic-driven shift to remote working, this virtual meetup has helped ease employees concerns and raised their morale; and because the event was online, remote workers could participate.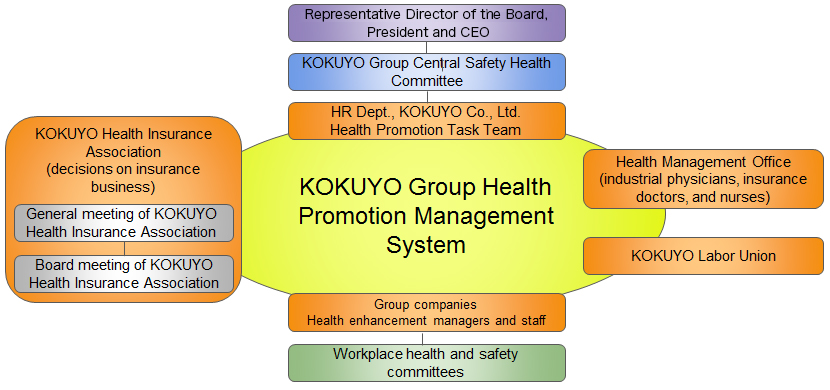 View data on health-promotion performance here
Recognition as employee-friendly company
On March 2, 2020, KOKUYO and Kaunet became two of the 500 whitelisted companies in an award program run by the Ministry of Economy, Trade and Industry and Nippon Kenko Kaigi, earning the official designation "2020 Certified Health & Productivity Management Outstanding Organization (White 500)." On the same date, KOKUYO Marketing earned a separate accolade under the same program ("Health and productivity Management Outstanding Organization"). The program (officially translated as "2020 Certified Health & Productivity Management Outstanding Organizations Recognition Program") gives recognition to companies that make exemplary efforts toward a healthy and productive workplace. We will continue such efforts in line with the KOKUYO Health and Productivity Management Declaration released in October 2019.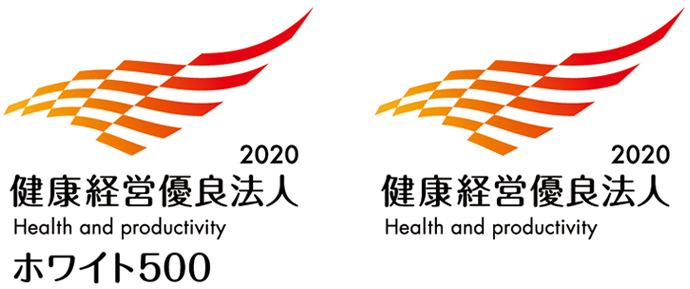 Employee health goals, 2020 results
In 2013, we set concrete goals for promoting health behaviors that help prevent lifestyle diseases. Since then, our internal health insurance associations have worked with the health management office on actions to meet these goals.
The health-promotion activities include tracking employees' daily steps and weight, organizing fun walking campaigns, and running diet seminars in partnership with public health centers. We also encourage our employees to undergo regular screening for colorectal cancer and breast cancer. To that end, we have installed a mammography unit on the premises. Additionally, we worked to increase the range of health-check options, giving employees more opportunities to go and get a health check. For example, comprehensive medical checkups (called "ningen dock") are available for employees who want them. In 2020, we had to suspend some services because of the pandemic, but we still worked to promote health consciousness by running an online survey on health behaviors and an e-learning course.
An example of health targets (specific health tasks)​
| | 2019 result | 2020 result | 2021 target |
| --- | --- | --- | --- |
| Rate of employees with BMI > 25 | 24% | 25% | 22% |
| Smoking prevalence (from health-check data) | 31% | 23% | 21% |
| Rate of colorectal cancer screening | 40% | 92% | 95% |
| Rate of cancer screening, gynecologic screening | 20% | 35% | 43% |
Scope: KOKUYO, Kaunet, KOKUYO Marketing, KOKUYO Logitem, KOKUYO Supply Logistics
Fitness challenges that earn rewards
In 2020, we launched Play Work Mileage, a program that tracks and rewards fitness efforts. Employees earn miles by completing or gaining progress in health goals.


Walking Challenge
Walking Challenge is a health-promotion program in which employees earn monthly points according to their average number of steps. The program includes fun features. For example, employees can set their own virtual walking course and track their rankings on a leaderboard.


Lifestyle Challenge
In Lifestyle Challenge, employees record their health behaviors to track the healthiness of their lifestyle. There are nine courses and a total of 50 items, including diet, exercise, sleep, quitting smoking, dental and optical health, and physical and mental refreshment. Employees earn points regardless of whether they achieved the goal in question.


A smoking awareness campaign in the context of the indoor smoking ban, World No Tobacco Day, and Covid-19
Data from Japan Tobacco's annual Japan Smoking Rate Survey indicates a high rate of smoking among male employees in our corporate group. On April 11, 2020, Japan banned indoor smoking with some exceptions. In conjunction with the ban, we stepped up efforts to raise employees' awareness of the risks of smoking, emphasizing that the pandemic has heightened the risks. For example, we now warn employees that smokers are more likely to contract flu, cold, and pneumonia, and that smoking while working at home will expose other occupants to the risks associated with secondhand smoke.


Caring for health when working at home
The pandemic has increased the amount of work performed outside the traditional office. We provide information on how to create a healthy remote workspace, such as stretching techniques for relieving physical and mental fatigue and healthy configurations for tables, chairs, and other furniture. As well as specific guidance (such as the best screen height and angle to prevent eye strain or neck and shoulder pain), a list of health-related contacts is provided.
Health insurance association, increased subsidy for breast cancer screening
Across the group, rates of screening for breast cancer and cervical cancer are low. Accordingly, in April 2020, our health insurance association raised the subsidy for breast cancer screening from 5,000 to 10,000 yen. Women's cancers develop in young adults, and breast cancer is the most commonly diagnosed of these cancers in Japan. We will continue our efforts to help prevent or detect cancer and promote cancer awareness.
Along with the mandatory stress checks, we conduct an employee survey that measures employee satisfaction and compliance.
To promote a culture of self-care in which employees feel comfortable asking for help, we have introduced the Employee Assistance Program, an externally run program that encourages employees to recognize the warning signs and symptoms of stress and to seek preventive health services at an early stage.
Based on the results of employee surveys, we have taken steps to improve the workplace (to foster a culture of openness around mental health). Results for organizational divisions are color coded red, yellow, and green, with red indicating that the division in question requires priority intervention. Interventions include on-site discussions, workshops, and they are aimed at improving communication in connection with mental health. Through such measures, we aim to decrease the number of red divisions.
| | 2019 result | 2020 result | 2021 target |
| --- | --- | --- | --- |
| Percentage of divisions that are red | 11.9% | 12.1% | 10% |