KOKUYO's Historical Episode
bielomatik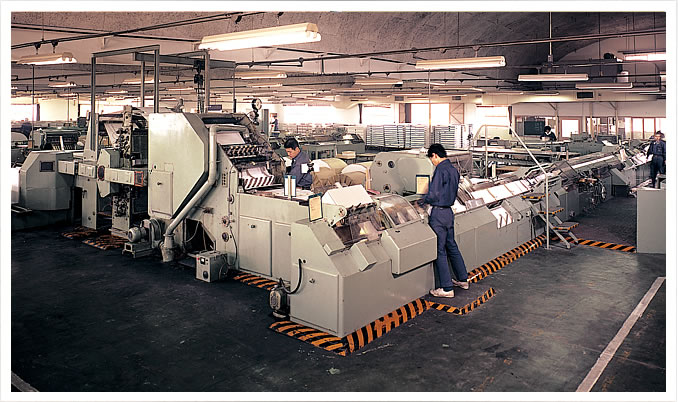 PHOTO : bielomatik (automated letter paper machine)
Relentlessly pursuing technological innovation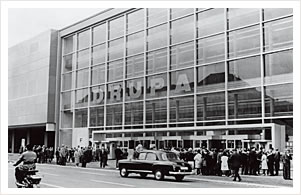 The venue for the 1958 DRUPA: KOKUYO adopted
bielomatik equipment after seeing it here.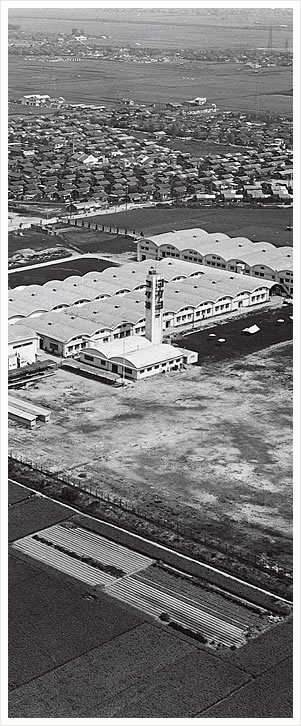 The Yao Plant (Yao City, Osaka Prefecture, May 1961):
this was the largest paper products manufacturing
facility in the world.
In the 1950s, with post-war reconstruction proceeding at a rapid pace, Japan was going through a period of high economic growth, subsequently referred to as the "Oriental Miracle", such that a 1956 economic white paper stated, "The post-war era is already over." This rapid economic growth was accompanied by the advent of an era of mass production and mass consumption, and, with demand for KOKUYO products surging, renewal and expansion of production facilities became a matter of urgency.
In search of the latest production technology, KOKUYO dispatched inspection teams to Europe, and finally in May 1959 at the DRUPA (Druck und Papier [Print and Paper]) international printing exhibition, the largest general exhibition of printing machines and materials in the world, in Düsseldorf (in the then West Germany), they came across the ideal automated production system. Developed by the bielomatik company (bielomatik Leuze Gmbh Co.KG), this had only just been unveiled.
bielomatik's revolutionary equipment performed printing on base paper from the reel, cutting, sheet counting, collation and all other necessary book production processes up to delivery of the finished product on one automated line. KOKUYO rapidly decided to adopt the equipment, and the same year the company invited bielomatik engineers to Japan to start discussion of technical specifications for the production line. In addition, to accommodate this ultra-new equipment, a decision was made to construct a new factory (the Yao Plant). The first bielomatik machines were installed when this plant was completed in 1961, but, because of problems with the base paper and defects in the machine parts, there were initially difficulties with maintaining continuous operation. KOKUYO's Technical Department frequently exchanged information with the maker while carrying out its own improvements, and, at long last, in spring 1962, a fully operational automated system for the manufacturing of paper products, with few equals in the world at the time, was in place.
Bielomatik's endeavors to update the KOKUYO production equipment at an ever faster pace were unceasing. In addition, they proved to be a valuable experience for KOKUYO, inspiring our company's mind-set of relentlessly pursuing technical innovation.
(Note:) Three bielomatik letter paper machines and two bielomatik form-printing machines were installed at the Yao Plant. Subsequently, experience gained with these machines allowed KOKUYO to install its first machine developed in house, an automated carbon copy pad machine. As a result, KOKUYO acquired the capacity to manufacture what were at that time its three staple products (letter paper, forms and carbon copy books) on its own production lines.