Medium-Term Management Plan
A Life & Work Style Company—that's the kind of organization we want to be: an organization whose products and services spark people's inner creativity, helping them work better, learn better, and live better. For our long-term strategy, we aim to break free from decades of low business growth through a series of stepwise Medium-Term Management Plan.
The Medium-Term Management Plan (2016‒2018) was titled Value Transformation 2018. It involved a business reform strategy aimed at creating better value. At the time, our operating margin had languished at 2‒3%. Accordingly, we spent the three years working to boost earnings.
On November 28, 2018, we unveiled our second Medium-Term Management Plan, covering the 2019‒2021 period.
The theme for this three-year plan is "Expanding Business Sustainably." Having improved our profitability in the previous three years, our aim for the current three-year period and beyond is to expand by investing in promising market segments and capturing new needs. To this end, we are working to grow new business in these new markets (aiming for net sales of 150‒200 billion yen) while maintaining, if not enhancing, the profitability of our existing businesses. These efforts will contribute to our financial goals for 2030—which are net sales of 450‒500 billion yen and an operating margin of 8‒9%. The goals for 2030 will be clarified in Long-Term Vision 2030, which we plan to release in 2021.
The second Medium-Term Management Plan (2019‒2021) is described below.
Strategic Backdrop to Second Medium-Term Management Plan
Enable sustainable growth
Smart & Sustainable Transformation 2021
Priorities for the three-year period
1.

Improve our smart revenue-earning capabilities with an eye toward variety

2.

Implement streamlined business operations premised on rapid growth over the medium- to long-term
Our business domain model helps ensure that we always know how each business needs to grow in the medium to long term. It also reflects our commitment toward further profitability and growth, and our shift in focus from tangible goods to intangible aspects (such as ideas, experience, and value). The model consists of three business domains.
How our business segments were re-conceptualized into business domains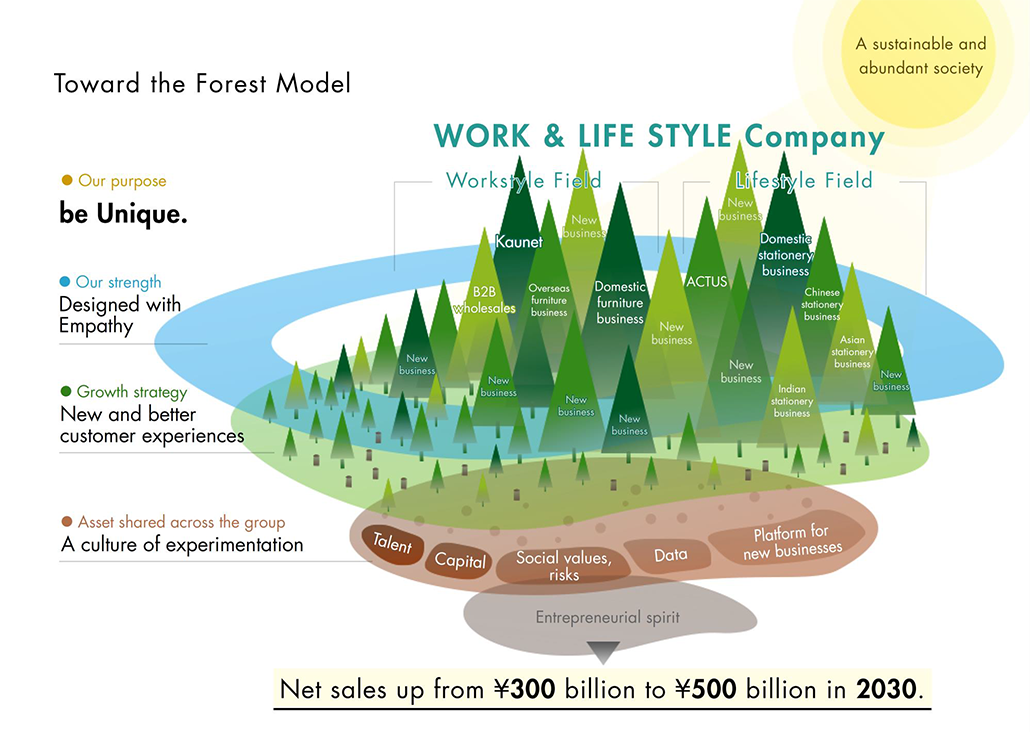 Strategic Role of the Three Business Domains
We wanted to de-compartmentalize our business lines so that we could act more dynamically and pursue a more ambitious growth strategy. Accordingly, we established the above three business domains, which cut across business barriers and emphasize intangibles, in anticipation of the needs of tomorrow. Each domain has its own delineated set of strategic goals, including net sales growth, business profitability and efficiency. In this way, we invest and allocate resources in a more targeted way.
For the current Medium-Term Management Plan, we had earmarked 15 billion yen to invest in strategic growth projects, on top of our regular capital expenditures. However, in view of current circumstances, we decided to put this extra spending on hold for now. Our future plans for investing in strategic growth will be revealed when we release Long-Term Vision 2030 and the third Medium-Term Management Plan (2022‒2024).
As in previous years, we are committed to a generous dividend policy. Dividends are determined based on the latest business trends and our business performance. At the same time, we try to maintain enough reserves to provide for the capital expenditure, R&D expenditure, and M&A expenditure necessary for business growth in the medium to long term. By balancing the need for generous dividends with the need for such internal reserves, we can obtain opportunities for sustainable growth and ultimately create more value for shareholders.
The Intention Behind Each Domain
The Spatial Value Domain encompasses Kokuyo's domestic and overseas furniture businesses. It also covers interior design company Actus. The domain targets the growing international demand for activity-based working (ABW), in which workers choose the spatial settings for their workplace activities. Its purpose is to exploit this trend and set Kokuyo's domestic furniture business on a sure path of sustainable growth, while exploring business opportunities that promise growth in the medium to long term (such as global spatial needs and lifestyles). By capitalizing on these opportunities in this way, we ultimately hope to expand our share in the domestic furniture market and shore up our revenue base to realize higher net sales and operating income.
Capitalize on growing international demand for ABW* solutions
Domestic furniture business: Exploit further opportunities for sustainable growth in the ongoing supply of large office space in Tokyo
* Activity-based working: Giving workers choice in when and where they work, allowing them to choose a work setting and style to suit the task and preferred way of working.
Central office concept: Shinagawa Season Terrace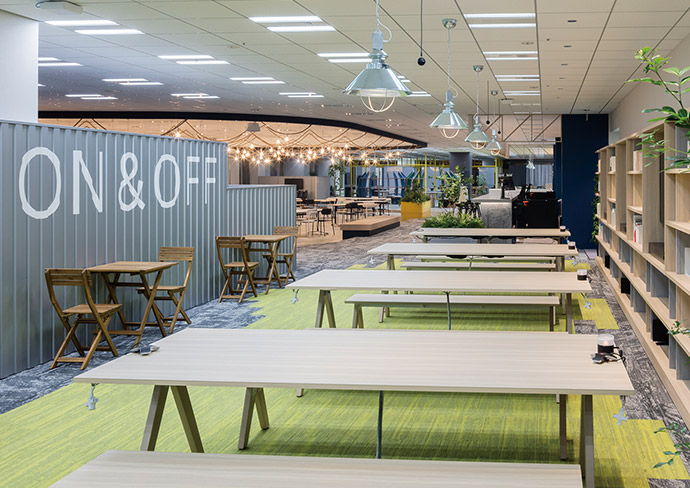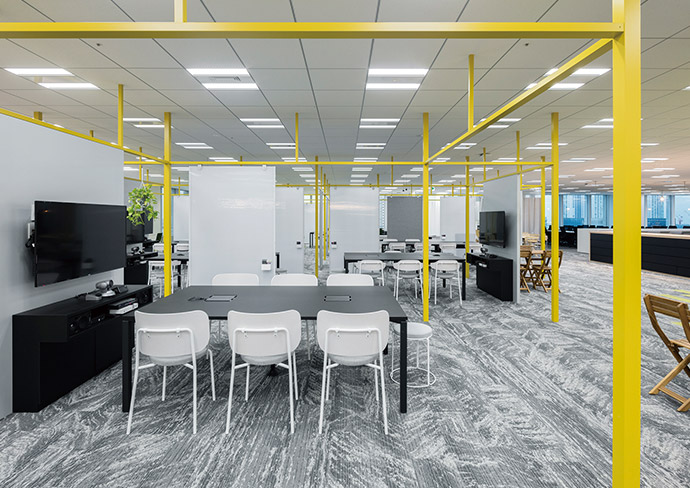 Satellite office: Diverary
The Business Supplies Domain encompasses Kokuyo's wholesale office goods business and an office-related mail-order business. To address the profound challenges facing distributors today, the domain seeks to integrate wholesale and online models for better efficiency. This approach is intended to facilitate structural reforms for enhancing business sustainability and to shore up the customer base. By maintaining a strong operating margin and managing working capital more efficiently, we aim to enhance operational efficiency.
Better operational efficiency: Integrate agency model with online model to address challenges facing distributors, and migrate data for integration of business functions
Improve efficiency throughout domain, cutting across departmental barriers
The Global Stationery Domain encompasses Kokuyo's domestic and overseas stationery businesses. In this domain, we leverage Kokuyo's dominance of the Japanese stationery market to maintain the growth trajectory in overseas stationery markets, while exploring additional growth opportunities in new and promising business sectors. By adopting concentration strategies in domestic and overseas markets, we aim to grow sales in overseas markets, maintain our commanding share in the Japanese market, and boost our gross profit ratio. The ultimate aim is to increase our global market share.
Build on top share, high quality, and strong brand reputation in Japan by boosting operational efficiency (improve share in sales channels, consolidated product lines, etc.)
Maintain growth trajectory in fruitful overseas markets (e.g., China, India) by emphasizing, among other things, learning solutions
Explore growth opportunities in new and promising business sectors (new areas, new categories)