Leverage our "sincere and unique approach to value creation" to create new customer needs and enable sustainable growth.
Representative Director of the Board,
President and CEO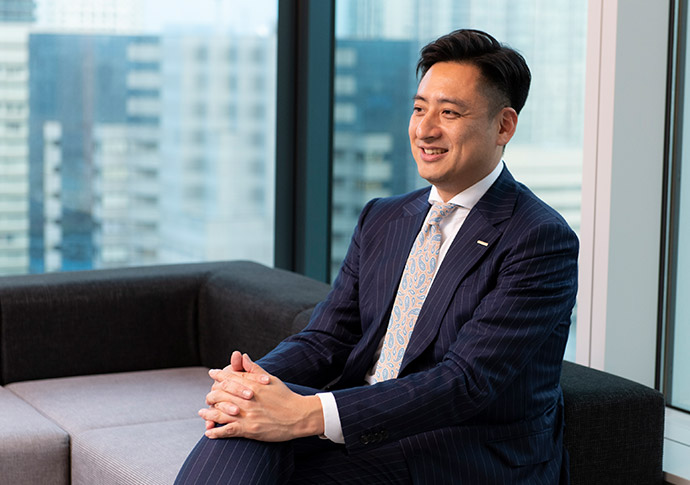 During the fiscal year under review (January 1, 2020 to December 31, 2020), the Japanese economy rapidly deteriorated amid the COVID-19 crisis. Economic activity in Japan picked up somewhat after the state of emergency ended in late May, but the outlook remains uncertain.
Against this backdrop, the Group is boosting smart earnings power with an eye toward variety in the mediumterm management plan, which ends in FY2021 and is titled "Enabling Sustainable Growth - Smart & Sustainable Transformation 2021," while also efficiently managing business premised on accelerating growth over the medium and long term.
The COVID-19 recession significantly impacted business performance across the Group. We have sought to strike a balance between safeguarding customer and employee health and maintaining business continuity as a part of society.
Net sales decreased to ¥300.6 billion (down 6.1% year on year), with each domain seeing a downturn in sales. Gross profit decreased to ¥107.3 billion (down 5.7% year on year).
Gross profit ratio, on the other hand, increased by 0.1 percentage point to 35.7%, thanks to the promotion of high-margin items and price rises in some products.
Selling, general and administrative expenses decreased to ¥92.5 billion (down 4.7% year on year) after cuts in non-urgent spending, resulting in a 30.8% ratio of selling, general and administrative expenses to net sales.
Reflecting these decreases, operating income decreased to ¥14.8 billion (down 11.6% year on year). Ordinary income decreased to ¥14.1 billion (down 22.1% year on year), as we recorded loss from equitymethod investments in Pentel Co., Ltd., after the equity-method affiliate reversed deferred tax assets.
Profit attributable to owners of parent decreased to ¥8.2 billion (down 45.8% year on year) due to a reactionary downturn from same period last year's gain on sales of investment securities.