KOKUYO's Historical Episode
Company's building-wide office showrooms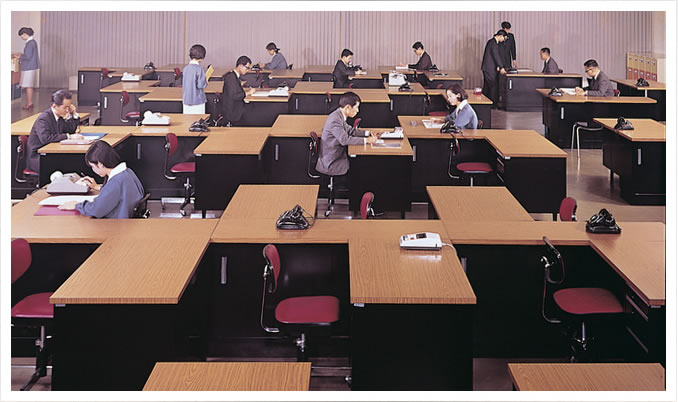 PHOTO : Sales Division floor of the "live showroom" (1969): The black desks and red chairs were intended to bring out employees' combative spirit.
For the first time in Japan, an entire building is a live showroom.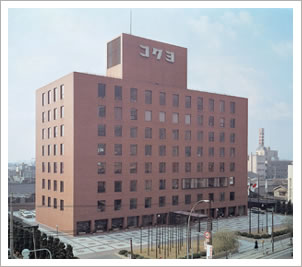 PHOTO : Head office building nearing completion
(Higashinari Ward, Ōsaka, 1969)
The new KOKUYO head office building, opened on November 11 1969, caused a sensation in the industry because the entire building was accessible to the public as a "live showroom". Traditionally, a showroom had been merely a space for displaying or presenting products, but this new head office building, featuring mainly KOKUYO products ranging from office supplies to furniture and appliances, was a ground-breaking experiment where visitors were welcome to observe employees doing real work. This policy of showing KOKUYO as it really was found symbolic expression in the copy for a pre-opening advertisement which read, "We'll let you look inside the desks if you like". Nowadays, this kind of so-called "living showroom" is no novelty, but back then this advanced office building had no equal anywhere in the world, let alone Japan.
Thorough, user-oriented product checking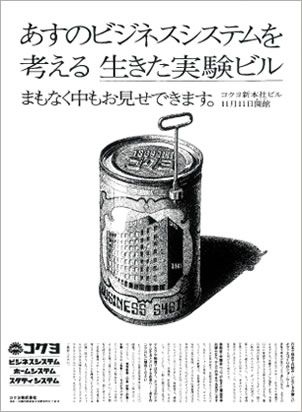 PHOTO : Advertisement for the head office building opening
This new head office building had an extra purpose: to function as an "experimental building" where, through their own experience, all employees would subject the functionality, durability, and design of their company's products to close scrutiny, while at the same time on-the-spot feedback from visitors to the building would lead to product improvement and development. In fact, this head office building was seen by the company as not just an office but a "fourth factory" after the Imazato, Fukae and Yao plants of that era. This novel experiment proved more popular than expected, with about 15,000 visitors in the year after opening, and it strongly contributed to the appeal of KOKUYO as a general office products maker.

Since the opening of its new head office building in 1969, KOKUYO has consistently been a driving force behind advanced office projects. In 1979, a new Tokyo office building combining the functions of live office and showroom was completed, and when the Tokyo Showroom was opened on adjoining land in 1982, an optical communication system (cutting-edge technology at that time) was swiftly installed. Also, to facilitate research, development and new proposals concerning not just office environments but working styles too, the office research center was set up in 1986. Then in 2008 came the opening of the experimental "Eco-Live Office" taking as its themes ecology and creativity. Through these and other projects on office environments and working styles, KOKUYO has continually come up with proposals which are ahead of their time.