KOKUYO's Historical Episode
Goods Distribution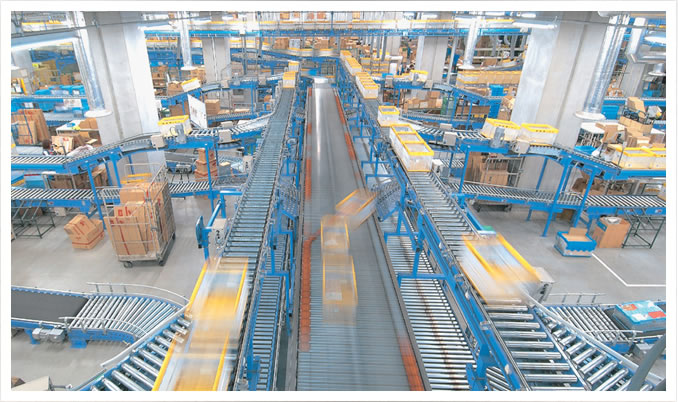 PHOTO : KOKUYO Metropolitan IDC (Integrated Distribution Centre) completed in January 2004. Computers automatically select the optimal picking style for each product's shipment frequency and send them along the shortest route.
Those who control distribution control the industry
One of the factors for KOKUYO's growth is its "distribution power." Distribution includes functions such as packaging, cargo handling, storage, transportation and information, and KOKUYO has been making efforts to cut costs and pursue improvements that benefit customers by actively innovating and streamlining these functions. In the former head office Imazato Factory that was completed in 1936, for example, the wooden floor that required employees to take off their shoes was replaced with a single flat concrete surface, and hand lifts were introduced to drastically reduce cargo handling work that had previously relied entirely on manpower. In 1953, KOKUYO was one of the first companies to purchase a forklift (*1), which was still very expensive and had not yet been marketed at the time, to further streamline its work flow. Moreover, at about the same time, it changed its packaging from the wooden crates that had been in use to corrugated cardboard boxes. At that time, it was general practice for each company in the industry to make its own wooden crates to deliver its products, but they were heavy and bulky, and their load efficiency was also poor. KOKUYO introduced the use of corrugated cardboard ahead of its competitors and improved its efficiency by nearly 30%.
Streamlining distribution that had been complicated by entering into the office furniture business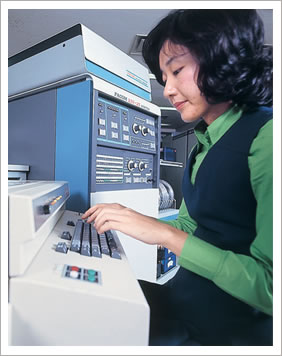 In 1974, further streamlining from production to
distribution was achieved with the introduction of
KOPS.
After the 1960s when KOKUYO started selling steel furniture, reinforcement and expansion of its distribution system became a pressing issue, and the construction of warehouses in major cities and near production bases throughout Japan began at a fast pace. As both KOKUYO's products and its retail stores reached enormous numbers (*2) in the mid-1970s, it established a distribution headquarters to streamline its increasingly complex distribution, centralizing its merchandise management, maintenance and delivery with the goal of "immediate delivery after production and immediate sale after delivery." Through these improvements in the distribution system, KOKUYO realized its distinct distribution service of assuring the same delivery date throughout Japan, which was unprecedented at the time. KOKUYO was also a pioneer in the industry to computerize its distribution system. Starting with the introduction of what at the time was a state-of-the-art computer (*3) in 1970 to operate its order-receiving and shipping system, KOKUYO has continuously developed distribution information systems (*4) that have been ahead of their time.
(*1) Purchased the first forklift ever made by Toyo Carriers Manufacturing Co., Ltd. (presently TCM Corporation), which was the first manufacturer in Japan to produce the forklift.
(*2) KOKUYO products are divided into 4 categories – paper products, stationery, furniture, and office equipment and supplies – and its lineup has reached approximately 5,000 items with as many as 50,000 retailers throughout Japan.
(*3) Fujitsu's famous mainframe model FACOM230-25.
(*4) Launched operations of KOPS (KOKUYO Online Physical Distribution System) in 1974, KOINS (KOKUYO Online Information Network System) in 1976, KAPS (KOKUYO Agency Order Entry System) in 1983, KROS (KOKUYO Retailer Order-entry System) in 1986, and KOLUS (KOKUYO Online Logistics System for User Satisfaction) in 1995.