KOKUYO's Historical Episode
Universal Design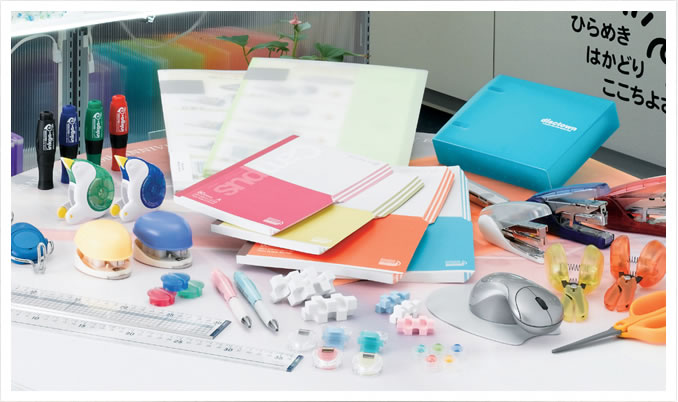 PHOTO : Universal design (referred hereafter as "UD") is a concept that was advocated by Professor Ronald Mace of the North Carolina State University in the 1980s.The concept, in short, is "to design facilities, products and information that can be used by as many people as possible." KOKUYO started developing UD products in earnest from the latter half of the 1990s, and has been involved in various projects with the aim of making ordinary products that are easy for as many people as possible to use, rather than simply innovative or novel products.
UD truly reflects the founding spirit of KOKUYO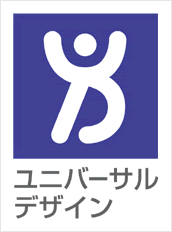 KOKUYO universal design logo
In 1995, KOKUYO added 3 requirements that should be fulfilled by KOKUYO products in addition to the 7 principles advocated by Mace to establish a total of 10 principles as a guideline (*1) for evaluating its products. As the principles of UD and the founding spirit of making things at KOKUYO of "make things from the standpoint of the users" overlap considerably to begin with, the UD guidelines spread through the company naturally. In 1999, KOKUYO established a UD logo (shown below) to be displayed on products that cleared the requirements, and the Wavelet, a clear file folder, was released the same year as KOKUYO's first UD product. The opening of the pocket sleeve is cut in a wavy pattern so that documents can be inserted and taken out extremely easily. "PunyoPunyo Pin", released in the following year in 2000, is a thumb tack that is safe, secure and easy to pull out, all achieved by covering the entire pin with a soft plastic ring. Moreover, the "Kadokeshi" plastic eraser that resulted from the 2002 KOKUYO Design Award has become a huge hit as it enables erasing even fine areas easily. Although the concept of UD was expanding throughout Japan at this time, KOKUYO played a pioneering role in the active development of UD compliant products. In recent years, consideration for UD has become a matter-of-fact condition in product development sites at KOKUYO, with taken-for-granted functions carefully being reconsidered and numerous UD products that focus on ease-of-use being released.
Clear file folder (wave-cut pocket – released in1999) – Documents can be inserted and removed easily due to the wavy-cut opening
Hit products "Kadokeshi Plastic Eraser" (left) and "PunyoPunyo Pin" (right)
(*1) KOKUYO's 1 principle and 5 viewpoints
Principle 1: Easy to use for as many people as possible
Viewpoint 1: Solid base (basic product functionality is carefully maintained)
Viewpoint 2: Communication through the five senses (information should be easy to understand through elements including text, diagrams, sound, colour....)
Viewpoint 3: Safe and secure (should be very safe both when in use and not in use)
Viewpoint 4: Usage is easy to understand (should be able to quickly understand its operation)
Viewpoint 5: User friendliness (should be pleasant to use without feeling any burden)