KOKUYO's Historical Episode
KOKUYO's Own Steel Product Plant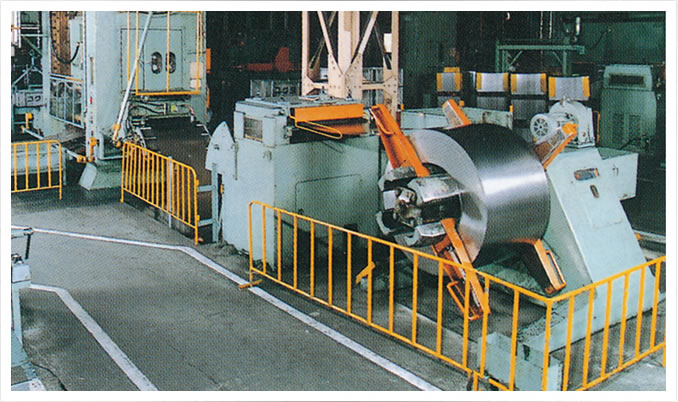 Inspired by the bielomatik, in the company's Yao Plant, KOKUYO designed and developed a machine that automatically manufactures steel desks from rolled steel sheets
From Paper to Steel – A New Pillar for KOKUYO.
From the time KOKUYO entered the steel furniture market in 1960, demand increased steadily, and KOKUYO sequentially released desks, lockers and chairs beginning in 1965. It was more than evident that steel products would become KOKUYO's pillar for the next era. In the beginning, these steel products were manufactured at a partner factory after which the KOKUYO trademark was attached. As the expansion of the market became a certainty, in-house production became increasingly essential for both advancing the company's steel product technology and assuring quality control. Although a plan for constructing KOKUYO's own steel product plant had existed from about 1967, the Kashiwara Plant Construction Committee was finally launched in 1969, and the decision to construct a new factory to manufacture desks that were the core product in the steel furniture category was finalized. The key was in how to uncompromisingly keep costs down while maintaining high quality in order to turn the tables as a latecomer to the field. To achieve this, KOKUYO aimed at introducing an automated production line that had not yet been realized anywhere in Japan at the time. The hurdle for this endeavour was considerably high as the system was to be developed entirely by KOKUYO's in-house engineering staff and not by inviting external engineers and skilled mechanics.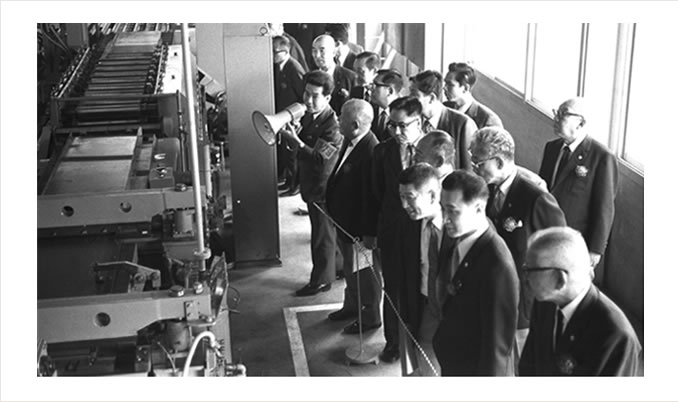 Kashiwara Plant inauguration ceremony (1971)
Designing Japan's first automated production line in-house.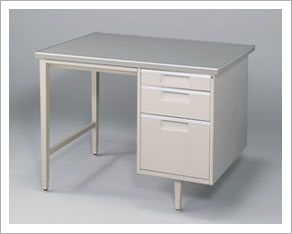 A steel desk manufactured at the Kashiwara Plant
Automated production lines for paper products had already been realized with the introduction of the bielomatik, but the necessary technology and know-how were different and, as it involved a far greater number of production processes, automation naturally became much more difficult. The KOKUYO in-house engineering staff designed the facility while referencing the production technology that had been accumulated through manufacturing paper products, and based on those designs, construction commenced in May 1970 when the plan was almost entirely solidified after collaborating with engineers from 16 equipment manufacturers. The plant was completed in March the following year (1971), and the entire line commenced operation in June.
The fact that KOKUYO, which was almost an outsider in manufacturing steel products, designed its own production facility almost entirely by itself and created a revolutionary automated production line (*1) producing steel desks from rolled steel sheets attracted tremendous attention from all quarters. The Kashiwara Plant contributed to KOKUYO's development thereafter as its main steel furniture factory, and in September 1991 it recorded a cumulative total production of 10 million steel desks (*2).
(*1) Kashiwara Plant steel desk production line
The production line designed by the engineering staff itself at KOKUYO begins not with rolled paper but with rolled steel sheets. Each cut steel sheet is bent and punched automatically as appropriate to each product. After reinforcement materials, etc., are welded on, products proceed to electrodeposition coating (the product is dipped into water-based paint so that a coating film is formed on the surface due to electrodeposition reaction), and then to packaging. KOKUYO's automation of the entire process was the first attempt in the industry and served as an opportunity for KOKUYO to increase its advantage in the industry.

Rolled steel sheet

Sleeve fabrication

Welding

Desktop fabrication

Electrodeposition coating

Automated drawer assembly

Automated sleeve packaging
(*2) This mission ended in 1994, after which it was integrated with the Mie Plant and utilized as the Kashiwara Shipping Centre until 2010.