KOKUYO's Historical Episode
Our Eco X-mark initiative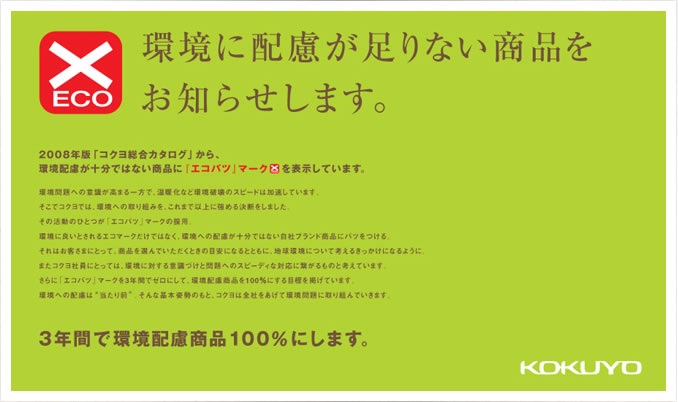 A newspaper advertisement announcing our Eco X-mark (March 2008)
We've approached the green issue from the opposite direction, speeding up the pace of improvements by using an X-symbol, rather than a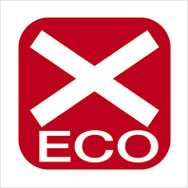 The Eco X-mark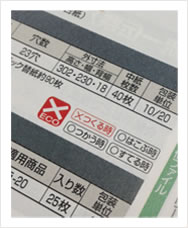 The symbol displayed in our catalog
Although KOKUYO was quick to tackle environmental problems and has continued to do so to fulfill its commitment to corporate social responsibility, as we enter the 21st century we are now being warned of serious environmental dangers on a global scale, such as deforestation and global warming. Such dangers mean there is now a need for an even greater level of effort to tackle environmental issues than has so far been the case. Given this situation, in 2007 KOKUYO announced that it was implementing the sort of measure that would challenge industry wisdom – the remarkable Eco X-mark initiative. This initiative is a top-down project thought up by company president Akihiro Kuroda, and consists of marking products that are not green enough with an "X" symbol, with the aim of eliminating all such products in three years. His idea was to create a sense of alarm that products which did nothing to address environmental issues would sooner or later end up being rejected by the market. However, at first this idea sparked a great deal of controversy and disagreement within the company. There was much anxiety surrounding the initiative when it was launched, with some objecting to the use of an X symbol, making it seem as if the company was criticizing its own products, while others in the sales department were worried that sales would suffer as a result. Despite this shaky start, however, customer reaction was generally positive, and the company has been able to gain the support of relevant parties, such as subcontract plants and business partners. As it turned out, of a total of approximately 70,000 products that were assessed, around 18,000 were given the Eco X-mark, in light of internal standards laid down (see Note 1). As originally planned, by the time the 2011 issue of our company catalog appeared, there were no more products bearing the Eco X-mark.
The keywords are "green" and "creative"
The Eco X-mark initiative prompted us to carry out a review of internal manufacturing processes, or more specifically, our product range. Furthermore, by reviewing our own working methods, even in departments with no direct connection to manufacturing, we have been able, for example, to propose more environmentally-friendly office spaces to our customers. In addition, by being a company that plays a useful role in society, we have realized once again that it's essential to try new things, without being bound by received wisdom or convention. Although the Eco X-mark initiative has come to an end, there is no "goal" when it comes to caring for the environmental. Based on this experience, it goes without saying that KOKUYO is a green company, but at the same time it aims to come up with proposals for products, spaces and ways of working that stimulate the creativity of our customers, and continues to push its boundaries.
(Note 1) In the 2008 issue of our product catalog, we set environmental standards for each of the following – "when made," "when used," and "when thrown away" – adding a fourth, "when transported," and reviewing the details of all four criteria for the 2009 issue. If a product failed to meet even just one of those standards, it was then given the Eco X-mark. [Reference] What is the Eco X-mark? (Display of the symbol, and its aims)