KOKUYO Furniture opens Singapore Showroom
Aiming to improve brand awareness among high-end users and
Visualizing the basic "People + Design" concept for office furniture aimed at overseas markets
OSAKA, Japan, April 18, 2012 -KOKUYO Furniture Co. Ltd ,a KOKUYO Group Company(headquarters in Osaka, President: Hidekuni Kuroda), announced that it opened Showroom in Singapore on 19th April, as a branding hub in the Asian office furniture market, to display office furniture products for overseas markets.
In the KOKUYO Furniture Singapore Showroom we have constructed a showroom space which visualizes the basic People + Design concept of office furniture aimed at overseas markets, centering on Asia, in order to improve KOKUYO's brand awareness among global and local companies in Singapore, architect's offices and so forth. The showroom brings together for Asia the various strengths that we have built up in Japan, and it also serves as hub for communications too.
Specifically, the exhibits center around evolved products aimed at the Asian market, including the Airfort office chair, fitted with the world's first movable air lumbar support, as well as the 'Softorage' range of soft closing steel storage products. There is also a history of the KOKUYO Group, a record of all the various design awards that have been won, focusing mainly on office furniture, and displays of the development processes behind the products exhibited. The space is also used as a communication forum for Chinese designers and dealers from across Asia.
At the Singapore showroom we are also exhibiting, for a limited period only, the 'Cherche Midi' chair, created by the designer Kiyomi Suzuki, weighing only 960 grams and made of carbon fiber. A limited quantity of these chairs went on sale in Japan at the end of 2011.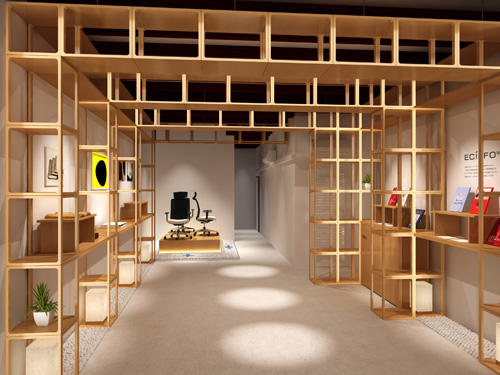 Date of showroom opening: 19th April, 2012
Overview of the KOKUYO Furniture Singapore Showroom
Name: KOKUYO Furniture Co., Ltd. Singapore Branch
Location: 42 Duxton Road, Singapore 089506
Tel. +65-6222-7535
Opening hours: Monday to Friday, 9am - 6pm
Floor overview:
1st Floor part 81.8m2 Showroom
2nd Floor part 93.5m2 Showroom-cum-live office 
Products exhibited: Office furniture and other products, aimed mainly at Asian markets
§ Reference
"People + Design"
This is the spirit of generating creative ideas which lies at the root of KOKUYO's product creation. We are now expressing that spirit in the form of the keywords "People + Design". This is not simply about products having great style; based on the way people move, how they work in an office and the way they use furniture at such times, we plan and create products that have a contemporary design and have been conceived from an ergonomic point of view. Going beyond the conflicting needs of design and practicality, we aim to create products with value that combine sophistication with ease-of-use. That is the concept behind KOKUYO.
Enquiries

Link to "Contact us" (https://www.kokuyo.com/en/contact/)