"The Conran Shop" 'Äď China'Äôs first branch opens in Shanghai
A hub for collaboration with design studios and designers
TOKYO, June 4, 2012 Ôľć LmD International Co., Ltd., a KOKUYO Group company (Headquarters in Tokyo, President: Yasushi Inoue) announced that it established KOKUYO Yijiang (Shanghai) Trading Co., Ltd. (Headquarters in Xuhui District, Shanghai; Managing Director: Yasushi Inoue/General Manager: Motomasa Watanabe 'ÄĽ resident on-site) on 13th March this year, and will open China'Äôs first branch of The Conran Shop, 'ÄúThe Conran Shop Shanghai (Wending)'ÄĚ, inside the Wending Plaza in Shanghai'Äôs Wending district, on 19th July.
The Conran Shop is a home furnishings store selling interior goods carefully selected from around the world by British interior designer, Terence Conran. He opened the first and now flagship store in London in 1973, and has since expanded to 13 stores in 10 cities in 6 countries across the globe including France (Paris), United States (New York), Italy (Milan), Ireland (Dublin), and Japan.
In Japan, KOKUYO Group's LmD holds the rights to expansion and we have launched 7 stores. In addition to Shinjuku (Tokyo), Marunouchi (Tokyo), Nagoya, Osaka, and Fukuoka, we have an outlet store 'Äď The Conran Shop Warehouse 'Äď in Koshigaya, Saitama Prefecture, and in May of this year, we opened a single concept store, The Conran Shop Kitchen, inside the Shibuya Hikarie building.
In addition to Japan, KOKUYO Group's LmD recently won the license rights for The Conran Shop in China, Hong Kong, Taiwan, and Macau. We plan to open the first shop, assess the market characteristics, and examine business expansion models with a focus on China's Shanghai market, where the interest of the wealthy population is expanding from assets to lifestyle and trends in executive office space are also shifting.
At The Conran Shop Shanghai (Wending), Terence Conran's commitment to a more affluent and high-quality lifestyle will be expressed in living, dining, and kitchen spaces. The store is small with a floor area of around 400 square meters, but the essence of The Conran Shop can be experienced fully in each of the spaces, which are created from a wide range of items. We plan to enhance our interior space planning aimed at high-end customers in China by collaborating with design studios and designers who play an important role in creating living spaces for these customers.
Also, in many cases, the target customers of The Conran Shop Shanghai (Wending) are in the business executive segment, and so we will also explore opportunities for planning interior spaces such as offices and reception areas. This will be done in coordination with KOKUYO Furniture Commerce and Trading (Shanghai) Co., Ltd. (a subsidiary of KOKUYO Furniture) with the aim of creating synergy with our office furniture-related business in the Chinese market.
KOKUYO Furniture is currently creating and enhancing a full value chain for the development, manufacture, marketing, and distribution of office furniture targeting China's high-end and upper mid-range client companies. In marketing in particular, it is building and strengthening relationships with design studios and designers. Hereafter, through its collaboration with The Conran Shop Shanghai (Wending), KOKUYO Furniture will add a menu of services aimed at enhancing its presence among Chinese high-end customers and design studios/designers.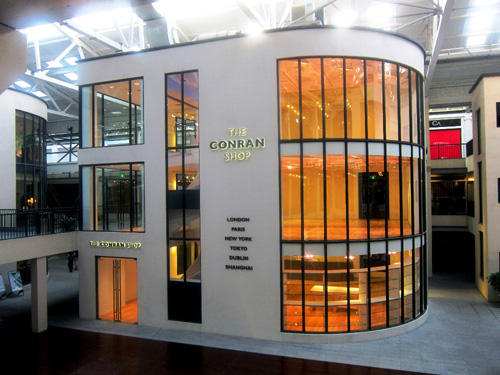 Date of opening: 19th July, 2012
Sales target for first year: 80 million yen
THE CONRAN SHOP SHANGHAI (WENDING) - store overview
Name: THE CONRAN SHOP SHANGHAI (WENDING)"ÄÄ
Date of opening: 19th July, 2012
Location: No.258 Wending Road, Xuhui District, Shanghai"ÄÄ
Opening hours: 10am to 7pm
Regular closing day: not fixed
Store floor area: approx. 400m2
Type of business: Retail
Number of items: approx. 700
Products stocked: General home furnishings
KOKUYO Yijiang (Shanghai) Trading Co., Ltd 'Äď company overview
Company name: KOKUYO Yijiang (Shanghai) Trading Co., Ltd
Headquarters location: 258 Wen Ding Lu Xu Hui Qu, Shanghai
Representative: Yasushi Inoue (Managing Director, Nationality: Japanese)
Motomasa WatanabeÔľąGeneral Manager, 'ÄĽ resident on-site; Nationality: JapaneseÔľČ
Date of establishment: 13th March 2012
Investment ratio: 100% LmD International Co., Ltd.
Number of employees: 20
Capital:"ÄÄ200 million yen
Business activity: Proposal of high-quality lifestyles through the handling of general home furnishings
Enquiries

Link to 'ÄúContact us'ÄĚ (https://www.kokuyo.com/en/contact/)