KOKUYO Furniture opens Shanghai Flagship showroom
Store to become a centre for KOKUYO brand promotion, aimed at capturing Chinese domestic demand
OSAKA, Japan, October 22, 2012 - KOKUYO Furniture Co. Ltd., a KOKUYO Group company (headquarters in Osaka, President: Hidekuni Kuroda), announced that it opened Shanghai Flagship Showroom on October 25th, in order to take advantage of domestic demand for office furniture in China, and boost KOKUYO brand promotion and sales.
Since the setting up of a sales branch in Shanghai in 2002, the development of our office furniture business in China has taken the form of a nationwide expansion of our office construction service, with the majority of our clients being Japanese companies expanding into China.
Subsequently, the growth of the Chinese economy led to an expansion of the office furniture market and the addition of a new segment of customers with particular demands in terms of design and product quality. Against this backdrop, from 2010 onward we have built up a value chain that responds to the needs of our domestic customers, and have added a new range of companies to those we target with our products, from those at the high-end of the Chinese corporate scale, wielding major purchasing power, down to companies in the mid-market sector.
Specifically, from 2010, we have made efforts to promote product development, setting up product development teams in China, and entering into a sales and manufacture license agreement with the Thai office furniture maker Practika, in order to expand our range of office furniture with local Chinese specifications. In January 2011, we consolidated the functions of marketing, planning, product development, distribution and sales into "KOKUYO Furniture Commerce and Trading (Shanghai) Co., Ltd.", in order to make a start on integrating the value chain in earnest, and we are currently in the process of rapidly expanding the sales network of both the inland and costal divisions.
Furthermore, in March 2011, we invested in, and entered into a joint venture with the Pinghu Tailik Office Automation & Equipment Co., Ltd., in Zhejiang Province, acquiring automated production capability for the first time in China, and the new plant had gone into operation by the end of that year. We are currently strengthening our efforts to improve quality at the plant, as well as our performance in terms of cost and delivery times.
This new showroom has been set up in the People's Square area, located in the heart of Shanghai, as a center to boost KOKUYO brand penetration and sales. It features several different spaces, such as an exhibition area which allows visitors to experience first-hand products which combine KOKUYO brand and design with functionality; a 'Live Office' in which sales and product development teams go about their work; and a seminar space which transmits KOKUYO's views and trend-related information on the construction of office space.
The main feature of the showroom is that overall, it's a space imbued with a flair for design that gives full expression to KOKUYO's creativity. With the Shanghai showroom acting as the main hub, the Singapore showroom opened in April this year, featuring a similar distinctive, creative space, and this means there are now three hubs – Shanghai, Hong Kong and Singapore – which are linked together. In addition, hubs on the Chinese mainland, such as Guangzhou (due to have a showroom refurbishment this year) and Beijing, are mutually linked, and we plan to adopt a strategic approach to moves by foreign and Chinese companies.
§ Office construction service: This is an all-in-one service we provide, which includes a tenant search, office layout, furniture sale, construction, wiring work and so forth.
§ Live Office: This is an office that allows customers to observe KOKUYO employees actually working.
Date of Showroom opening: 25th October, 2012
Shanghai Flagship Showroom Overview
1st Floor: Seminar & Salon Area
This is an open space which can be used for the regular planning and holding of information dissemination seminars, including KOKUYO's own Worksight, which introduces examples from around the world of different ways of working and working environments. There's also a library, stocked with books from around the world on architecture and design.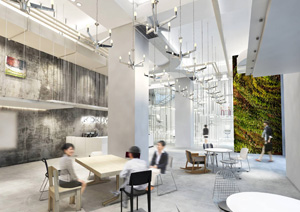 2F: Product exhibition, Live Office area
This comprises the Product exhibition space, where visitors can experience the design, functions and quality of products, and the Live Office, where one can observe people working as they actually use the products in question.
This showroom will in future become a hub, and KOKUYO will speed up its brand promotion and sales activities, strengthen its value chain, and move forward with its office furniture business in China.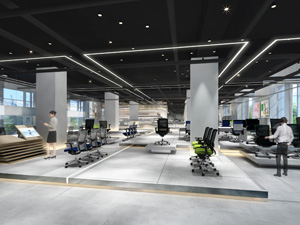 § Overview of facilities
Name: Shanghai Flagship Showroom
Location: Xinjinqiao Square, No.7 West Beijing Road, Huangpu District, Shanghai
URL: http://www.kokuyo.cn/furniture/
Purpose: Showroom-cum-Live Office
Overview of floors: Total area of 1st and 2nd Floors combined – approx. 1,300m2
Products exhibited: Office furniture, centred mainly around desks and chairs for the Asian market, with approximately 40 items planned for exhibition (at time of showroom opening)
Enquiries

Link to "Contact us" (https://www.kokuyo.com/en/contact/)