A new base for transmitting our corporate brand
Introducing the planning, spatial design and design/construction examples of KOKUYO Furniture
The new, redesigned JAL Factory Tour Sky Museum
OSAKA, Japan, July 29, 2013 - KOKUYO Furniture Co. Ltd., a KOKUYO Group company, undertook the planning, spatial design, and design/construction of the newly redesigned JAL Factory Tour—Sky Museum, which opened on July 22, 2013, for Japan Airlines Co., Ltd. (hereinafter referred to as JAL).
Based on the know-how and experience regarding spatial construction accumulated at KOKUYO, our company creates new spaces, such as offices, educational, cultural and public facilities, commercial facilities, etc., for a variety of clients.
In creating this newly opened JAL Factory Tour—Sky Museum, established as a part of their CSR activities, we worked with partners specializing in each area to conduct the overall direction of the space from planning content to editing, spatial design, graphics, video production, and interior construction.
Using a dynamic and vibrant method of expression to show the extraordinary scale of the maintenance factory and airplanes, the JAL Factory Tour—Sky Museum was configured to give a sense of high quality, elegance and authenticity while maintaining approachability. By effectively adopting graphic and digital content including various exhibit items that convey the appeal of JAL, we created a fascinating, interactive museum that can be enjoyed by people of all ages, from young children to adults.
Specifically, we strived to create a space for visitors to see the appeal of the products and services of JAL from its establishment to the present day as the company developed alongside the history of aviation in Japan, such as the introduction of work and exhibits of past uniforms under the concept "Appeal of the Staff Who Support JAL flights."
We aim to continue contributing to the creation of attractive locations through our unique creativity and high-quality designs.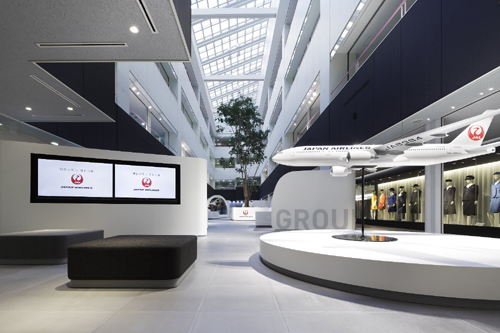 Project overview
Name: JAL Factory Tour—Sky Museum
Use: Interactive museum
Business owner/management: Japan Airlines Co., Ltd.
Location: JAL M1 Building, Haneda Airport,3-5-2 Haneda Airport, Ota-ku, Tokyo
Area: Approx. 1,400㎡ *Including airline classroom space
Opened: July 22, 2013 (Redesigned)
Major facilities: Archives Area, Work Introduction Area, New Products and Services Area, etc.
Planning, editing, design, construction: KOKUYO Furniture Co., Ltd.
Designer: Hisashi Kano
Project Partners
Planning & Editing: UDS Ltd. (A subsidiary of KOKUYO Furniture Co., Ltd.)
Graphic design, editing, video: Kanzan Co., Ltd.
Video production: Artico Inc.
Interactive designs: Shikumi Design Inc.
Digital contents: Gratri Inc.
Photographs: Nacasa & Partners Inc.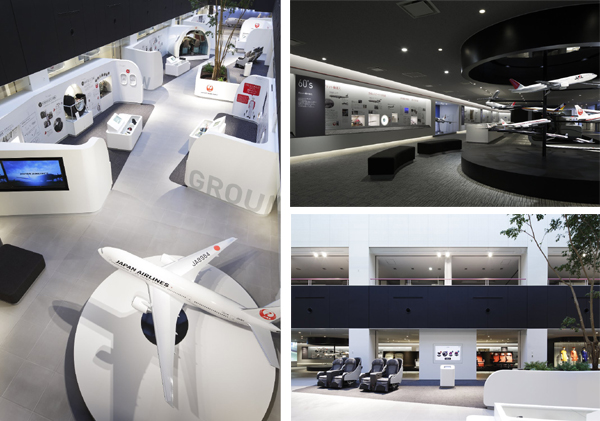 Enquiries

Link to "Contact us" (https://www.kokuyo.com/en/contact/)