KOKUYO Furniture Opens Jakarta Showroom
Major base for communicating the KOKUYO brand and securing domestic demand
OSAKA, Japan, October 11, 2013 - On August 23, KOKUYO Furniture Co., Ltd., a KOKUYO Group company, opened a showroom in the Jakarta, the capital city of Indonesia, to acquire a sales route to domestic demand for office furniture.
With a population of approximately 240 million, Indonesia is the largest economy in ASEAN, and it is expected that the country will continue to show a high growth rate in the future. The newly opened Jakarta Showroom will exhibit products targeting local and international corporations positioned at the higher end of the local economy, and it will be operated by our local distributing dealer, Krisson Indonesia. They will first work on increasing brand awareness and understanding of products targeting interior designers in charge of designing the office spaces of our target customer group.
Based on the concept of layers, the Jakarta Showroom follows in the steps of the Shanghai Flagship Showroom, which won various domestic and international design awards, with a more evolved design. In an environment with shades and shadows bringing to mind Indonesia's traditional Wayang Kulit (shadow puppets), under lighting that looks like a multitude of small balls of light are floating on a clear glass plate, the showroom exhibits products with the concept of People + Design aiming to achieve both ease of use and high levels of design.
In the future, using products designed and manufactured in Asia, and a network spread throughout Asia, in countries like China, Singapore, Malaysia, Thailand, India and Indonesia, KOKUYO will strive to penetrate into the local market of each on these countries.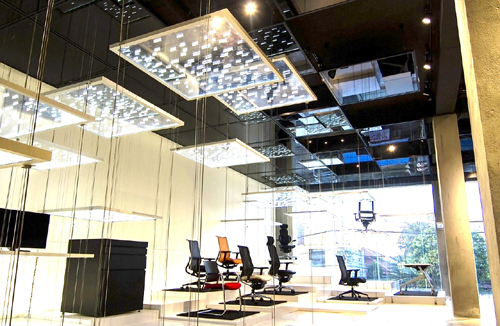 â—‹Date showroom was opened: August 23, 2013
Overview of the KOKUYO Furniture Jakarta Showroom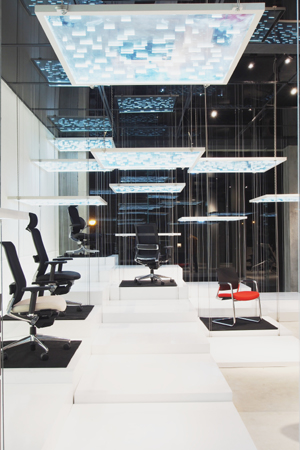 Name: KOKUYO Furniture Jakarta Showroom
Location: Jalan Kebon Jeruk Raya No.26, Kris Gallery 2nd Floor Jakarta Barat Indonesia
Business hours (opening): 10:00 a.m. to 5:00 p.m., Mon thru Fri
Floor area: 150m2
Exhibited products: Office furniture and other products for overseas customers, particularly customers in Asia
URL:www.kokuyo.com.my
facebook:www.facebook.com/
KOKUYOJakartaShowroom
§ Reference

"People + Design"
The spirit of originality and ingenuity is the foundation of Monozukuri at KOKUYO. We describe this spirit using the keywords, People + Design. We plan and create designs that are in tune with the modern times, creating not just superior designs, but considering how people move and work in the office and how the furniture is used from the perspective of ergonomics. Going beyond just meeting the conflicting need for beautiful design and practical utility, we aim to create products with value that are both sophisticated and easy to use. That is the concept of KOKUYO.
Enquiries

Link to "Contact us" (https://www.kokuyo.com/en/contact/)