KOKUYO Camlin Limited began the construction of a new factory in India.
-For the reorganization of stationery factories within India-
OSAKA, Japan, January 15, 2015 – KOKUYO Camlin Limited (Headquarters in Maharashtra, India. Listed on India NSE, BSE. Hereinafter referred to as "KOKUYO Camlin"), an Indian subsidiary of KOKUYO S&T Co., Ltd., (headquarters in Osaka; president: Takuya Morikawa) is pleased to announce that the company is building a stationery factory in Patalganga, Maharashtra, with the goal of going live in early 2016 to reinforce the stationery business in India.
At present, KOKUYO Camlin has set a goal for the management centered on businesses in the realization of a value chain of development, manufacturing, sales, and distribution that is insistent on the value provided to customers with the goal of maximizing the value in both the home and overseas markets. Even in Asian countries, the company hammers out a key strategy to build a value chain that is capable of capturing the growing domestic demand by market.
In October 2011, KOKUYO S&T acquired a majority stake in KOKUYO Camlin, which is a long-established Indian stationery manufacturer, making an entry into the stationery market in India. This has also helped KOKUYO S&T to acquire the company's management foundation, such as the sales and distribution network covering all of India, brand strength amassed through its history of over 80 years, substantial human resources, well-developed systems, and IT systems. Since then, throughout three years, KOKUYO Camlin has been making efforts to increase the quality and optimize stock levels by introducing a new sales order management system, in addition to modernizing its management.
This time, the new factory aims to reorganize the factories scattered around Maharashtra to consolidate the production of KOKUYO Camlin's existing products (markers, mechanical pencils, ballpoint pens, and mechanical pencil leads) with the goal of cost reduction by promoting efficiency, as well as to accumulate production technology, reinforce the production capacity, and build a stable production system. In addition, the factory will have the function of a mother warehouse so as to construct a framework to respond flexibly to major demand fluctuations unique to emerging countries.
The new factory will be designed with a strong focus on the environment, such as the utilization of solar thermal and the introduction of a wastewater treatment plant.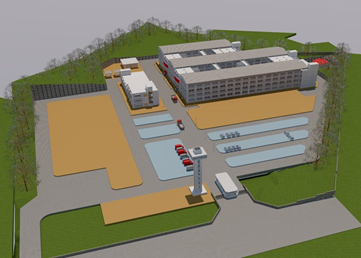 [Reference]
Outline of KOKUYO Camlin Limited (at present)
(1)

Head office: Mumbai, Maharashtra.

(2)

Shareholders: KOKUYO S&T Limited (65.77%), Dandekar Family (Founding family) (9.21%), and other general shareholders (25.02%)

(3)

Representative: Dilip Dandekar (Chairman)

(4)

Directors (12 in total): Dilip Dandekar (Chairman), Takuya Morikawa (Senior Vice-Chairman) (President and CEO, KOKUYO S&T), Shriram Dandekar (Vice-Chairman), Nobuchika Doi (representative employee in India and Senior Corporate Officer of KOKUYO S&T), Takeo Iguchi (representative employee in India and Corporate Officer of KOKUYO S&T), Yasushi Inoue (Director and Senior Managing Officer, KOKUYO S&T), Deven Arora (outside director), Hisamaro Garugu (outside director), R. Sriram (outside director), Shishir B. Desai (outside director), V. Sriram (outside director) and Aparna Piramal (outside director).

(5)

CEO: Ayyadurai Srikanth

(6)

Establishment: Camlin Limited was established in 1931. Its trade name was changed to KOKUYO Camlin Limited in October 2011.

(7)

Capital: 100.30 million rupees (as of September 2, 2013, when the issue was complete)

(8)

Employees: Approximately 2,400 (1,200 regular employees included)

(9)

Net sales: 4,505 million rupees (Approximately 7,300 million yen. Sales were comprised of stationery goods in general and overall art materials.)

(10)

Factories: 5 locations

(11)

Depots for delivery: 29 depots in all the states.
Outline of Patalganga Factory plans
(1)

Beginning of operation: Scheduled to be early 2016


(2)

Location: The Patalganga industrial zone, Maharashtra.


(3)

Site area: 56,655 sq. meters


(4)

Total floor area: 26,401 sq. meters (including the depots)


(5)

Production items: Stationery centered on writing materials, inks and glues.


(6)

Number of employees: Approximately 600


(7)

Total investment: Approximately 1.05 billion yen

Enquiries

Link to "Contact us" (https://www.kokuyo.com/en/contact/)