KOKUYO wins 2023 iF Design Awards for two facility interior designs and three product designs
KOKUYO Co., Ltd. (Headquarters: Osaka/CEO: Hidekuni Kuroda) has received the iF Design Award 2023, organized by iF International Forum Design in Germany, for two facility interior designs and three product designs.
The iF Design Award, organized by iF International Forum Design, is a globally renowned design award. This year, KOKUYO won prizes for the interior designs of two facilities--the lounge space at Aroma Square Lounge and the free address area of Cybozu's TeamHub Tokyo office--as well as three product designs: the ARTBOARD, art that can be drawn on like a whiteboard; HASA high-grade scissors; and the ingLife task chair.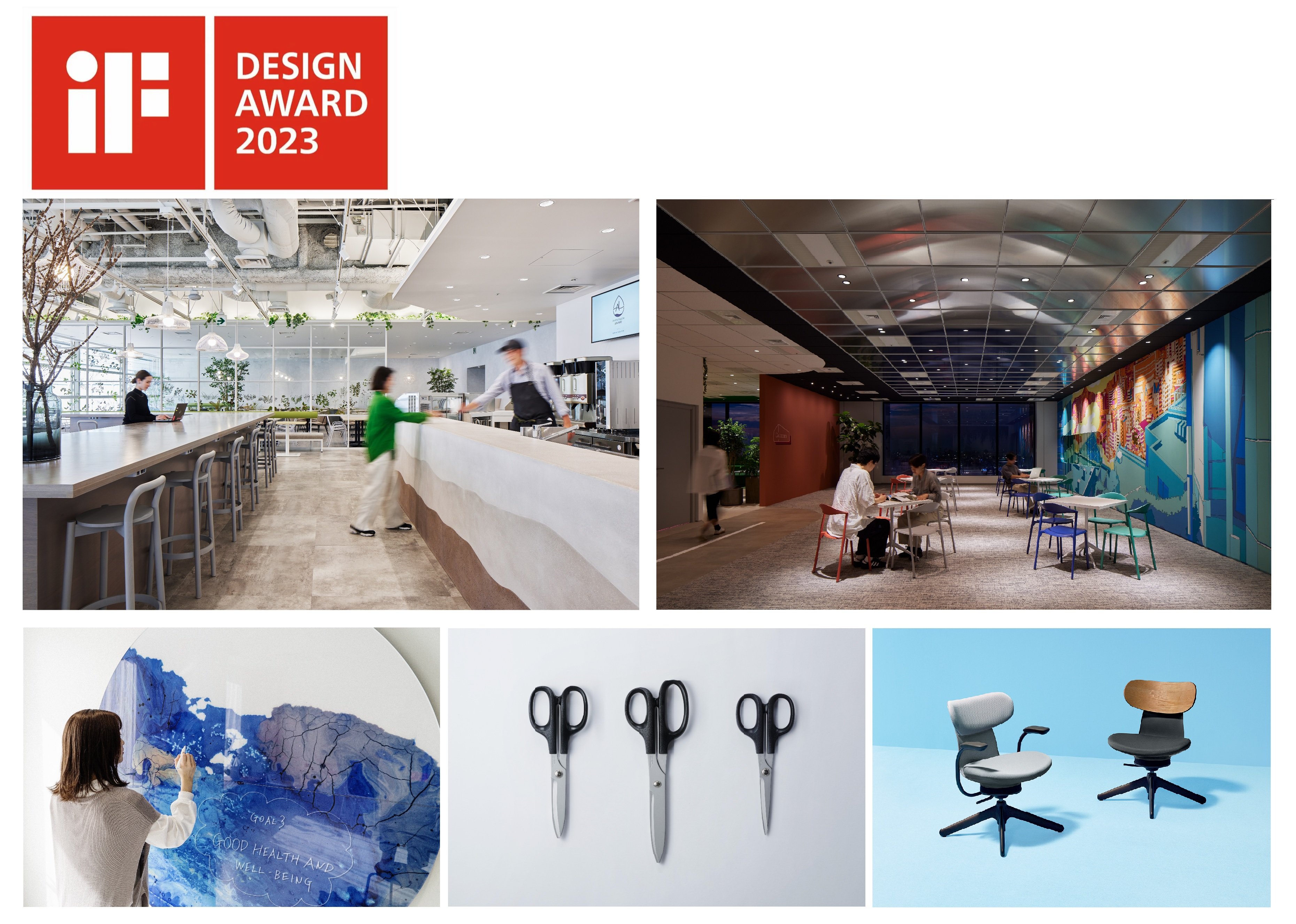 Photos (from left):
(Upper row) Lounge space at Aroma Square Lounge, Free address area at Cybozu TeamHub Tokyo
(Lower row) The ARTBOARD, art you can draw on like a whiteboard; HASA high-grade scissors; ingLife task chairs
[About the award-winning facilities]
(1)Lounge space at Aroma Square Lounge
Facility name: Nissay Aroma Square 
(Operated by: Nippon Life Insurance Company, Takasago International Corporation)
Facility location: 5-37-1 Kamata, Ota-ku, Tokyo, 144-0052 
Summary: This is a lounge space for workers at Nissay Aroma Square. Since it was often used when workers were busy and couldn't find time to go out to eat, and people in the building lacked a place where they could take a break and relax on their own, we decided to take as our concept, "a rest area for workers as they speed through their busy days." The design has a white base, symbolizing cleanliness and brightness, with natural wood textures, a plaster counter with a dirt-and-stone Earth motif, and a variety of plant-based expressions by floral artists to create a comfortable space inspired by the blessings of nature and the harvest.

(2)Free address area at Cybozu TeamHub Tokyo 
Facility name: Cybozu, Inc.
Facility location: Tokyo Nihombashi Tower 27F , 2-7-1 Nihombashi, Chuo-ku, Tokyo
Facility URL: https://cybozu.co.jp/company/access/tokyo/
Summary: A refurbishment of the free address area at Cybozu's Tokyo headquarters. We built a place where individual employees could proactively take ideas, share those ideas with other employees and stakeholders, and work together to make them a reality. It was constructed as a virtual hub, a base for employee exchanges and collaboration. The design concept is "Cybozu DOWN TOWN" planned as a place where people meet and activity happens in bustling lanes, like a downtown area, so innovation continually occurs as people visit.
[About the award-winning products]
(1)ARTBOARD
The ARTBOARD is a work of art--adding color to the space, firing the imagination and inspiring communication--while also serving as a whiteboard space for drawings and notes. More than just decoration to look at, it can be used (drawn on), helping ideas to bloom. It is an art solution intended for creative communication, with the composition of the art meant to facilitate a variety of discussions. We believe it supports organized thinking and makes meetings more creative.
Product release website  
https://www.kokuyo-furniture.co.jp/solution/kokuyo_design_works/projects/detail/989/

(2)HASA high-grade scissors
These high-grade scissors came about in honest pursuit of a cherished, long-lasting tool that would balance high-performance and cutting comfort as scissors with a simple, functional beauty that harmonized with daily life. They feature KOKUYO's uniquely designed blades with refined sharpness (*HASA-001 and 002 only), a handle made for comfort, and an attractive look that blends with daily life. The blades are individually made, carefully crafted at a factory in Vietnam by the Kai Corporation, which has a 100-year history in knife production. The product design was created in collaboration with Takram, a globally active design innovation firm.
Product website
https://www.kokuyo-st.co.jp/stationery/hasa/

(3)ingLife task chair
Using the concept of a Multi Objective Chair, this product fits a variety of scenarios within the home, from work and study, to meals, to gaming. By including a gliding function with 360-degree seat-surface oscillation to match your body's subtle movements, it allows for long-term comfort while sitting. Since its movement adapts to body weight, the chair is suitable for children as well as adults, and comfortably supports all body types and postures.
Consideration has also gone into how the design fits into living spaces. By setting up one chair for adult work and one chair for children's study, it's possible to create an environment that allows easy focus in a shared space.  
Product website   
https://workstyle.kokuyo.co.jp/shop/pages/sp-inglife.aspx
[Reference]
■About the iF Design Award
The iF DESIGN AWARD, organized by iF International Forum Design GmbH in Hanover, Germany, has been a globally recognized brand for design excellence since 1954, and the iF brand is internationally recognized as a symbol of design excellence. As one of the world's most important design awards, the iF DESIGN AWARD is rigorously judged to evaluate design achievements in all areas of product, packaging, communication, service design, architecture, interior design, as well as user interface (UI), user experience (UX), professional concept, and more.
https://ifdesign.com/