Contest Theme: NEXT QUALITY
Announcing the Kokuyo Design Awards 2014
Kokuyo Co., Ltd. (Osaka; Akihiro Kuroda, president) has announced a call for entries to the Kokuyo Design Awards 2014 contest. Submissions will be accepted between April 14 and June 30, 2014. Winning designs may be selected for further development into commercial products in the future.
The Kokuyo Design Awards began in 2002. Since then, this annual design contest has been responsible for discovering and developing such hit products as the Kadokeshi eraser, the Parakuruno Campus notebook, the Beetle Tip fluorescent highlighter, and the Roll Table.
Last year, this internationally acclaimed contest attracted 1,217 entries from designers representing more than 20 countries.
The theme of this year's contest is NEXT QUALITY; submissions will focus on stationery and furniture design.
Contest details and entry requirements for the Kokuyo Design Awards 2014 attached.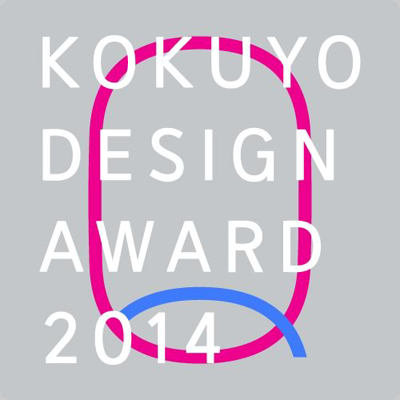 Kokuyo Design Awards 2014 Contest Details
1.Theme: NEXT QUALITY
Throughout moments in working, learning, and living, good products can make these a more richer experience.
Going beyond just quality, we want to bring more products that combine beauty and superior functionality to the world.
This level of perfection is what we call "NEXT QUALITY".
They are products that provide ease of use. Products that inspire, and please the senses.
Products with humor that bring smiles to our faces.
Stunningly beautiful, yet subtle and elegant.
We look forward to receiving your designs that propose new values.
2.Design Submission Category: Stationery, Furniture
3.Submissions Accepted between April 14 (Monday) and June 30 (Monday), 2014 (both contest registration and design submission)
4.Judges (listed in random order):
Yoko Kawashima, Head Chef, ifs FUTURE LABORATORY, Itochu Fashion System Co.,Ltd.
Kashiwa Sato, Representative, Art Director/Creative Director, Samurai Inc.
Kinya Tagawa, Representative/Design Engineer, takram design engineering Yasuhiro Suzuki, Artist
Akihiro Kuroda, Chef Executive Officer, President and Director, Kokuyo Co., Ltd.
5.Prizes:
Grand Prize: ÂĄ2,000,000 (one winner)
Excellence in Design: ÂĄ500,000 (four winners)
6.Final Judging: Winners to be announced on October 29, 2014 (tentative)
We will publish detailed entry requirements through our website and official Facebook page on April 14.
Web: http://www.kokuyo.com/en/award/
Facebook: https://www.facebook.com/KokuyoDesignAward.japan
Address Inquiries by Email to:
Kokuyo Design Awards Office: contact2014@award.kokuyo.co.jp

Enquiries

Link to "Contact us" (https://www.kokuyo.com/en/contact/)