Theme for submissions: "HOW TO LIVE"
Holding of the KOKUYO DESIGN AWARD 2016
KOKUYO Co., Ltd. (Headquarters: Osaka City; President and CEO: Hidekuni Kuroda), is holding the KOKUYO DESIGN AWARD 2016 which is a competition aiming to gather and commercialize designs from a wide range of users in the general public that are excellent from the perspective of those using them. We will accept submissions of works from 13th May, 2016 to 29th July, 2016.
This is the 14th KOKUYO DESIGN AWARD to be held since it was established in 2002 (the only year it was not held was 2010), and from among the winners so far, such products as "kadokeshi (eraser)", "the Campus Note Paracuruno (notebook)", "the Beetle Tip (highlighter pen)" and "the Wagomu (rubber band)" have been created.
The previous number of submissions (for the 13th contest) totalled 1,659 and the applicants were of 41 different nationalities (including Japanese) and it has been recognized as an international competition for product design.
The Kokuyo Group promotes the provision of value as a contribution to the improvement in creativity for customers in the areas of "working," "learning" and "living."
The theme last time, "Beautiful Lifestyle," broadly embraced the concepts of "working," "learning" and "living" but this time we have used the title theme of "LIVE" in English to give the meaning of "being alive" rather than just "living". On the theme "HOW TO LIVE", we are looking for submissions that propose "product designs connected to an awareness of the way of life and living of the users."
Submissions are invited for "items used in our everyday lives, such as stationery, furniture or household goods." Of course, this includes the Kokuyo group's main product categories of "stationery" and "furniture", but we also welcome proposals for "household goods". In addition, submissions are not limited to a proposal for a single item and works composed of a combination of a number of products are also acceptable if they are effective in expressing a way of life and a way of living.
More information will be released in successive stages on the Kokuyo website and other places.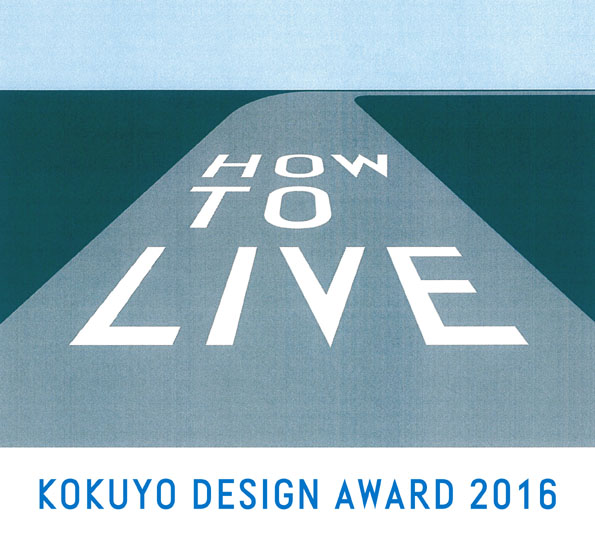 The main application guidelines for the KOKUYO DESIGN AWARD 2016
1. Theme: HOW TO LIVE
We are inundated with so many things in this modern age.
We may wonder what we really need. The time has come for us to think in a new way.
Before getting something new we need to stop and think whether that thing is really necessary for our lives or way of life.
This also means rethinking the actual act of living.
It is the same for those making something.
You can create something only after contemplating your own way of life or living.
These things may give the people using them some ideas for a new way of life or living.
We are looking forward to seeing designs that have been created by ideas about how to live.
2. Eligible entries: Items used in our everyday lives, such as stationery, furniture or household goods
3. Registration and submission: May 13, 2016(Fri) to July 29, 2016(Fri)
4. Judges:
Kashiwa Sato (SAMURAI Co., Ltd. Representative / Art Director, Creative Director)
Yasuhiro Suzuki (Artist)
Kinya Tagawa (takram design engineering Representative / Design Engineer)
Ryosuke Uehara (KIGI Representative / Art Director, Creative Director)
Yoshie Watanabe (KIGI / Art Director, Designer)
Akihiro Kuroda (KOKUYO Co., Ltd Representative Director of the Board, Chairman)
5. Prizes:
Grand Prix (one from all entries) ¥2,000,000
Merit Award (three from all entries) ¥500,000 / winner
6. Award Announcements: November 30, 2016 [tentative]
Detailed application guidelines will be released from 13th May on the Kokuyo website, Facebook and Twitter.
Website: http://www.kokuyo.com/en/award/
Facebook: https://www.facebook.com/KokuyoDesignAward.japan
Twitter: https://twitter.com/kokuyo_DA
Contact:
KOKUYO DESIGN AWARD Office
kda●award.kokuyo.co.jp (response by e-mail)
Enquiries

Link to "Contact us" (https://www.kokuyo.com/en/contact/)