The KOKUYO DESIGN AWARD 2020 Winners Have Been Decided - The theme is "♡." Designs that propose new value in working, learning, and living environments have been selected from among 1,377 entries from Japan and abroad -
Held by KOKUYO Co., Ltd. (Head office: Osaka / President: Hidekuni Kuroda), the KOKUYO DESIGN AWARD is a competition that calls for product designs that will create new value in working, learning, and living environments, with the aim of launching them as commercial products. The entry period for the KOKUYO DESIGN AWARD 2020 was from July 19 to October 18, 2019. A total of 1,377 designs were received from 55 countries all around the world (771 from Japan, 606 from abroad), and we are pleased to announce that as a result of judging all the entries, four winners were chosen on Saturday, March 14.
Since its establishment in 2002, the KOKUYO DESIGN AWARD has searched for designs that will create new value for KOKUYO and for society as a whole. In recent years, the competition has placed particular importance on how entries present stories and scenes in which the designs are used. This time around, KOKUYO set the theme as "♡," with the priority on encouraging entrants to unleash their creativity and inspiration. The organizers did not specify how "♡" was to be interpreted, leaving it up to the contestants to translate and understand it in their own way. By doing so, they expected to receive works possessing charm and power that would move people's hearts on an intuitive level.
This year's winners of the Grand Prix and other awards are as follows.
Winners
Grand Prix (1 design)
Design name
General name
Design overview
Award winner/Group name
Somewhere,
Sometime
Pencil
This pencil has a past life. It is crafted from scrap wood that should have already disappeared from the world. The address and material name written on the side of the pencil tell the location of the former building and piece of furniture that this scrap wood was part of. The uneven feel and stiffness, that faint scent, the scratches, those tan lines, the color of the paint, the grain... You will find that each individual pencil is like no other, from the instant you first hold it. Memories only known to this wood are transferred to the pencil, and will live on. Try to picture some time that is not now, and somewhere that is not here.
OBAKE (Natsuki Tomoda, Mai Miura)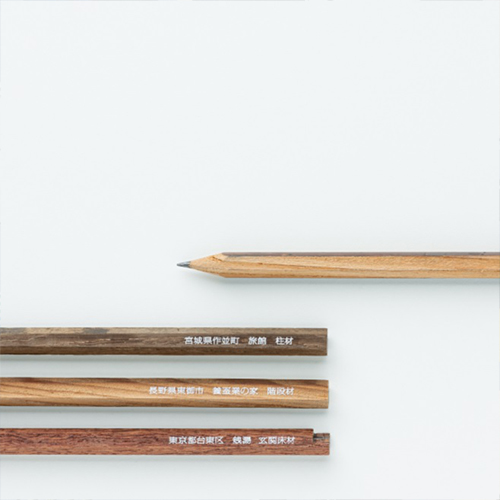 Award for Excellence (three designs)
Design name
General name
Design overview
Award winner/Group name
Music Box
Tape Cutter
Tape cutter
This tape cutter has been embellished with elements of a music box. We have crafted it so that beautiful sounds play as you pull the tape. The sound the tape cutter plays when you pull the tape helps you intuitively measure its length, so you can cut it to just the right amount as you use it. You can also enjoy listening to it longer than usual, for example when something good has happened, or when you have put in your favorite tape. This submission allows you to enjoy using tape sensuously through your ears and eyes.
Shouta Toriyama, Shun Yanagisawa
Dearhearts
Emergency SOS Transmitter with Location Information (one-time PLB)
From the moment you press "Dearhearts" to when the battery runs out, this broach-shaped IoT device will continue to send its current location and SOS messages at regular intervals. Parents' hearts want to know where their children are in case something happens, while children's hearts feel rebellious about having their parents always know where they are. Secretly though, they want to ask for help when something really happens. And their parents want them to ask. We wanted to answer those kinds of needs in parent-child relationships.
Yohei Yamakawa
FROM TREE TO FOREST
Writing Instruments and Corrections - Pencil
The product is a visual and functional stationery design that refers to the relationship between tree and human, forest and society. The product; pencils symbolize the tree trunk and sticky notes symbolize the tree branches. When we put the pencils side by side and nest the sticky notes together, they form the forest form. As you use the sticky notes, sharpen the pencils, reflects destruction of trees, depletion of forests to users. In recent years, the destruction of forests in the world began to occur frequently. We humans, if we do not feel this terrible situation and take precautions, we will end our own. The main purpose of this product is to make the users feel this situation and make them more respectful and protective of nature.
Tuncay Ince
| | | |
| --- | --- | --- |
| Music Box Tape Cutter | Dearhearts | FROM TREE TO FOREST |
Note: The design titles, general item names, design overviews, and winner/group names are as written on the entry sheets.
Reference
■ KOKUYO DESIGN AWARD
KOKUYO DESIGN AWARD was founded in 2002 as a competition for product designs with the objective of promoting product creation with a user-oriented perspective. It calls for works from the general public and aims to launch them as commercial products. This time around marks its 17th year. The AWARD is growing as an international competition: the judges are top creators working actively both within and outside Japan, and the majority of entries have been from abroad in recent years. The contest also invests effort in turning winning designs into commercial products, and has successfully launched 18 designs on the market to date. Among the works that have made a commercial debut are "KADOKESHI," which has been added to MoMA's permanent collection, "Nameless Paints," which won several international ad and design awards, and "True Measure," which won the iF Design Award.