Supporting the next generation of designers through commercial launches The KOKUYO DESIGN AWARD 2022 will be held
Theme:"UNLEARNING"-Question common sense, and change your perspective
KOKUYO Co., Ltd. (head office: Osaka City, president and CEO: Hidekuni Kuroda) has finalized the decision to hold the KOKUYO DESIGN AWARD 2022, a competition about envisioning and creating the future together. Entries will start on August 20, 2021.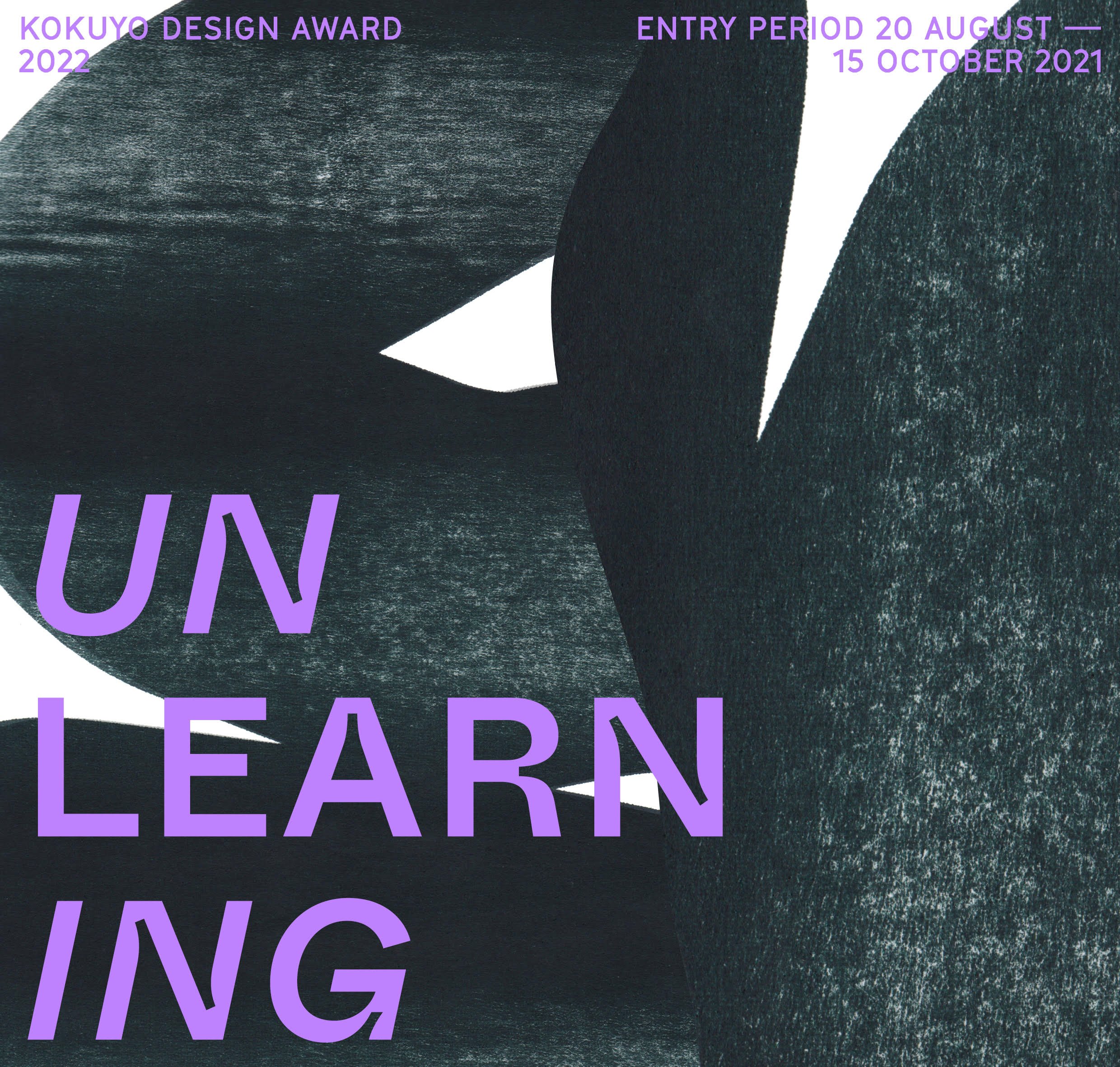 The KOKUYO DESIGN AWARD was launched in 2002 as a competition aimed at gathering and commercially launching outstanding designs that incorporate the users'perspectives. It's already launched unique products like KADOKESHI and WAGOMU. It's also been focusing in recent years on finding and supporting the designers who will carry the next generation. This has led to True Measure and Notebook for Black and White Writing, two products that have attracted a lot of attention for their unprecedented functions and designs and were born from co-creation with the designers.
(Reference: Examples of previous commercial launches:https://www.kokuyo.com/en/award/archive/goods/)
The KOKUYO DESIGN AWARD 2022 will be the 19th competition, and this time, we'll be calling for works based on the theme "UNLEARNING." With the pandemic making latent issues in society more manifest, the theme is about resetting the knowledge and senses we've never questioned before and the experiences we've accumulated up to now, and exploring what designs can be created by imagining ideal futures for each of us.
Judges Masashi Kawamura (Chief Creative Officer of Whatever Inc.), Tsuyoshi Tane (Architect) and Teruhiro Yanagihara (Designer) will be joined by new judge Satoshi Yoshiizumi (Founder of TAKT PROJECT Inc.).
■ Main application guidelines for KOKUYO DESIGN AWARD 2022
1. Theme: UNLEARNING
The world is about to undergo a drastic change.
Will it be economics, science, information,
or the power of creativity that will topple the old framework?
Creating a new norm and determining the shape of the future
in a place far away from human senses is too restrictive.
Design can defy, design can criticize,
design can show diversity, and even destroy knowledge and ideals.
Let's rebuild the relationship between objects and design
by focusing once again on the truth that no one has ever doubted.
When society, ideas, people and lifestyles are in turmoil,
there are no absolutes. The grand design lies beyond UNLEARNING.
2. Eligible Entries :
Any stationery, furniture or tool used in working, learning and living scenes
3. Registration & Submission :
August 20 (Fri) - October 15 (Fri), 2021
4. Judges
Masashi Kawamura (Chief Creative Officer of Whatever Inc.)
Tsuyoshi Tane (Founder of Atelier Tsuyoshi Tane Architects / Architect)
Teruhiro Yanagihara (Designer)
Satoshi Yoshiizumi (Founder of TAKT PROJECT Inc./ Designer)
Hidekuni Kuroda (KOKUYO Co., Ltd. President and CEO)
5. Prizes
Grand Prix (one winner): ¥2,000,000
Merit Award (three winners): ¥500,000 per winner
*Prize money will be paid net of withholding tax, surtax for reconstruction funding, and other applicable deductions.
*Not all prizes may be awarded for all categories if there is no winner selected.
6. Judging Criteria
The design's interpretation of the theme
The design's level of completion
The design's potential to become a product
7. Announcement of the Winners :
March 12 (Sat), 2022 (tentative)
---
Detailed entry guidelines will be released via the KOKUYO website below on August 20, 2021 (Friday).
https://kokuyo.jp/en/award/
In addition to updating the website, etc., information will also be shared via the following social media.
 ・ Facebook(Japanese/English):
  https://www.facebook.com/KokuyoDesignAward.japan/
 ・ Instagram (Japanese/English):
  https://www.instagram.com/kokuyo_designaward/
 ・ Twitter (Japanese):
  https://twitter.com/kokuyo_DA
 ・ LINE (Japanese) account name: @kokuyo_da
Contact for inquiries about entering:
https://www.kokuyo.com/en/award/contact/