Working with the next generation of designers on the products of the future--The KOKUYO DESIGN AWARD 2023 will be held
The theme is "embrace," with the concept of embracing differences to shape the future
KOKUYO Co., Ltd. (head office: Osaka City, president: Hidekuni Kuroda) has finalized the decision to hold the KOKUYO DESIGN AWARD 2023, an international project design competition about working with the next generation of designers to envision the products of the future. The theme is "embrace." Entries will start on July 29, 2022.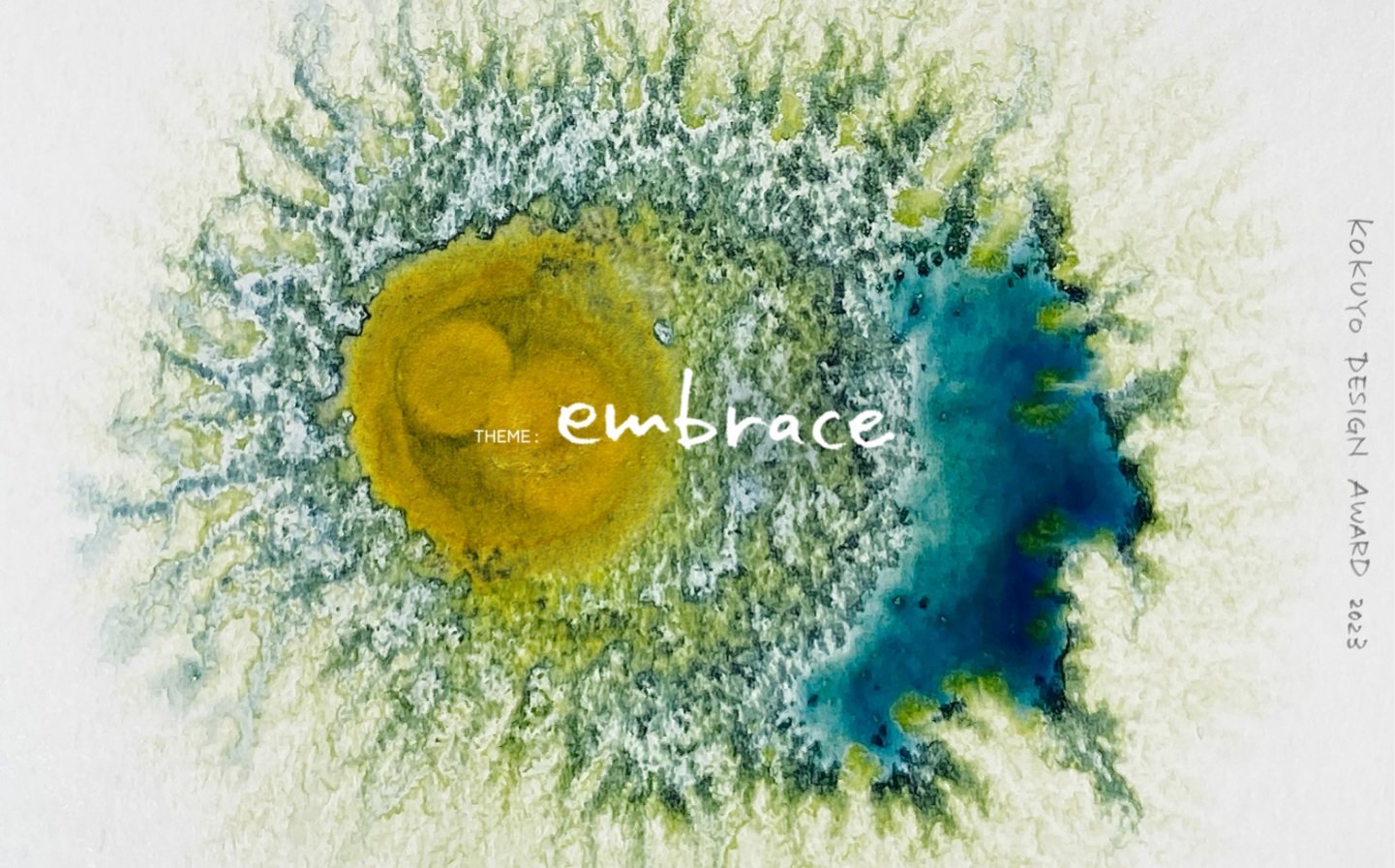 The KOKUYO DESIGN AWARD was launched in 2002 as a competition aimed at gathering and commercially launching designs that are outstanding from users' perspectives. It's already launched unique products like "Kadokeshi" and "Wagomu." "True Measure" and "Notebook for Black and White Writing," two products jointly developed with designers (winners) in recent years, have drawn a lot of attention for their unprecedented functions and capacity for design.
(Reference: Examples of previous commercial launches:
https://www.kokuyo.com/en/award/archive/goods/)
The KOKUYO DESIGN AWARD 2023 will be the 20th competition, and this time, we'll be calling for works based on the theme "embrace.
This word carries meanings like "inclusion" and "hugging". In that same vein, we are looking for product design proposals that make people feel cheerful and positive by accepting and acknowledging the differences between people and the challenges society is facing.
The returning judges will be Masashi Kawamura (Chief Creative Officer at Whatever Inc.), Tsuyoshi Tane (architect), Teruhiro Yanagihara (TERUHIRO YANAGIHARA STUDIO. CO LTD. / Designer), and Satoshi Yoshiizumi (Principal of TAKT PROJECT Inc.). Nao Tamura (designer) will join us as a new judge.
"The YOKOKU Award is a special award commemorating the 20th anniversary of the KOKUYO DESIGN AWARD. It will be awarded to selected student entrants as a way to support their future work.
KOKUYO's Purpose is, "Leading you to the exciting future of work styles and lifestyles that lies ahead." Following that concept, we will select up to 20 outstanding entries that, based on their presentation sheets, make us "feel that their futures will be exciting" (without judging the models)."
■ Main application guidelines for KOKUYO DESIGN AWARD 2023
Theme: embrace
Diversity inspires harmony.
Opposites sustain balance.
Chaos nurtures beauty.
Contrast creates depth.
Distance drives expansion.
Conflict urges renewal.
How can we use design to embrace
different people, diverse lifestyles, uncertain times,
and the ever-changing environment of our planet?
Difference, change, uncertainty--
Can they be a beginning?
Can they make progress?
Can they be our future?
Eligible Entries : Any stationery, furniture or tool used in working, learning and living scenes
Registration & Submission : July 29 (Fri) - October 11 (Tue), 2022
Judges
Masashi Kawamura (Chief Creative Officer of Whatever Inc.)
Tsuyoshi Tane (Founder of Atelier Tsuyoshi Tane Architects / Architect)
Nao Tamura(Designer)
Teruhiro Yanagihara (TERUHIRO YANAGIHARA STUDIO. CO LTD. / Designer)
Satoshi Yoshiizumi (Founder of TAKT PROJECT Inc. / Designer)
Hidekuni Kuroda (KOKUYO Co., Ltd. President and CEO)
Prizes
Grand Prix (one winner): ¥2,000,000
Merit Award (three winners): ¥500,000 per winner
YOKOKU Award (Special 20th anniversary prize): Up to 20 winners (¥30,000 per winner)
*Prize money will be paid net of withholding tax, surtax for reconstruction funding, and other applicable deductions.
*Not all prizes may be awarded for all categories if there is no winner selected.
Judging Points
The design includes a proposed solution to some social issue
The design has components that make people feel positive
The idea's uniqueness
The product design's feasibility
The design's potential to become a product
Announcement of the Winners : March 18 (Sat), 2023 (tentative)
Detailed entry guidelines will be released via the KOKUYO website below on July 29, 2022 (Friday).
https://www.kokuyo.com/en/award/
In addition to updating the website, etc., information will also be shared via the following social media.
Contact for inquiries about entering: https://www.kokuyo.com/en/award/contact/