Theme for submissions: "BEYOND BOUNDARIES"
Holding of the KOKUYO DESIGN AWARD 2018
-The judges are Ryosuke Uehara, Masashi Kawamura, Oki Sato, Yasuhiro Suzuki, and Yoshie Watanabe-
KOKUYO Co., Ltd. (Headquarters: Osaka City; President and CEO: Hidekuni Kuroda), is holding the KOKUYO DESIGN AWARD 2018 which is a competition aiming to gather and commercialize designs from a wide range of users in the general public that are excellent from the perspective of those using them. We will accept submissions of works from June 22 to August 31, 2018.
This is the 16th KOKUYO DESIGN AWARD to be held since it was established in 2002 (the only year it was not held was 2010), and from among the winners so far, such products as "Kadokeshi", "Campus Notebook Paracuruno", "Wagomu","Nameless Paints" and "True Measure" have been created.
Last year (the 15th AWARD), we received a total of 1,326 entries from 53 countries including Japan, and awareness of the KOKUYO DESIGN AWARD as an international product design competition is growing.
In recent years, with "Beautiful Lifestyle" (2015), "HOW TO LIVE" (2016) and "NEW STORY" (2017), we have been putting forward themes that encourage proposals for new value and stories in people's work, learning and life scenes, rather than just in the functionality, practicality and beauty of the product design.
And this year's theme is "BEYOND BOUNDARIES". Factors such as ambiguity in the boundaries between work and everyday life and progress in the flattening of communications have changed the whole concept of the way in which boundaries have naturally existed so far. This is also happening in KOKUYO's business domain. On the other hand, we believe that the theme of crossing the boundaries in society, such as the boundaries between countries, cultures and genders, is worth watching.
It may be a social boundary or a small boundary in your everyday surroundings. Please find a boundary and propose a new world or a new relationship between people and things that you can see by crossing that boundary .
The target designs that we want to receive are for "stationery, furniture and all items generally used in working, learning and living scenes". Last year, a work that captured the concept of food as a tool won the award. As all items generally used in everyday life are included in the target design areas, we are expecting the submission of flexible ideas, not only in stationery and furniture which are the main product categories of KOKUYO.
The three criteria for judging the entries are whether they "propose new value", "propose a life scene" and have the "feasibility of commercialization". We make a comprehensive evaluation to ascertain whether the proposal has novelty, if the scene in life that is realized by the proposed product has been properly considered, and if the feasibility of commercialization has been studied.
More information will be released in successive stages on the KOKUYO website and other places.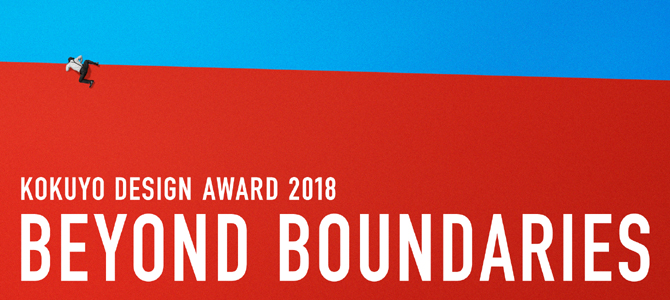 The main application guidelines for the KOKUYO DESIGN AWARD 2018
1. Theme: BEYOND BOUNDARIES
There are countless boundaries in this world.
Countries. Languages. Culture. Gender. Age and class.
All kinds of boundaries that used to make a distinction between "here" and "there"
now either no longer play that role or are trying to change their definition in this diverse society.
Working and living. Connections between people. Social status. Family structure.
Every form of relationship changes each time these boundaries change.
What kind of tool nurtures, revives, and strengthens those relationships,
and what kind of design will it be?
Let's cross the boundaries.
To make yourself more you.
To create more freedom in society.
Let's come up with some bold ideas to overcome these walls and discover what lies beyond.
2. Eligible entries: Any stationery, furniture or tool used in working, learning and living scenes
3. Registration and submission: June 22 (Fri) to August 31 (Fri), 2018
4. Judges:
Ryosuke Uehara (CEO, Art Director & Creative Director of KIGI)
Masashi Kawamura (CEO & Executive Creative Director of PARTY NY)
Oki Sato (CEO & designer of design office nendo)
Yasuhiro Suzuki (Artist)
Yoshie Watanabe (Art Director & Designer of KIGI)
Hidekuni Kuroda (KOKUYO Co., Ltd. Representative Director of the Board, President and CEO)
5. Prizes:
Grand Prix (one from all entries) ¥2,000,000
Merit Award (three from all entries) ¥500,000 / winner
6. Judging criteria:
・ Whether new value has been proposed
・ Whether a life scene has been proposed
・ The feasibility of commercialization
7. Award announcements: January 18, 2019 [tentative]
Detailed information for entry will be available on the KOKUYO website and various social media from June 22.
Website: http://www.kokuyo.com/en/award/
Facebook: https://www.facebook.com/KokuyoDesignAward.japan/
Contact:
KOKUYO DESIGN AWARD Office
kda●award.kokuyo.co.jp (response by e-mail)
Enquiries

Link to "Contact us" (https://www.kokuyo.com/en/contact/)