Theme: BEYOND BOUNDARIES - Announcing the Winners of the 2018 KOKUYO DESIGN AWARD
KOKUYO Co., Ltd. (Head office: Osaka-shi/President: Hidekuni Kuroda) today announced that a total of four designs were chosen on January 18 (Friday) as the winning designs for the 2018 KOKUYO DESIGN AWARD (application period: June 22 to August 31, 2018), after a total of 1,289 submitted entries from around the world (Japan: 766 entries; other countries: 523 entries) were screened. The KOKUYO DESIGN AWARD is a competition where a broad range of users submit original product designs that are outstanding from the perspective of users, and the winning designs are then commercialized.
The KOKUYO DESIGN AWARD celebrates its 16th anniversary this year (2010 was the only year the competition was not held) since its launch in 2002, with the aim of further strengthening customer-centric product creation.
In the past, KOKUYO has put forward themes such as "Beautiful Lifestyle" (2015), "HOW TO LIVE" (2016) and "NEW STORY" (2017) in expectation of proposals that create new values or stories not only for the functionality, practicality and beautiful designs of the products, but that also play a part in people's work, learning and lives.
In recent years, even in the business areas of KOKUYO, boundaries that were normal in the past are changing, such as the ambiguity of the boundary between work and life, and the increasingly level playing field in terms of communication. On the other hand, KOKUYO believes that the theme of crossing the boundaries of society, such as country, culture, and gender, is worth keeping an eye on, and has therefore decided on the theme of "BEYOND BOUNDARIES" for the competition this year.
The award-winning designs that won the Grand Prix and Award for Excellence this year are as follows:
Award-winning designs
Grand Prix (1 design)
| Design name | Design overview | Award winner/Group name |
| --- | --- | --- |
| Sound of Drawing | By amplifying the faint noises created by the friction between pencil and paper, this project represents a new way of communicating with stationery. I reflected on the meaning of drawing, and discovered that stationery can be not only writing instruments, with the purpose of leaving visual information, but also musical instruments. By redefining stationery as creative tools for drawing sounds, this pencil offers a fresh creative experience for both people who are sighted and those who are not. | Takuma Yamazaki |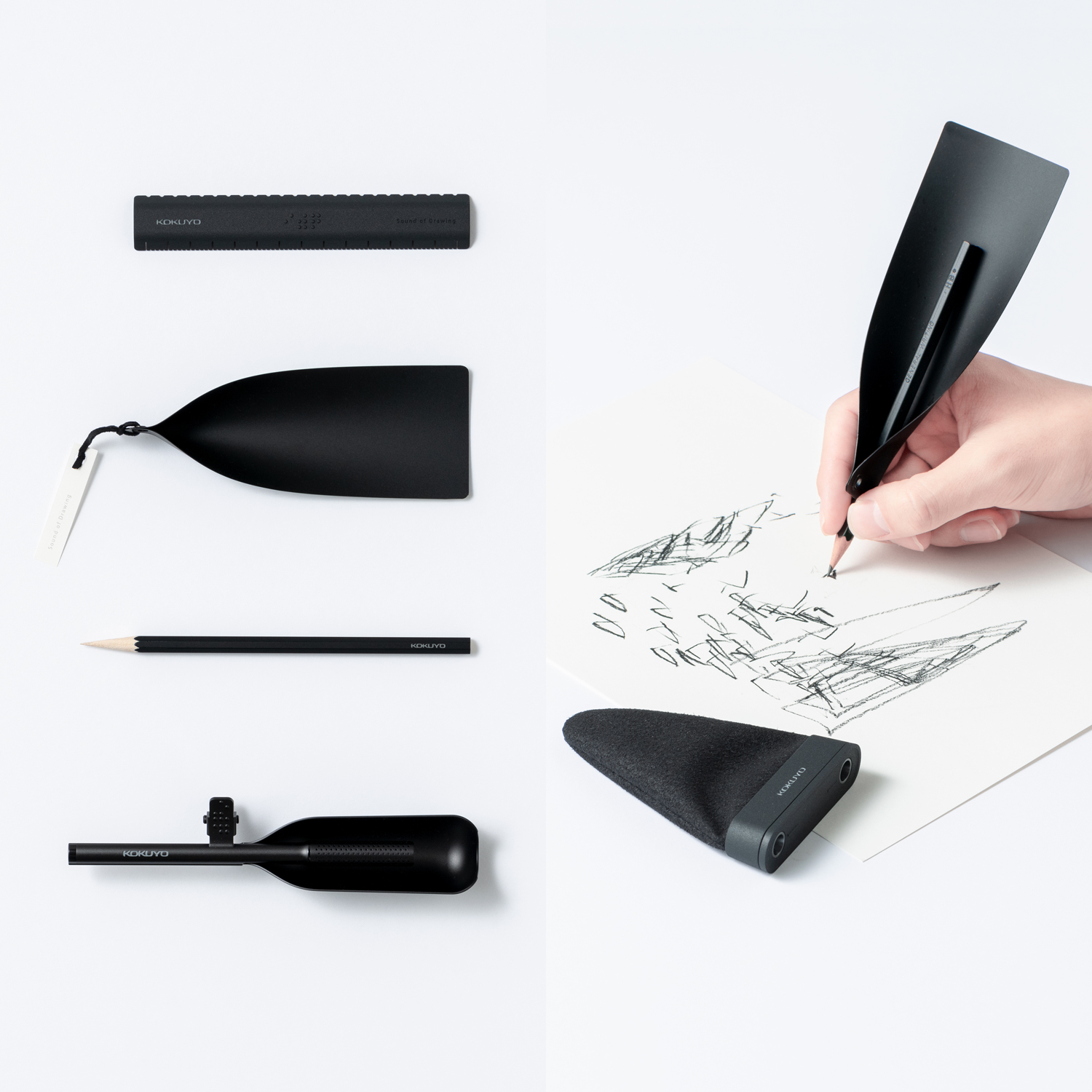 Award for Excellence (three designs)
| Design name | Design overview | Award winner/Group name |
| --- | --- | --- |
| Palletballet | In today's world people are hesitant to showcase their creativity and thoughts in form of art due the fear of judgement and disapproval, especially children. The product is an immersive painting kit which makes the children go beyond the boundaries of conventional painting practices and enjoy the process of drawing and painting. The product will encourage the child to be more free in making their creations and empowers them to explore more. The redesigned painting kit makes it easy for the child to mix colours and create a new colour. The colour pigment boxes in this kit are designed to make this process easy and intuitive. There is also a paint spinner which has a play factor in it, which will give the child a different, playful experience and the paintings made with it will be unique every time. | Soch (Athul Dinesh / Ghufran Ahmed / Pranav Kishore Bidwe) |
| Smart Double Clip | Double clips are very useful when organizing materials, because they can hold papers together and are easy to use. However, they may make documents harder to see when you turn the page. "Smart Double Clip" has the same triangular shape as the corner of a piece of paper when you turn the page, so it allows pages to be turned smoothly. This new double clip is designed not for consumers, but for users. | Akihiro Toyofuku |
| Monochrome Notebook | I would like to propose a gray notebook that you can write in with both black and white pens. This notebook utilizes the nature of human eyesight?namely, that letters in bright colors and dark colors on a paper cannot be easily read at the same time. When someone reads a series of black letters and then switches to white letters, they have to change visual channels. By using two different colors, you can concentrate on one color at a time when reading. Use this effect to highlight important parts, indicate additional information, add light and shadow to illustrations, and more. "Monochrome Notebook" takes advantage of the limits of human vision to bring forth new uses for notebooks. | Kunihiko Nakata |
| | | |
| --- | --- | --- |
| Palletballet | Smart Double Clip | Monochrome Notebook |
*The design names, common names, design overviews and award winners/group names are as per the text listed on the application form.
The 2018 KOKUYO Design Award
Website: http://www.kokuyo.com/en/award/
Facebook: https://www.facebook.com/KokuyoDesignAward.japan
Twitter: https://twitter.com/kokuyo_DA
LINE@: @kokuyo_da
Contact

KOKUYO customer support: 0120-201-594