JIBUN_TECHO 2022 / JIBUN_TECHO mini 2022
The Jibun Techo DIARY has a unique format to help you plan out your days, and provides a dedicated space to track or log various things whether it is your goals, food, health, reflections, etc.
Colourful tabs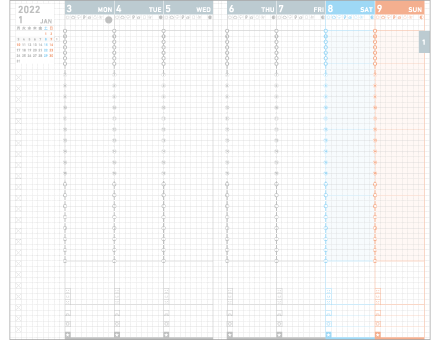 The color of the tabs changes every month, so you can have a fresh look. The hour from 06:00 to 07:00 now gets two rows.
Opens at a flat angle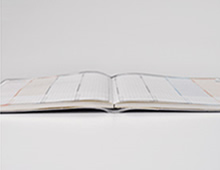 Lay-flat binding makes all parts of the page equally easy to write on.
Special paper developed for Jibun Techo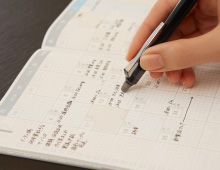 KOKUYO's own specially-developed THIN paper is used. Despite being thin and lightweight, it is more resistant to show-through than conventional papers, and resists warping even when you rub out erasable ink.
A cover with a pen-holder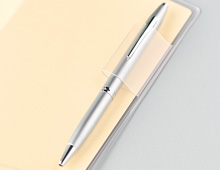 Starting with the 2020 edition, we've added a much-requested pen-holder.
Contents
Contents list
English translation of the table of contents
Vertical weekly schedule (24-hour timeline/Saturday and Sunday get the same size slot/to-dos/weather/moon phase/sunrise and sunset/meals eaten/how you felt about the day)
Monthly calendar block (including rokuyo [lucky and unlucky days] and the 24 sekki [divisions of the solar year])
Monthly project (2-month spread)
3-year calendar
Age chart
Yearly schedule
My dream 2022
Money plan
Weekly plan
Favorite phrases
Recommendation list
Book list
Movie list
Gifts given/received
Promise list
Free list
100 wishes list
Railway maps (Tokyo/Osaka/Kyoto/Nagoya/Sapporo/Sendai/Yokohama/Kobe/Fukuoka)
Japan map
World time differences
Looking back on 2022
Personal data
First kit - Standard cover type
DIARY Standard cover type
Size
Product name
Product number
Color
Material
of cover
Manufacturer's
suggested retail price
(excluding tax)
Height, width
(mm)
Pages
A5 Slim
JIBUN_TECHO 2022
First kit -
Standard cover type
ニ-JF1DB-22
Indigo
PVC
(clear, matte)
¥3,800
217・136
DIARY:112
LIFE:40
IDEA:40
ニ-JF1P-22
Pink
ニ-JF1W-22
White
B6 Slim(mini)
JIBUN_TECHO mini 2022
First kit -
Standard cover type
ニ-JFM1G-22
Green
PVC
(clear, matte)
¥3,500
190・120
ニ-JFM1P-22
Pink
ニ-JFM1W-22
White
A5 Slim
JIBUN_TECHO 2022 DIARY
Standard cover type
ニ-JCD1DB-22
Indigo
PVC
(clear, matte)
¥2,900
217・136
112
ニ-JCD1W-22
White
ニ-JCD1Y-22
Yellow
B6 Slim(mini)
JIBUN_TECHO mini 2022 DIARY
Standard cover type
ニ-JCMD1P-22
Pink
PVC
(clear, matte)
¥2,600
190・120
ニ-JCMD1W-22
White
A5 Slim
JIBUN_TECHO 2022 DIARY
Refill
ニ-JR-22
-
-
¥2,700
210・130
112
B6 Slim(mini)
JIBUN_TECHO mini 2022 DIARY
Refill
ニ-JRM-22
-
-
¥2,400
182・112