JIBUN_TECHO Lite mini 2022
The Jibun Techo Lite is a simplified version of the Jibun Techo Diary.
It features the weekly vertical pages with 24 hour timeline, Gantt chart and just the necessary pages to manage your time and projects.
Cover with a soft touch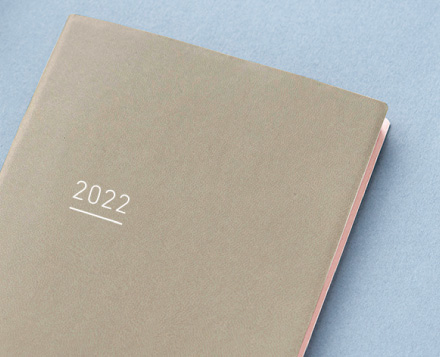 The soft-touch polyurethane cover comes in a range of muted colors.
Uses THIN paper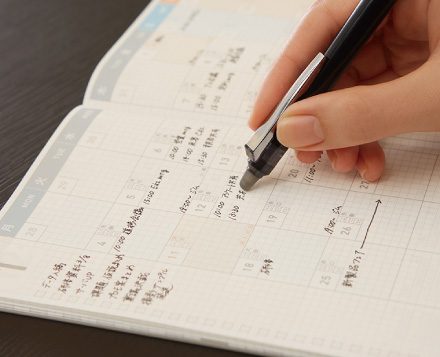 The planner uses THIN paper, specially developed for the JIBUN_TECHO. Lightweight and low-show-through, it resists warping even when you rub out erasable ink.
* Compared with conventional Tomoe River paper.
Monthly log & habit tracker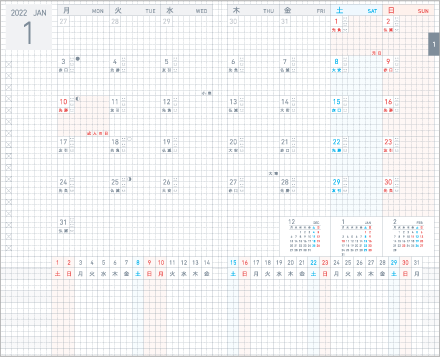 Now you can track your habits more easily by logging your data every month so you can look back on it later.
Free list
 
This can be customized to suit your own patterns of use. Set up a monthly to-do list, a want list, or a list of things you'd like to do, to name a few examples.
Contents
Contents list
Weekly schedule
Monthly block schedule and projects
2-year calendar
Yearly schedule
My dream 2022
Free list
Looking back on 2022
JIBUN_TECHO Lite mini 2022
Size
Product name
Product number
Color
Material of cover
Manufacturer's
suggested retail price
(excluding tax)
Height, width
(mm)
Pages
B6 Slim(mini)
JIBUN_TECHO Lite mini 2022
ニ-JLM1DB-22
Navy
Polyurethane
¥2,200
182・112
96
ニ-JLM1LB-22
Light Blue
ニ-JLM1LP-22
Light Pink
ニ-JLM1LS-22
Beige