JIBUN_TECHO Biz 2023 / JIBUN_TECHO Biz mini 2023
The Jibun Techo Biz is similar to Jibun Techo DIARY, but with a more calm color scheme that match business settings. The various contents are useful for both business and personal planning.
A simple design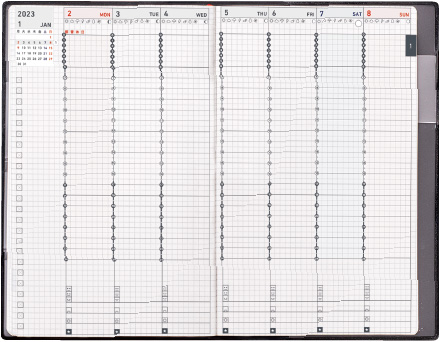 Keeping the same handy organizational formats, the JIBUN_TECHO Biz features muted colors and fonts that look right in a business context.
Opens at a flat angle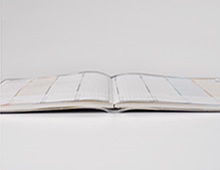 Lay-flat binding makes all parts of the page equally easy to write on.
Uses MIO paper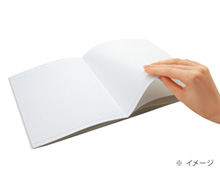 The planner uses faster-drying, lower-show-through MIO paper. The inner sheets have a pleasantly substantial feel, so the pages turn nice and crisply.
A cover with a pen-holder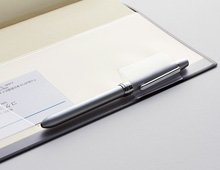 Wide enough to hold a multi-colored ballpoint or other thicker pen, the pen-holder is handily accessible. The cover also has a pocket for business cards and similar items.
Contents
Contents list
Downloadable English Translation of each contents
Vertical weekly schedule (24-hour timeline/Saturday and Sunday get the same size slot/to-dos/weather/moon phase/sunrise and sunset/meals eaten/how you felt about the day)
Monthly calendar block (including rokuyo [lucky and unlucky days] and the 24 sekki [divisions of the solar year])
Monthly project (2-month spread)
3-year calendar
Age chart
Yearly schedule
My dream 2023
Money plan
Weekly plan
Favorite quotes
Recommendation list
Book list
Movie list
Gifts given/received
Promise list
Free list
100 wishes list
Looking back on 2023
Personal data
Map of Japan
The JIBUN_TECHO Biz is available in two versions,
the January Version , and the April Version ,
which runs from March to April of the following year.
Click here for the April Version.
JIBUN_TECHO Biz

January Version
Size
Product name
Product number
Color
Material of cover
Manufacturer's suggested retail price
(excluding tax)
Height, width
(mm)
Pages
A5 Slim
JIBUN_TECHO Biz 2023
ニ-JB1D-23
Matte Black
PVC
(colored, matte)
¥3,200
217・138
104
ニ-JB1DB-23
Matte Navy
ニ-JB1LS-23
Light Beige
B6 Slim
(mini)
JIBUN_TECHO Biz mini 2023
ニ-JBM1D-23
Matte Black
PVC
(colored, matte)
¥3,000
190・120
104
ニ-JBM1DB-23
Matte Navy
ニ-JBM1LS-23
Light Beige
A5 Slim
JIBUN_TECHO Biz 2023
Refill
ニ-JBR-23
-
-
¥3,000
210・130
104
B6 Slim
(mini)
JIBUN_TECHO Biz mini 2023
Refill
ニ-JBRM-23
-
-
¥2,800
182・112
Jibun Techo Biz

April Version
Size
Product name
Product number
Color
Material of cover
Manufacturer's suggested retail price
(excluding tax)
Height, width
(mm)
Pages
A5 Slim
JIBUN_TECHO Biz
2023 Spring
ニ-JB1D-234
Matte Black
PVC
(colored, matte)
¥3,200
217・138
104
ニ-JB1DB-234
Matte Navy
ニ-JB1LS-234
Light Beige
B6 Slim
(mini)
JIBUN_TECHO Biz mini
2023 Spring
ニ-JBM1D-234
Matte Black
PVC
(colored, matte)
¥3,000
190・120
104
ニ-JBM1DB-234
Matte Navy
ニ-JBM1LS-234
Light Beige
A5 Slim
JIBUN_TECHO Biz
2023 Spring
Refill
ニ-JBR-234
-
-
¥3,000
210・130
104
B6 Slim
(mini)
JIBUN_TECHO Biz mini
2023 Spring
Refill
ニ-JBRM-234
-
-
¥2,800
182・112