KOKUYO's Historical Episode
Japanese-style account ledgers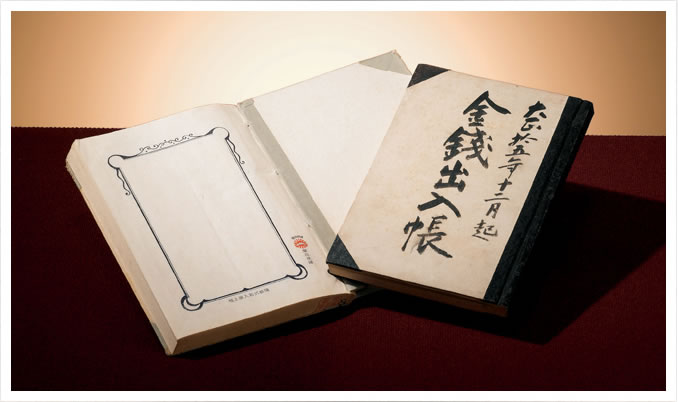 PHOTO : Wachō launched during the Taishō period
Improving Quality in Pursuit of User Friendliness
Three years after he founded his business, Kuroda decided to take on the task of manufacturing the entire wachō. However, as a latecomer to an industry that was already filled with existing wachō makers, Kuroda's company needed to fight the odds to compete. What is more, no matter how hard he tried, his prices continued to hover at a slightly higher rate than his competitors'. He conducted a thorough survey of his competitors' products and found out that the reason for this had to do with the difference in the type of paper being used for the inner pages. In order to give the wachō the appearance of thickness, most companies were using coarsely made, low-quality paper with a rough surface. This was a time when the main writing tool was quickly changing over from the brush to the pen, and this type of rough paper was proving to be difficult to write on with a pen, as its nib would get caught in the fibers. To deal with this issue, Kuroda pleaded with and convinced a paper company to make a completey separate batch of firmer, heavier weight paper that had a smoother surface texture.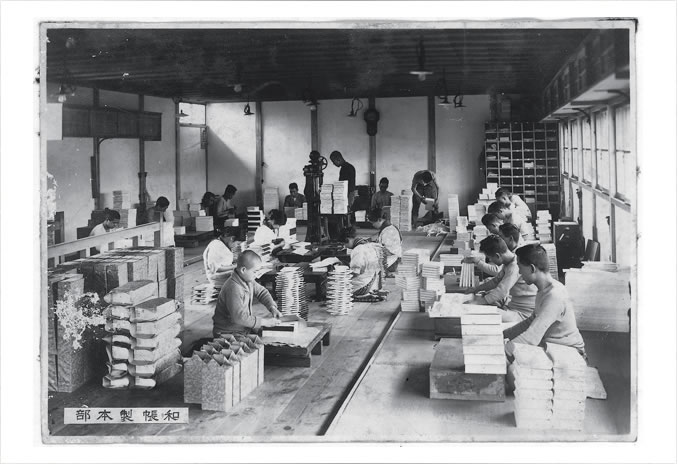 PHOTO : Scene of wachō production
Originality and Wholeheartedness
Another common flaw of the wachō was the inconvenient tendency for its last few pages to start rolling back at the corners after some use. To remedy this issue, Kuroda attached sturdy pieces of handmade support paper on both sides of the inner pages. Also, while other wachō pads claimed to contain 100 pages but were often actually a few pages short, Kuroda insisted that each of his company's pads contain exactly 100 pages, and added an inscription of "shō hyaku mai" (meaning "exactly 100 sheets") on the cover. These factors, it was found, were what caused the price of Kuroda's wachō pads to be slightly higher than his competitors'. But Kuroda, who had incorporated these innovations to offer more ease of use to the customers, insisted on moving forward with these products as they were, for the last thing he wanted to do was to provide anything of inconvenience to his customers.
PHOTO : Inscription "shō 70 mai (exactly 70 sheets)" on KOKUYO's stationery pad sold today—a vestige of the company's promise of quality, indicated by the "sei 100 mai" on its original wachō.