KOKUYO's Historical Episode
ECIFFO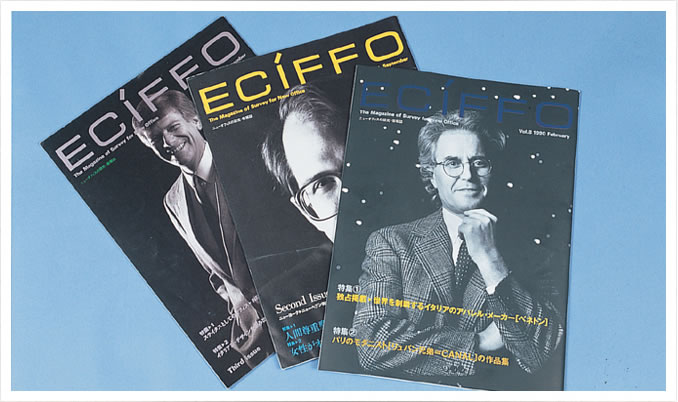 ECIFFO was a research and information journal published with the goal of promoting the concept of the "new office" and building a research and information network.
KOKUYO's office information media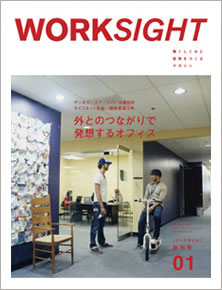 Renewed under the name of
WORKSITE in 2011, the magazine
continues to provide information
Japan suffered a recession marked by a high appreciation of the yen after the Plaza Accord in 1985. As a countermeasure, the Ministry of International Trade and Industry at the time proposed the "New office promotion campaign" to expand domestic demand, which accelerated re-examination of the office environment and boosted demand for things related to office space. This was a big business opportunity for KOKUYO. However, although there was a product development division, there was no organization that could conduct comprehensive studies and development and make proposals related to the office space at KOKUYO at the time. In light of this, an office research centre was established in 1986 to conduct research on related products and spaces and began conducting office consultation activities. The research and information journal ECIFFO (*1) was first published in 1988 as part of these activities with the goal of promoting the new office concept and introducing cutting edge examples in the field. The journal was highly praised in the industry; not only did it publish articles introducing cutting edge overseas offices but also interviews with the most important figures of the time such as corporate executives, architects, and facility managers, and further served as a venue for the office research centre to present its research results. The journal was first issued quarterly, and later changed to being published twice a year, for a total of 53 issues in 21 years until it was discontinued in 2009. Publication of WORKSITE started in 2011 as its successor, which continues to provide information to this day. Incidentally, the name ECIFFO is OFFICE written backwards. It was adopted to express its aspiring editorial policy of dissecting the office space from diverse angles, irrespective of preconceived notions.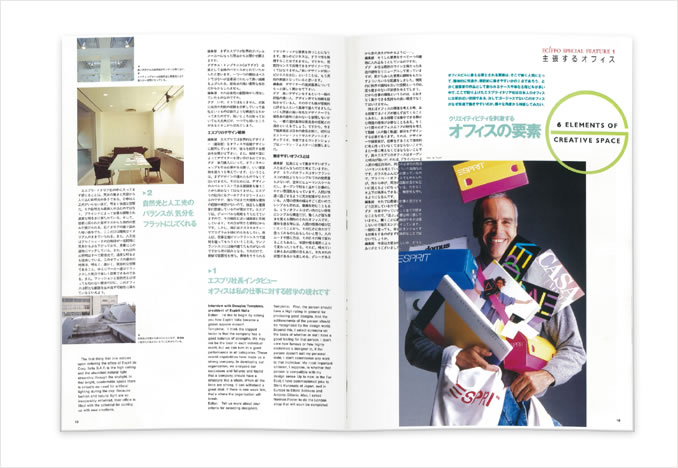 (*1) The inaugural issue featured American apparel manufacturer ESPRIT, which was attracting significant attention at the time in the US and Europe, with its president Douglas Tompkins on the cover, and introduced its cutting edge studio and office (designed by Antonio Citterio) that had just been completed in Milan, Italy. Important figures of the time including corporate executives and architects were featured on the cover until its renewal with issue no. 24.