KOKUYO's Historical Episode
Testament kits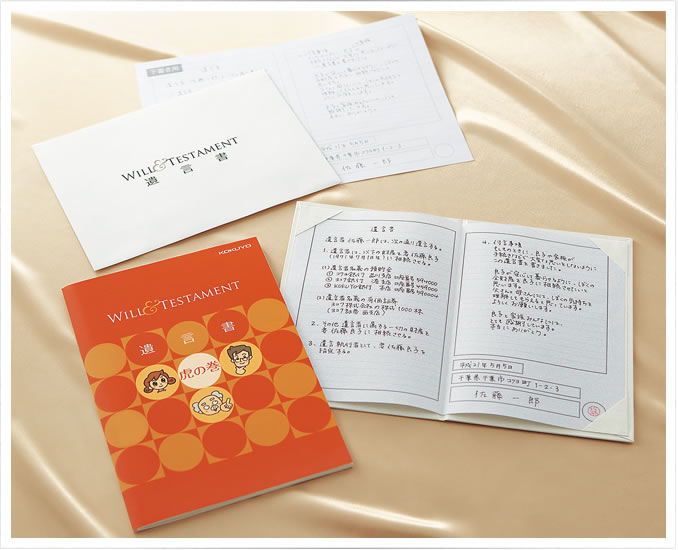 Various ingenious features have been added, based on our customer-centred approach
When one hears the word "testament," an image is conjured up in one's mind of a very wealthy old person writing such a document in beautiful handwriting while taking advice from their personal lawyer – in other words, an image of stiffness, formality and being hard to approach. The Testament Kit is a unique product that makes it possible for anyone, as long as they have a pen and an official seal, to easily write the kind of will & testament which can seem like a major hurdle on first appearance (see Note 1). At the development stage, the area we focused on most was making sure that the manual which explains how to write one's testament was as easy to read and understand as we could make it. At KOKUYO we don't farm that kind of work out to experts, but instead, put ourselves in the shoes of an ordinary customer and write the manual so that even beginners can easily understand it. By explaining the process using Japanese manga, while wrestling with impenetrable legal jargon, we were able to put together an easy-to-understand and accessible manual (a kind of 'answer key' for wills and testaments). The kit also incorporates various features, such as a function embedded in forms which prevent copies being made, and making envelopes in such a way that once they've been opened they can't be resealed. This 'concept product', which seems like the kind of item that would already be on the market but in fact wasn't, managed to reach its annual sales target just 4 months after being launched, and has become the sort of highly popular product which might just banish the dark clouds of recession. Development began in 2007, and the employee who first came up with the idea was a 29-year-old former law student who had worked at KOKUYO for five years.
New products that have opened up new markets came out of ideas that suddenly occurred to their creators
At that time, planning meetings were held at KOKUYO every week to devise new products that would solve customers' problems, and this female employee had just been chosen to take part in those meetings as the youngest member. There was a quota in force which meant that each member had to put forward at least 10 proposals for new products each time a meeting was held, and this testament kit idea was one of the proposals she had made just 3 months after first attending the meetings. During her student days, she had worked as a volunteer giving legal advice, and she suddenly remembered that a lot of advice was given on wills and testaments. It was this recollection which inspired her product idea. Although she claims that she had absolutely no faith in her idea herself, it was well received at the meeting, as well as catching the eye of many of her superiors around the table who were taken with its unique angle, and a decision was taken to put it into commercial production. When it was launched two years later, in June 2009, it attracted a great deal of interest and was widely covered in the media. After a little while, similar products sold by other companies (mainly publishing houses) began to appear on the market, and in an industry beset by sluggish consumer activity, it is highly regarded as a product which has unearthed a new demand in the market (see Note 2).
Note 1: Although there are several ways of drawing up a will, the Testament Kit is intended to be used to draw up holographic [self-written] wills, pursuant to Article 968 of the Civil Code. As the wording of Article 968 states that "To make a will by holograph document, the testator must write the entire text, the date, and his/her name in his/her own hand and affix his/her seal," a will is handwritten by the testator him/herself.
Note 2: As a result of the better-than-expected response to our Testament Kit, in 2010 we released a product called an "Ending Notebook" (a notebook that's useful for those "what if…" times). In a survey that we carried out when putting the Testament Kit into production, we found that there was a surprising level of interest among the younger age groups of 30- and 40-somethings. In response to that finding, although it's not actually a will in the conventional sense, this product was developed for those people who would like to pass on information about their bank accounts, insurance policies and so on to their families or acquaintances, just in case something should happen to them. This product was also a big hit with consumers, selling over 50,000 units in the 3 months following its launch. As the third step in this new direction, in February this year the company launched its "Social Notebook" [a notebook that helps you keep track of your social life], which allows users to keep a record in one notebook of formal occasions and gift-giving, as well as other information they need to jot down in their everyday interactions with friends, family and acquaintances. KOKUYO is taking these various products and making them into of a series of products which help people with events in their lives, and is committed to discovering new customer needs.

Our Ending Notebook (a notebook that's useful for
those "what if…" times)

Our Social Notebook (a notebook that helps you keep
track of your social life)