KOKUYO's Historical Episode
Towards Asia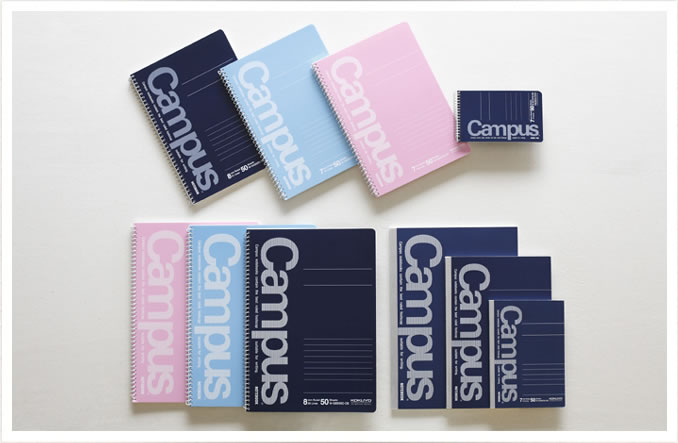 Campus Notebooks on Sale in China
KOKUYO's advance into Asia started in 1995 with the opening of a representative office in Hong Kong. At the time our primary activity was gathering and analyzing information about the Asian marketplace with particular focus on the rapidly growing Chinese market. Meanwhile, taking measures against the appreciation of the Japanese Yen, we also began production and sales strategies in the Asian region. In 1996 we established a joint venture in Thailand and a subsidiary in Malaysia the following year. Both of these began producing furniture and Stationery . Then, in 2002, our advance into Asia truly went into high gear with the establishment of KOKUYO INTERNATIONAL ASIA Co., Ltd (KIA) in Hong Kong, and Kokuyo Trading (Shanghai) Co., Ltd. in Shanghai the following year. The initial target market was providing local Japanese companies with the same one-stop office construction services*1 we have been cultivating in Japan for several years.
Enriching Lives and Workplaces Across Asia with Creativity
KOKUYO Group is currently conducting an "axial" value chain business model centered on three core areas: stationery-related business, furniture-related business, and online-shopping/retail-related business. With this we have started our full-fledged activities in China, Vietnam, and India. Through these business activities, we aim to further provide products that make people's work and lives more fulfilling and creative in the ever expanding Asian market.
First, in 2011, Kokuyo Furniture Commerce and Trading (Shanghai) Co., Ltd., under the control of KOKUYO Furniture Co., Ltd. invested in Pinghu Tailik Office Automatic & Equipment Co., Ltd. (Tailik Office System Furniture Co., Ltd), a steel furniture factory in Zhejiang province, and, as a joint venture, organized the Kokuyo's Value Chain*2 by strengthening productive capacity and designing products to meet the demands of local markets, with aims to capture Chinese office furniture domestic demand.
Meanwhile in the stationery business, in 2005 under the control of KOKUYO S&T Co., Ltd., KOKUYO Commerce (Shanghai) Co., Ltd launched its "Easy Buy" catalogue sales business in order to analyze the needs of Chinese customers. Since 2009 we have been deploying a variety of branding and test-marketing initiatives.
This summer (2012), we are currently constructing a factory to produce notebooks in the Fengxian district of Shanghai. Once complete this will provide the structure for a consistent system from development to production, distribution, and sales.
Additionally, last year, after agreeing to a business succession plan with China's No. 1 notebook manufacturer, HOT ROCK STATIONERY (S.Z.) Co., Ltd., we aim to achieve annual sales of 10-billion yen in the stationery business in 2020.
From "Homeland Pride" to "The Pride of Asia"

We are currently selling a variety of designer
notebooks in Vietnam. The Campus Notebook
with Doraemon on the cover is particularly
popular among college students.


Expanding the KOKUYO Brand into India
In Vietnam, KOKUYO VIETNAM CO., Ltd. has, since its establishment in 2005, been in the process of building a production system of its own. However in order to organize itself more freely in terms of trade and sales, KOKUYO VIETNAM TRADING Co., Ltd. was established last year and became the first Japanese stationery manufacturer to be domestically licensed in Vietnam.
Significant growth was also seen in India in 2011 when KOKUYO CAMLIN Co. Ltd. was formed through the acquisition of stocks in Camlin, one of the country's most established stationery manufacturers with a strong network of distributors. In one stroke this provided us with a system to cover the entire country. In this way KOKUYO Group continues to make a unified effort to become the "Pride of Asia" and provide a true "Asian Enterprise" by constructing development, production, distribution, and sales systems in accordance with the characteristics of each country's markets and facilitating interactions which promote development throughout the entire Asian region.

*1: Services include: office construction, transfer, or renovation; furniture selection from the planning phases, furniture installation, and interior design; facility construction, and home relocation.
*2: A way of thinking about corporate activities as a single "chain of value" which starts from production material supply and ends when the final product or service ultimately reaches the customer and is consumed. The phrase originated from Michael E. Porter (Harvard Business School) in his book "Competitive Advantage: Creating and Sustaining Superior Performance" (1985).
The important point here is that goods and services (that is to say, business) ought to be an activity focused on creating value for the customer.