Human Resources Management
For KOKUYO to be a leading contributor to sustainability, our employees must never stop striving to create new and better value for the shifting needs of our customers and society at large. Accordingly, we shall embrace diversity and inclusion, tap into employees' creativity, and keep employees engaged and challenged at work, so that our employees grow as the company grows.
Creating a cyclical process of employee growth and business growth
In fiscal 2018, we launched a new employee reward system. Line managers (kikanshoku) receive rank-based pay, which reflects the person's roles and responsibilities, with no regard to their age or experience. Non-managerial (unionized) staff receive skill-based pay reflecting the person's knowledge, skills, or training. This new system delineates organizational functions and roles according to the company's strategy, ensuring that the right person is matched to the right job. It also encourages dialogue between managers and employees concerning the company's goals and how the employee can help achieve them. Attainment of these goals (measured on an absolute scale) is taken into account in employee evaluations in order to achieve a more differentiated approach to evaluation and treatment.
Our second three-year (FY2019–2021) strategy (Smart & Sustainable Transformation 2021) sets out a policy to make the new system more effective in practice and to link employees' development with our success as an organization—which means matching the right talent to the right roles and giving opportunities for professional growth, so as to accelerate business growth over the three-year period. In fact, we are increasingly promoting based on merit, not seniority. In a growing number of cases, employees are promoted to line manager in their early 30s, to middle manager (department manager) in their late 30s, and to an executive position in their 40s.
As we move ahead with our long-term vision, CCC 30, which we unveiled in February 2021, we will step up efforts to cultivate the entrepreneurial talent necessary to generate and nurture new businesses and address societal challenges.
The cyclical process of employee growth and business growth
Using challenges through the work of teams and individuals, KOKUYO advances initiatives aiming at spiraling up while solving business issues and facilitating individual growth.

The new employee reward system is linked to a matrix that identifies actions for line managers and non-managerial staff that will benefit their own growth and that of the organization. The actions vary depending on the person's growth stage, and they are grouped into three dimensions: skills development, goal setting / goal evaluation, and deployment.
| | Non-managerial staff | Managerial staff |
| --- | --- | --- |
| Growth stage | Challenges him/herself at work and engages with others to contribute toward business success | Demonstrates inspirational leadership and motivates others toward business success, opening up new future possibilities |
Skills development

Goal setting, goal evalution

Deployment

Aim

Using the skill-will matrix, help employee expand his/her limits and work toward business growth in the medium to long term

Clarify roles through dialogue and measure attainment (on an absolute scale) to encourage engagement

Create opportunities for employee to challenge him/herself by assigning him/her work that best-matching overall in line with business strategy

Actions

Hone leadership skills
Hone core skills
Focus on three C's of leadership, engaging others, trial and error

Hone job-specific skills
Support employee autonomy

Cascade goals
Use manager-employee dialogues to clarify the company's goals and how the employee can help achieve them

Expand limits
Clarify what areas the employee should improve and how

Measure attainment on an absolute scale



Assign work that matches the employee's talent
Use HR meetings, meetings about changing job grade

Career challenge
Give employee opportunity to declare career objective, provide career counseling

20% challenge (internal moonlighting)

Cross-organizational projects
Career Center: Encouraging employees to take on new challenges
In 2018, we opened the Career Center to facilitate our goal of linking employee growth with business success and empowering employees to challenge themselves and expand their limits. The Career Center offers employees one-on-one careers counseling with a professional careers adviser. During the counseling, employees use a tool called Career Challenge to communicate the challenges they feel they could take on, or the skills they feel they could improve, in connection with the organization's three-year strategy. Such one-on-one dialogues help clarify each employee's intentions for their professional development, giving managers a better idea of what work to assign them. In turn, the employees feel all the more motivated and empowered.
Finding new challenges at work
20% Challenge: Internal moonlighting
To promote an empowered workplace in which employees actively pursue opportunities for professional development, we launched 20% Challenge, a program of internal moonlighting in which participants spend 20% of their working time engaging in a job for another organizational division. Organizational divisions issue recruitment notices for a certain jobs ("challenges"), employees apply for them, and the head of the division in question works with the HR team to find the right candidate. The program runs for three to 12 months, and participants' achievements and efforts count toward their individual personnel evaluation. In the first year, 57 employees participated. These participants stepped across organizational boundaries to engage in challenges such as market research for overseas businesses, strategy support, R&Ding solutions for digital learning, and raising employees' eco-awareness. The idea is that employees, by dividing their time 80–20 between their normal work and the new assignment, will raise workplace productivity without compromising their normal work. The program is helping us to visualize workplace activity and identify aspects to rectify or recalibrate through dialogues between the employees concerned and their managers and HR.
Examples of internal moonlighting ("challenges")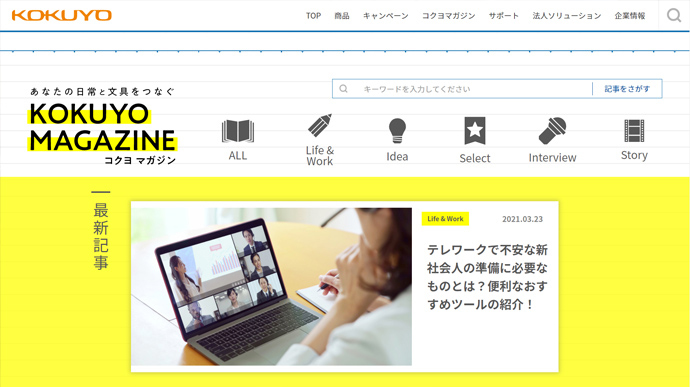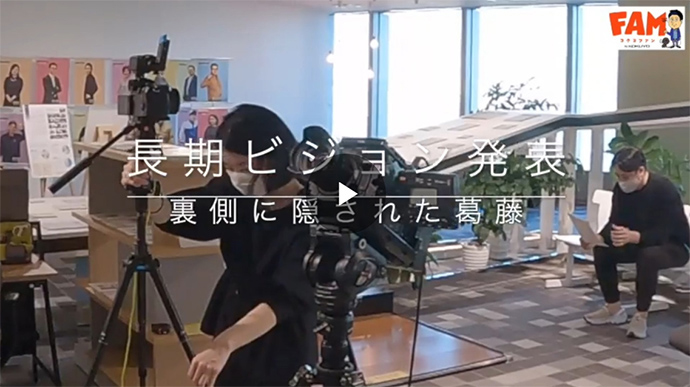 Developing employees' skills
Our approach to developing employees' skills emphasizes behavioral change in the workplace—we want to encourage employees to push themselves further in teamwork or individual work. To that end, we identify priority tasks that employees across the organization would relish taking on. These tasks involve determining strategic direction or putting the strategy into effect.
KOKUYO Marketing University: A training program for young employees
To ensure that our organization always offer a unique value proposition, we launched the KOKUYO Marketing University, a practical training program for young employees (employees who have been in the workforce for three to 12 years). The program gives attendees a basic grounding in product planning and development. It also educates them in customer-based marketing as used in the venture capital industry. After they have learned techniques for marketing strategy, attendees start applying this knowledge in a project to create a new concept for a KOKUYO product. Under the guidance of external marketing professionals, they spend around half a year perfecting the product idea and then present it to the management. The program started in 2017 and more than 100 young employees have attended. Now over four years' old, the program continues to provide a starting point for employee development and action. For example, attendees can enhance their learning by making use of the program's mentorship system, in which they receive support from graduates of the program. Additionally, attending the program leads to positive changes in workplace outputs and encourages the employees to accept an offer of redeployment and the fresh challenges it brings.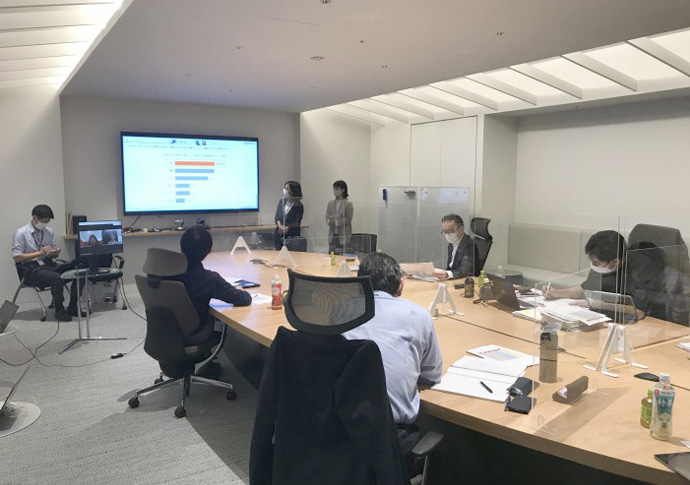 Final presentations delivered by employees who joined the program on its fourth year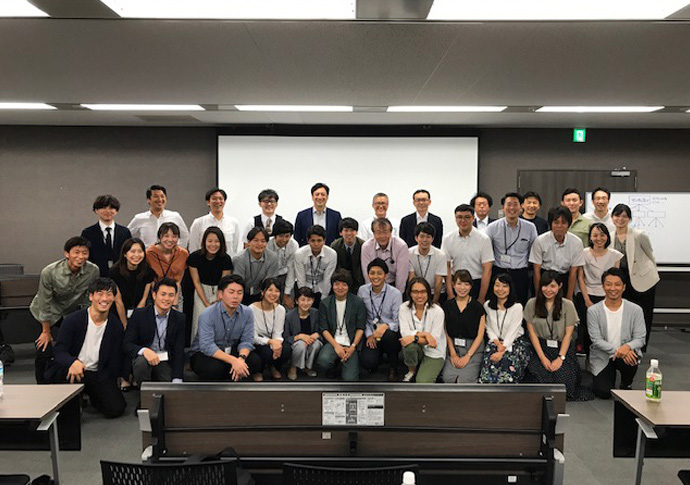 Group photo at final presentation session for employees who joined the program on its third year
KOKUYO Marketing Graduate School: A training program for managers
To ensure that our organization can adapt to the changes 10 years ahead, we need leaders who are forward-thinking and proactive. Rather than succumbing to complacency and inertia, such leaders analyze future scenarios objectively and proactively develop new strategies to meet the challenges ahead. To cultivate such leaders, we launched KOKUYO Marketing Graduate School, a program designed to equip managers in their 30s or 40s with strategic planning skills and the ability to lead the daily value creation process. During the program, attendees are presented with 10-year business themes determined by the management. Under the guidance of external marketing professionals, they spend around nine months engaging in team work to perfect their strategy and then present it to the management. Started in 2019, the program was conducted online in 2020. Around 50 people attend. Of the strategies presented, two have now been incorporated into commercialization planning phase, and two have been incorporated into the R&D process.