KOKUYO believes that creation of a safe, secure and pleasant working environment, safety measures in times of disaster and other measures are the foundations for employees to work vigorously and demonstrate their full abilities. In developing measures for employee safety, we listen to the ideas and feedback of the employees themselves.
KOKUYO Group Safety and Health Basic Policy
[Basic Policy]
We take a safety-first approach on the belief that mental and physical wellness lies at the cornerstone of all our business.
[Code of conduct]
1. Comply with all health and safety-related laws (e.g., the Industrial Safety and Health Act), regulations, and internal standards.
2. Encourage continuous and self-led improvement in the workplace and take active steps to prevent workplace injuries and illnesses.
3. Foster a culture of openness and engagement to protect the health and safety of everyone involved in KOKUYO Group's businesses.
Health and safety Conferences in production and construction sites
During Japan's National Safety Week* (first week of July), we organize health-and-safety conferences to enhance safety-consciousness across the corporate group. For the 2020 event, anti-infection measures were taken.
* Run by the Ministry of Health, Labour and Welfare and the Japan Industrial Safety & Health Association, National Safety Week is a campaign that calls upon employers to take voluntary actions to prevent workplace injuries. It also aims to raise awareness about health and safety and entrench workplace safety.
Construction: KOKUYO Group Construction safety conferences
The KOKUYO Committee for Promoting Safety and Health in Construction organizes safety conferences in seven venues across Japan on the belief that safety for employees and partners is critical to business success. In a first, the conferences in 2020 were webcasted. At the conferences, the committee reported its activities and awarded prizes to construction partners.
Factories: KOKUYO Group Health-and-safety conferences and safety patrols in Japanese production sites
We organize health-and-safety conferences and safety patrols for five factories and seven worksites in Japan. For the 2020 conferences, care was taken to avoid the three C's (closed spaces, crowded places, and close-contact settings). As in past years, presenters showed data about industrial accidents and explained our health and safety policies, and the attendees engaged in a safety workshop.
To foster a good safety culture in the workplace, we will continue to provide, throughout the group, an opportunity once every year to pause and reflect on safety matters.
Development: Safety conferences and safety patrols in development
For employees involved in development, we hold a safety conference at Head Office and run safety patrols. The conference includes workshops on the development of KOKUYO products and on quality testing. The 2020 conference was held online to avoid the three C's. The conference is designed to raise attendees' awareness about the prevention of industrial accidents, an essential matter given that the employees concerned handle machinery and a plethora of chemicals. Holding the event online resulted in a higher number of attendees compared to past years, as it was possible for remote workers and staff at the Shinagawa office to attend online.
Group-wide factory conferences in 2020
From August to October, the KOKUYO Group Central Safety Health Committee held factory conferences with forepersons and safety managers assigned to group sites in Japan and abroad. The conferences were held to exchange views on the health and safety matters pertaining to each company and the matters to be addressed in the future. Candid views were exchanged between participants from different professional backgrounds in order to entrench health and safety in factories across the group.
Guided by the principle that safety for employees and partners is critical to business success, we will continue to hold such conferences to promote the health and safety of employees and foster a motivated, empowered workplace culture.
KOKUYO Logitem's initiatives
Using videoconferencing for risk prediction training
KOKUYO Logitem holds safety conferences with partners during the one-month lead-up to National Safety Week. The conferences in 2020 were held online to avoid the three C's. During National Safety Week, the company awarded prizes for safety mottos and ran a webinar on risk prevention.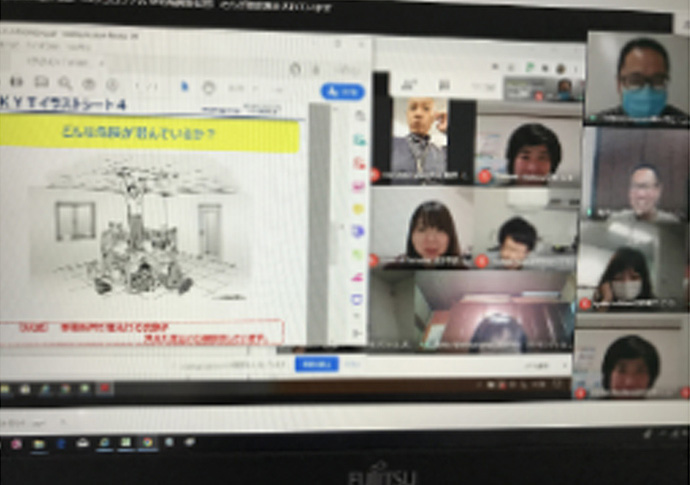 Risk prevention training webinar
In a first for the distribution industry, KOKUYO Logitem introduced communication device Bonx Grip
In a first for the distribution industry, KOKUYO Logitem equipped its warehouse workers with Bonx Grip* communication devices in order to enable smoother communication and better safety during work operations. Bonx Grip consists of an earpiece and app that allows the user to communicate verbally with other users. We will continue efforts to make operations at distribution centers and delivery sites safer, more accurate, and more efficient. We will also continue to introduce new communication methods to enhance the quality and value of our products and services.
* With support for 3G, 4G, and WiFi, Bonx Grip enables hands-free communication with multiple users. Unlike conventional transmitters and receivers, there are no limitations on place or number of users.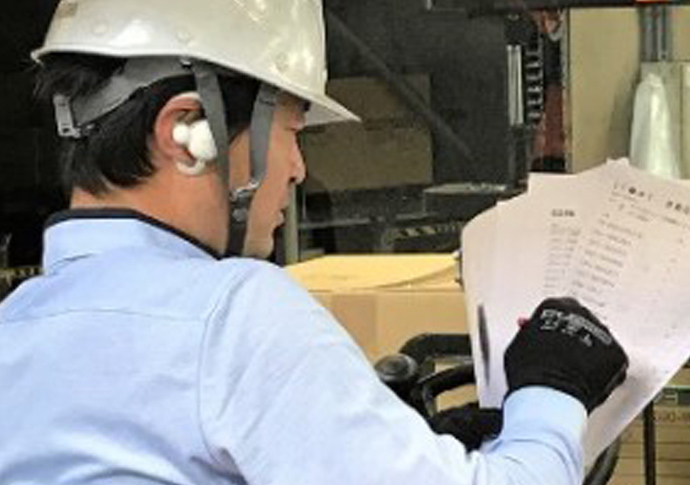 With Bonx Grip, the user can communicate smoothly with the office while operating a forklift truck.
KOKUYO Logitem Okayama Distribution Center: 9,000 consecutive days without an accident
On June 13, 2020, KOKUYO Logitem Okayama Distribution Center reached its 9,000th consecutive day with no accident on the premises. To mark the milestone, the center held a ceremony on July 28, during which attendees looked back on the safety efforts of staff and partners over the 32 years of no accidents.
The center will continue to promote safety consciousness and safety behavior to extend its clean sheet.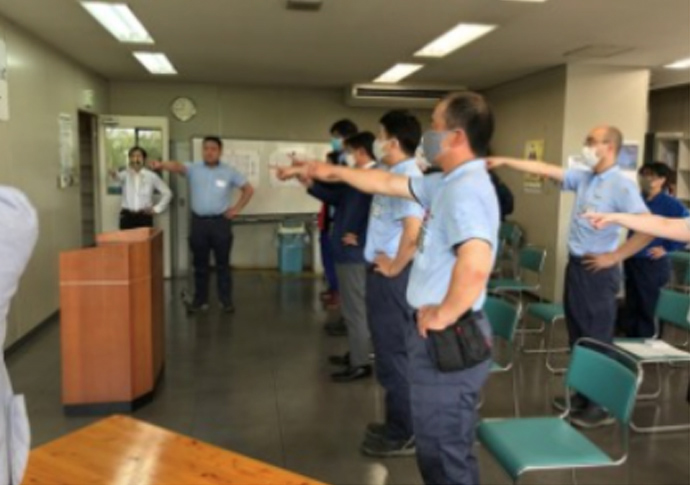 A standup meeting at KOKUYO Logitem's Okayama Distribution Center—members repeat the company's vision to maintain a clean sheet in safety