Dialogue with our Customers
We handle all customer inquiries thoroughly and sincerely. In addition, we take feedback as valuable opinions for improving KOKUYO's products and services, and make effort to share them across the entire company.
A System for Utilizing Feedback from Customers
Our Customer Support Center handles more than 400 inquires a day—reportedly the highest capacity for the industry. Around 3% of the calls are complaints. All customer feedback—positive and negative—is shared within the company to identify improvements to make in product development and customer service.
To help disseminate customer feedback throughout the organization, we use VoiceClip, an internal website that shares customer feedback, revealing to employees what customers expect of us. The content on VoiceClip is updated weekly and accessible to all employees throughout the corporate group. Another tool we use is VoiceDB, a database of past customer inquiries. This data is shared throughout the organization (after removing all personally identifiable data), allowing employees to identify ways to improve products and services at the planning and development stages.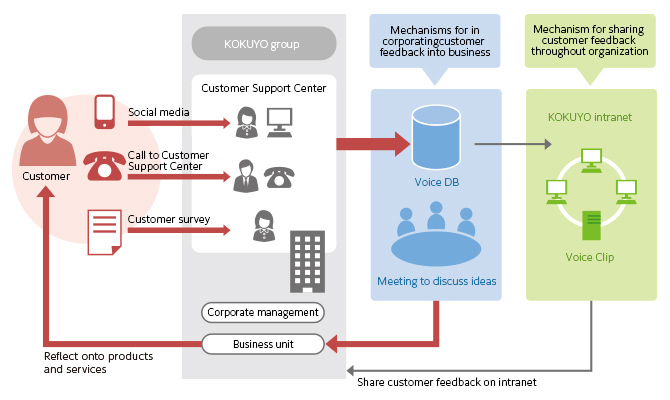 To help inform staff at the Customer Support Center, the center displays defective products as well as new products. Because we want to keep enhancing the frontline of the customer interface, we provide training to the staff so that they can hone their customer service skills and leave the customer satisfied by the end of the call.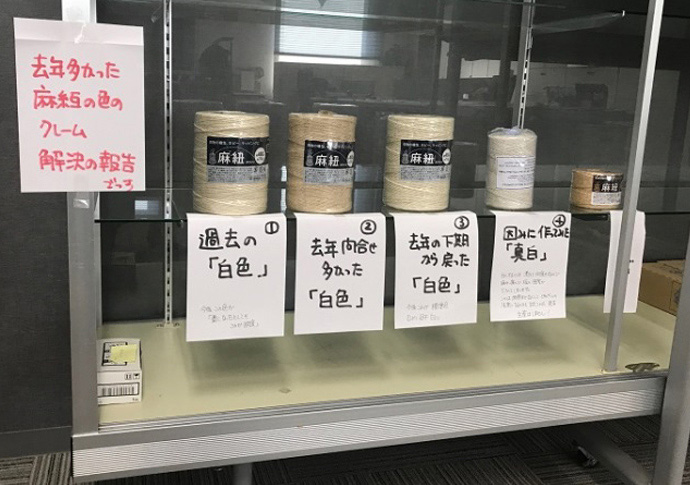 A display in the Customer Support Center showing examples of how defective products were rectified after incorporating customer feedback
Customer Support Center's system revamped
In October 2020, the Customer Support Center revamped its system for handling inquiries.
The new system enables staff to share customer feedback (comments, complaints, and praise) throughout the corporate group in real time.
Because it is now quicker and easier to analyze how past inquiries were managed, we now use the results of analysis to improve our FAQ content and operator training and to respond to customer inquiries quicker and more effectively. We will continue our efforts to share customer feedback with business units in order to create more opportunities for making the product or service in question even more useful and valuable.
Kaunet: Kau-Box opened, opening event livestreamed on social media
On October 1, 2020, Kaunet opened its new showroom, Kau-Box, on the ground floor of The Campus. Customers are able to visit Kau-Box by prior appointment, so Kaunet organized a livestream of the newly opened showroom to raise customers' awareness about it.
Kau-Box showcases products from Kaunet's premium range, Kaukore. It also provides advice on the layout of office furniture.
*Website content Japanese language only
China: Participating in the booming live commerce market
The pandemic has driven up demand for online shopping in China. To capitalize on this trend, KOKUYO Commerce (Shanghai) started engaging in live commerce (a form of online shopping in which sellers interact with shoppers and sell the products in real time) using China's largest live commerce platform. The livestream in August, for which the company hired influencers, won 110 million yen in sales in just 20 minutes. The livestream in November, which was held on Singles' Day, got 30 thousand views and sales of 307 million yen in sales. We will continue exploring effective online marketing strategies to expand business in China.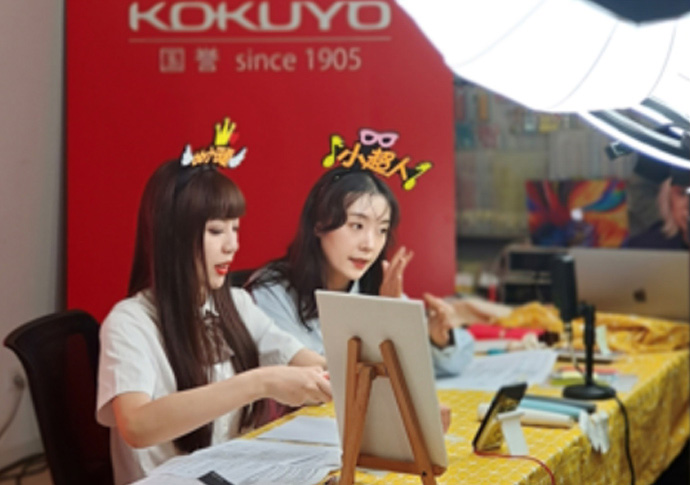 Livestreaming studio in the office premises of KOKUYO Commerce (Shanghai)