Notebook for Black and White Writing
<2018 Merit Award>
The design proposes a gray notebook that you can write in in both black and white ink. The notebook makes use of the nature of human eyesight, namely, that letters that have bright colors and dark colors compared to the color of the paper are difficult to read at the same time. It uses this effect to create new uses for notebooks, such as highlighting important parts, indicating additional information, and adding light and shade to illustrations.
Introduction video about products : https://youtu.be/pSuv18vGdPc(YouTube)
*Only available for purchase in Japan.
FROM CONTEST TO MARKET
KOKUYO DESIGN AWARD 2018 was held with the theme "BEYOND BOUNDARIES." "Notebook for Black and White Writing," the winner of the Merit Award, focuses on the boundaries of sight, and proposes new uses for notebooks that use contrasts in brightness.
Shinpei Yoshida is in charge of developing and designing notebooks at KOKUYO, and was in charge of commercializing this design. He said that he saw broad potential in "Notebook for Black and White Writing." "The design had a clear concept, so first we conducted sampling to get examples of uses in order to see how it could actually be used. We then used the results to decide how to position it as a product."
As we collected more and more examples of how people used it, we realized that besides simply writing things in it in black and white, they often also drew mind maps, diagrams, and other kinds of illustrations. This helped us picture more clearly how people could use the notebook to express things freely with black and white pens while thinking up ideas and getting them into shape.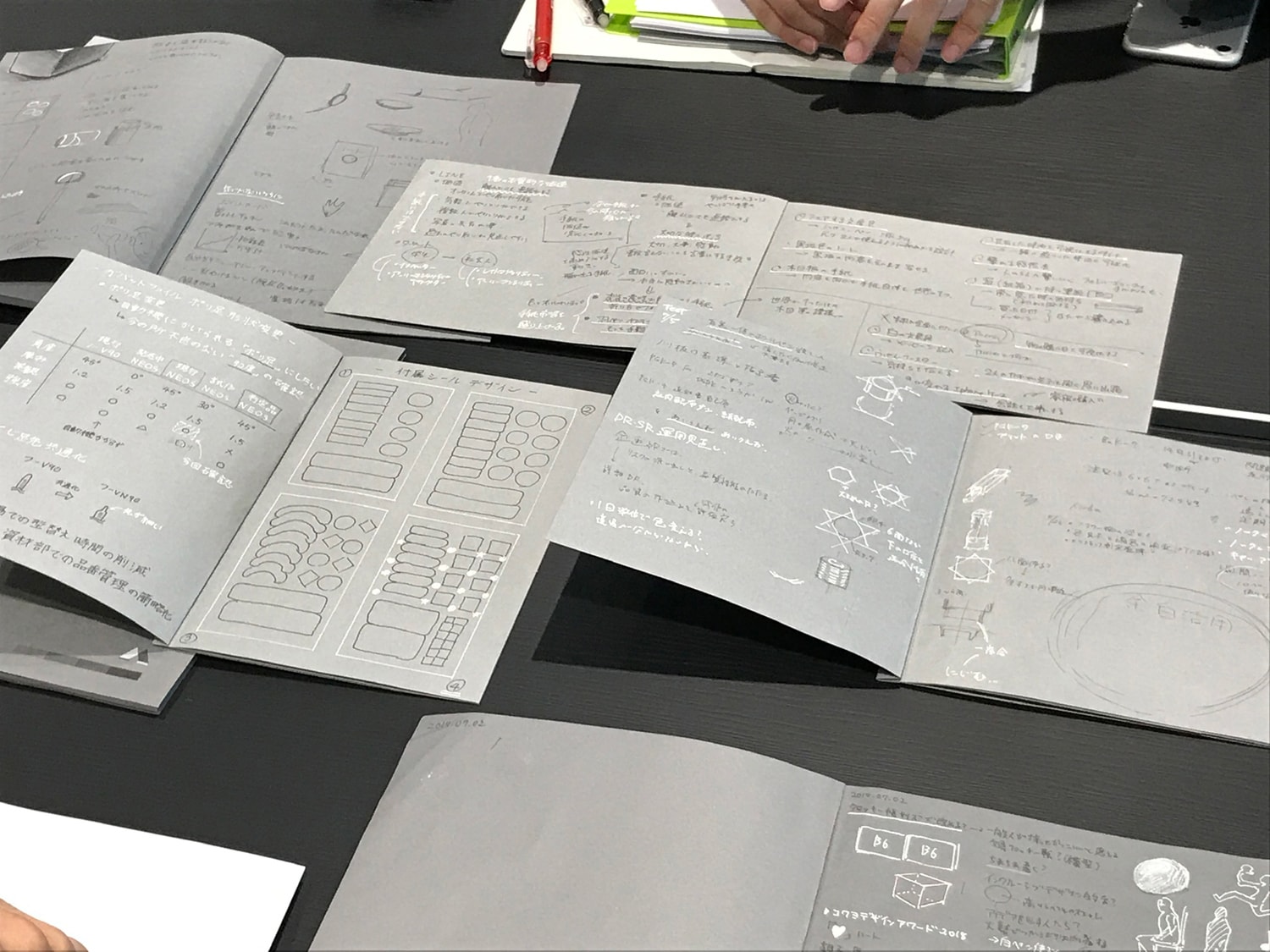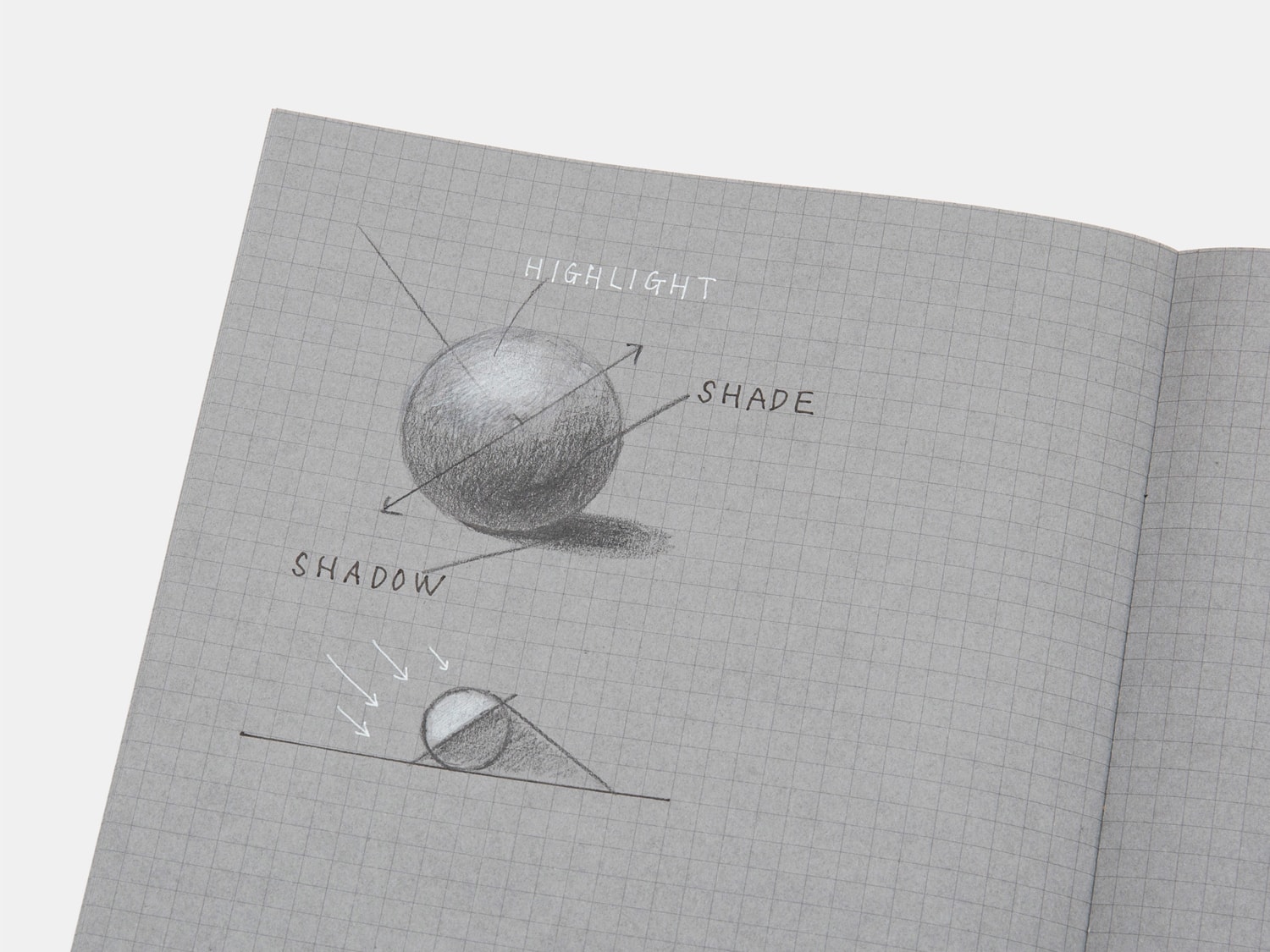 The examples collected from the sampling showed a truly wide range of ways the product could be used.
Users also enjoyed being able to use light and shade.
Kunihiko Nakata, the designer of "Notebook for Black and White Writing," also participated in the commercialization, linking the concrete product specifications with the design concept while sharing prototypes and research done by KOKUYO.
"I was amazed by all the examples of uses of the notebook they'd collected beforehand, and all the prototypes with various sizes and specifications. We were able to decide on the specifications with confidence. For example, one of the prototypes was a ring binder notebook, but because the binder ring divided the notebook down the middle, it might not have suited users who would want to use it to expand their ideas. So, we decided better usability would be offered by a design that didn't have binder rings, and could be opened as flat as possible." (Nakata)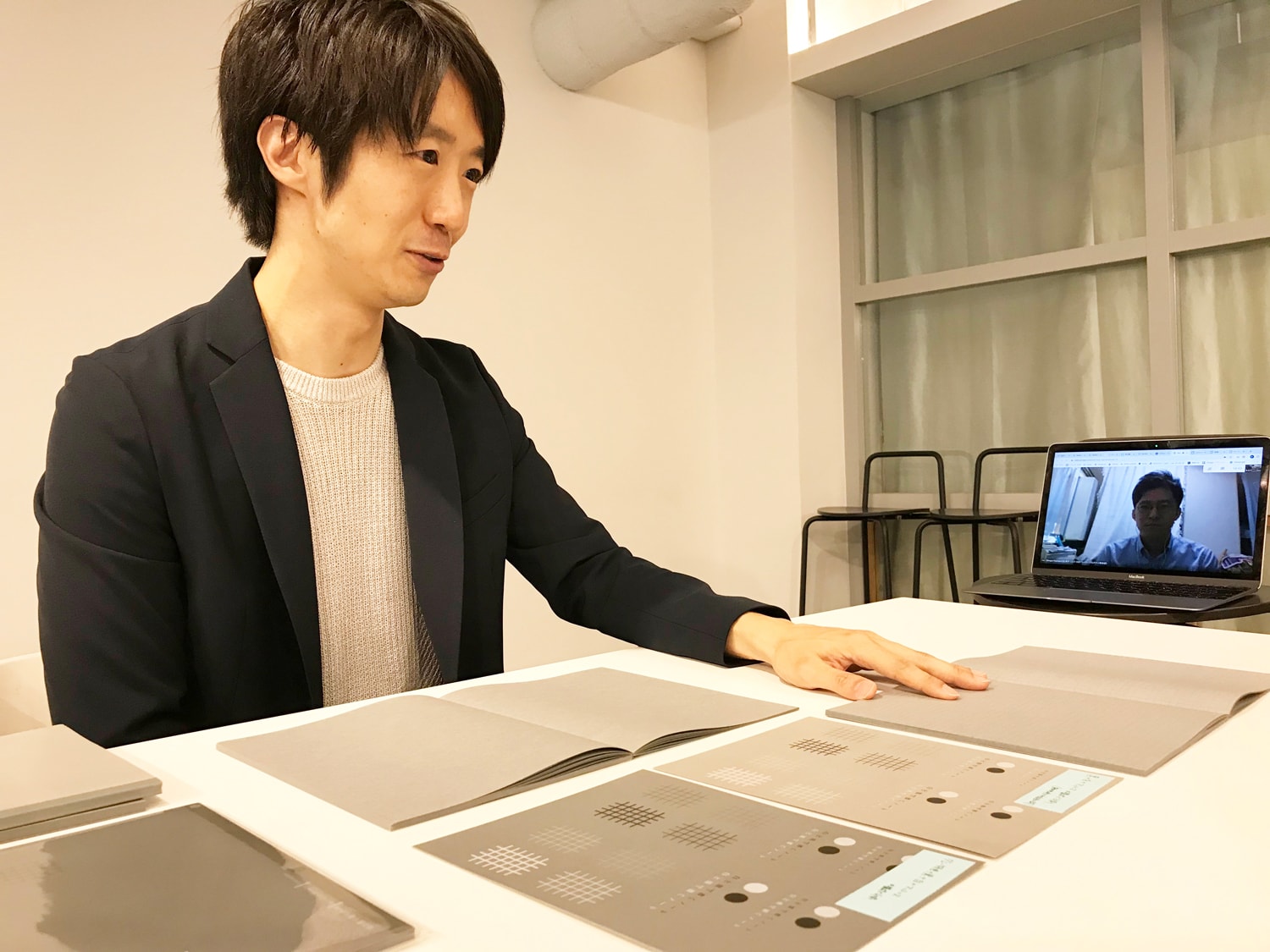 We decided to make the notebook an unconventional, unique size. Recently, there's been increasing demand for A5 notebooks, which aren't too big to use for work. For this notebook, we decided to try a size that would be based on A5, but also be something KOKUYO had never done before. When you open the notebook, the aspect ratio is 16:10, which is also used for computer displays.
"The size is very convenient for going back and forth between working on a computer and using the notebook. For example, it's handy for writing down in the notebook what you've done on the computer, or working on the computer with the notebook in front of it." (Nakata)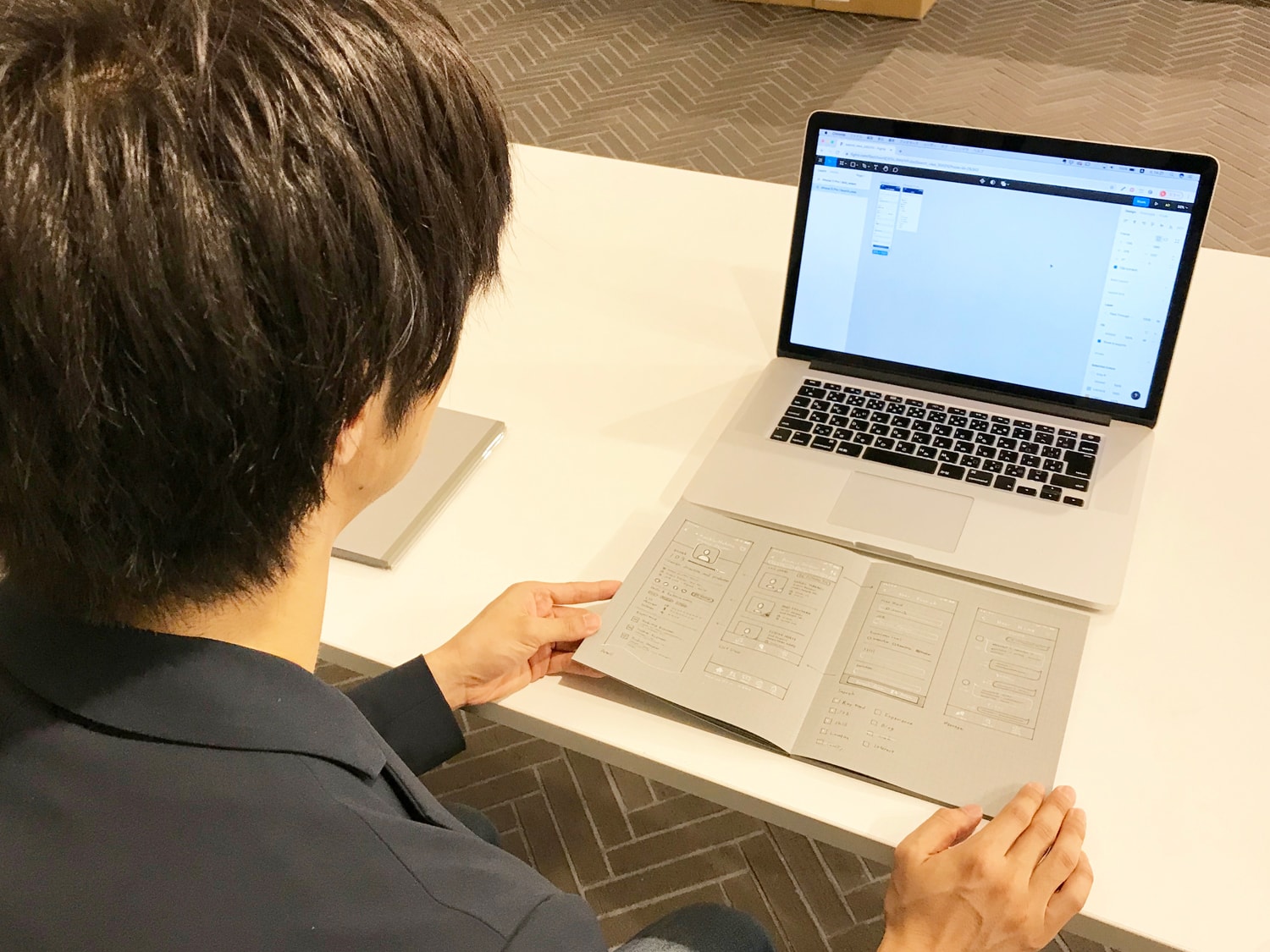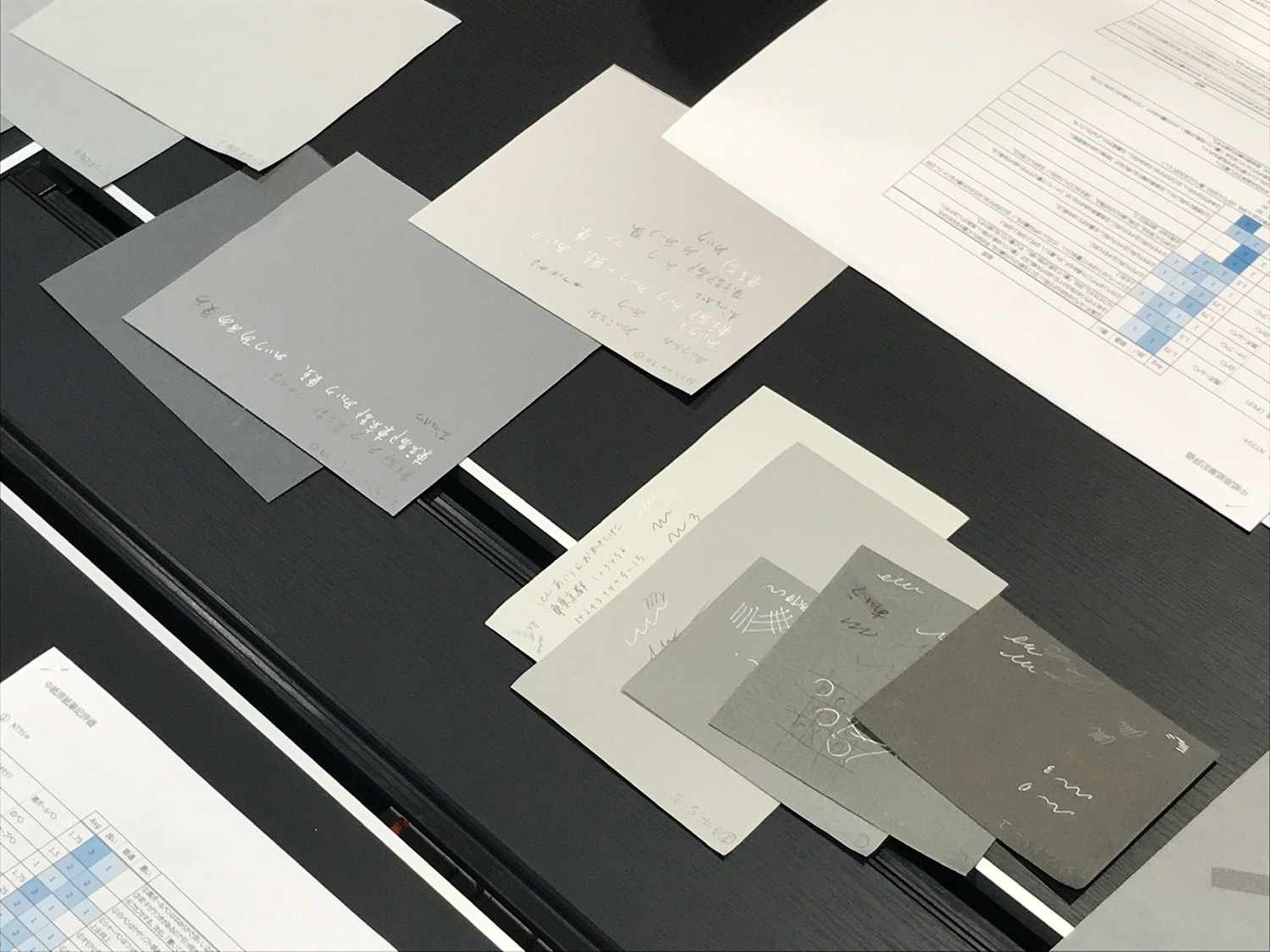 In this way, we made the notebook the perfect size to use with a computer.
The flat-opening binding made it easy to use as a double spread.
We also meticulously tested and retested gray paper colors and printing the ruled lines.
Our top priority was to make white and black inks look equally prominent.
"During the AWARD, I focused on how easy it would be to understand as a design. I tried to make sure the concept could be understood through a single photo. For example, I made the front cover a design that had black and white stationery in it, and made the notebook a typical B5 size."
On the other hand, looking back over the commercialization process, Nakata said the approach was a little different from designing a product.
"It was very refreshing to see how KOKUYO was adamant about making it a notebook for everyday use. Usually, my work involves designing home appliances. Compared to that, designing stationery that fits in the hand requires adopting a viewpoint that's closer to the human body. With everything from the binding method to the size, type of paper, and design of the front cover, we put a lot of thought into how user-friendly the notebook would be as an everyday item. We turned it into a product I'd want to use for long time myself."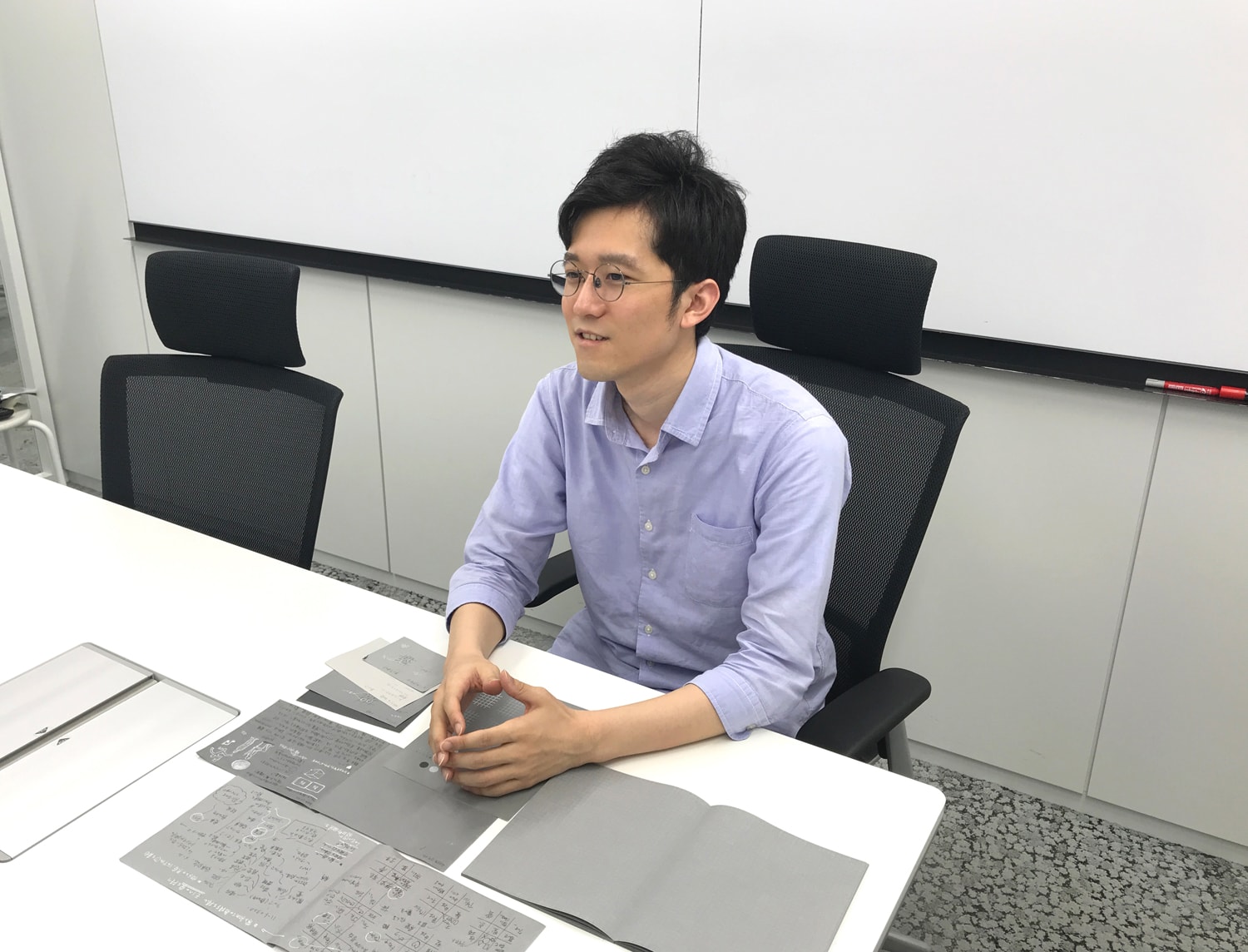 Shinpei Yoshida, in charge of development at KOKUYO
KOKUYO's Yoshida was in charge of developing the product, and is looking forward to seeing people come up with more and more ways to use it.
"While the notebook's been designed for writing in in black and white, there are many ways it could conceivably be used, and it'll largely be up to the user. Besides that, things like using something to write in both black and white, a gray notebook, and the 16:10 size were all new challenges even for KOKUYO, a company that had already developed so many notebooks before. It'd be interesting if all the users also told us how they actually use it as we think about what to develop next."