Roll Table
<2011 Grand Prix>
The structure serves as a sort of table,
providing a stable surface on which to write and draw.
*End of production.

FROM CONTEST TO MARKET
"Roll Table" shone as the Grand Prix winner in the KOKUYO DESIGN AWARD 2011. In addition to its concept "between furniture and stationery", it also received the evaluation as a work that put the insights gained through careful observation of children's "learning" into the design.
Roll Table is a desk wrapped in paper that is both a table and a notebook. It started as a collaborative development that went beyond the genres of furniture and stationery, but there were many problems. Winding rolled paper around a square table with rounded corners was particularly difficult. Whenever we fitted the paper exactly and rolled it, there was some slack resulting in the paper. What solved the problem was one machine in a paper making company.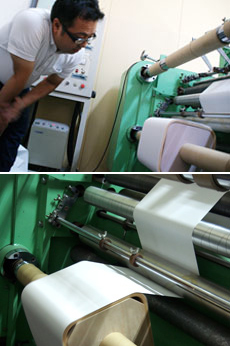 That machine was an old type of machine that allows manual operation with detailed settings. When rolling paper on a round object, you only need to apply constant tension. However, in the case of a square object, the movement when wrapping becomes jerky and it cannot wrap neatly with a constant tension. We tried it many times and while constantly adjusting the tension of the rolled paper, worked on the difficult challenge of rolling the base paper on a square.
Along with adjustment of the tension, another key element was the wooden mold that fits inside the Roll Table when rolling the paper. A hole is drilled in the center of this wooden mold through which a machine bar is passed and rotated. If the shaft and the Roll Table do not fit each other perfectly, it will rattle when rotated and the paper cannot be rolled well. There was a gap between the Roll Table and the initial shaft. So we packed it with paper and managed to roll it without rattling but we gradually improved the shaft and reduced the rattling.

Halfway through, the creators, Shinichi Yamauchi, Kei Ninomiya and Fumiaki Amano (Kobe Design School) participated and we shared our ideas and proceeded with the commercialization process together. "I have been able to acquire stimulating "learning" through this project. Now that it has become a product, I hope that this Roll Table will pass into the hands of many children and create a lot of smiles." (Shinichi Yamauchi)


(Left) Meeting with all of the members of Kobe Design School. (Middle) Sketches of ideas. (Right) Checking the prototype.
This product was created as a result of about two years trial and error and various challenges. As a child born between furniture and stationery, the product that was created really matches KOKUYO.