Paper Wrap Note
<2011 KOKUYO Prize>
The "Paper Wrap Note" is a roll of paper in a cardboard box with a cutter.
Users can cut and use a sheet of any length, just like plastic wrap.
It's our proposal for a new form of note paper that will make writing and thinking a littlemore fun.
*Only available for purchase in Japan.
Brought to the Table After Six Years
The design was originally submitted under the title "Makino" in the competition. The designer, Ai Sasaki, was a student at the time, and the work was inspired by her wish for long sheets of notebook paper, which would allow her to write a mile-long chronicle or equation—anything that would not fit into the bound pages of a normal notebook. The panel of judges praised her idea. "It frees the act of writing from the limited size of a notebook," and "It makes it possible to keep a notebook in the kitchen," were some of the comments received. The design was well-received, and successfully won a KOKUYO Prize.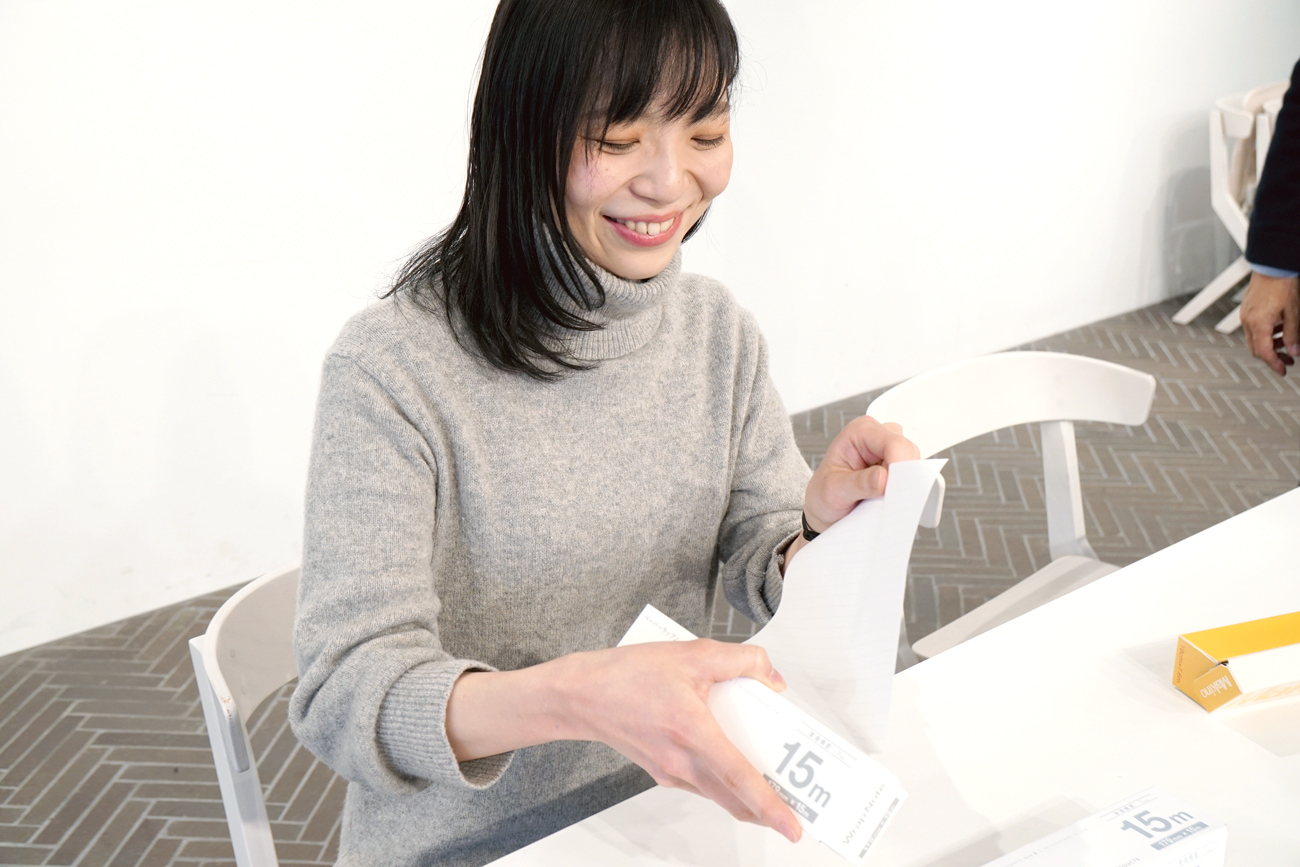 Ai Sasaki, testing out the product
"Makino has always been on my mind since then," says Takeshi Fujiki, KOKUYO's senior designer, who has been involved in the product development of KOKUYO award-winning designs since 2011. He made "Roll Table," the winner of that year's Grand Prix, into a commercial product, and was involved in projects for the product development of award-winning designs year after year. The busy man couldn't find a chance to work on Makino. "But with digital writing tools on the rise, I thought, 'Now is the time to re-think the act of writing on paper.' That's why I contacted Ms. Sasaki in 2017," said Fujiki.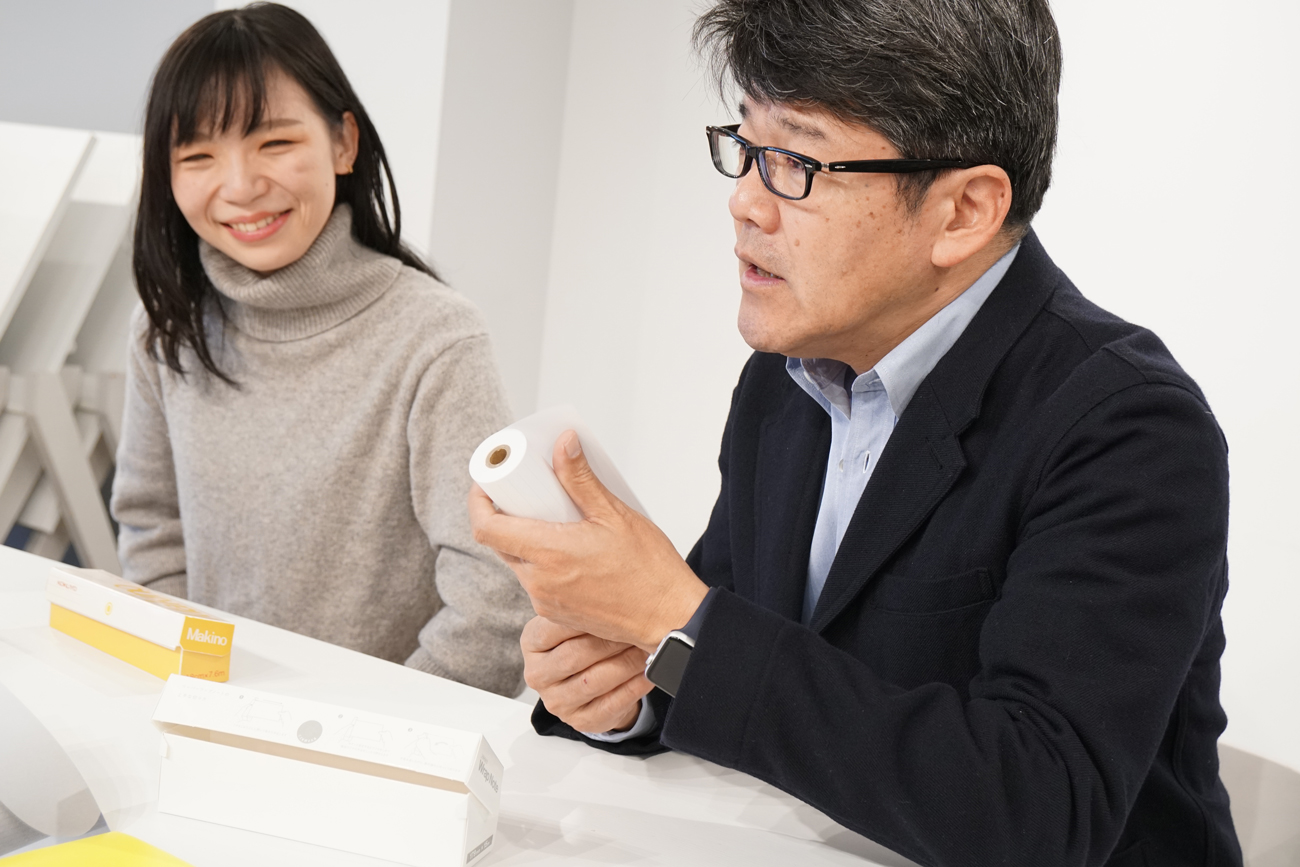 Senior designer Takeshi Fujiki, who has turned a number of award-winning designs into commercial products
Destined Collaboration
After winning the award, Sasaki graduated from school and joined an advertising production. She built a successful career as a designer, and had just changed jobs and started working at a printing company based in Osaka when Fujiki got in contact with her. Fujiki approached Sasaki with a proposal to make Makino into a commercial product, which reminded her of the good times she had designing the product and entering the competition. She was very excited at the prospect. However, there was a big challenge in making her design commercially available: the existing package design for plastic wraps was patented, cutter and all, and her original design couldn't be used.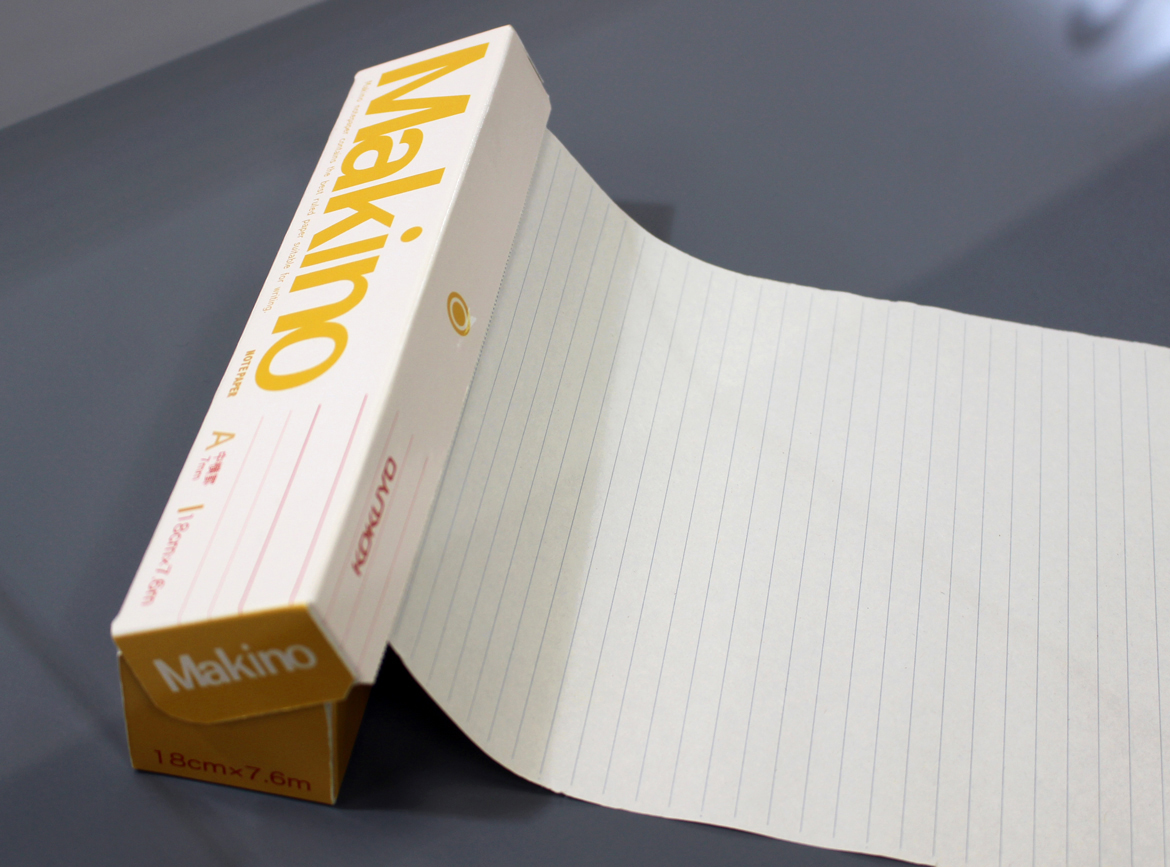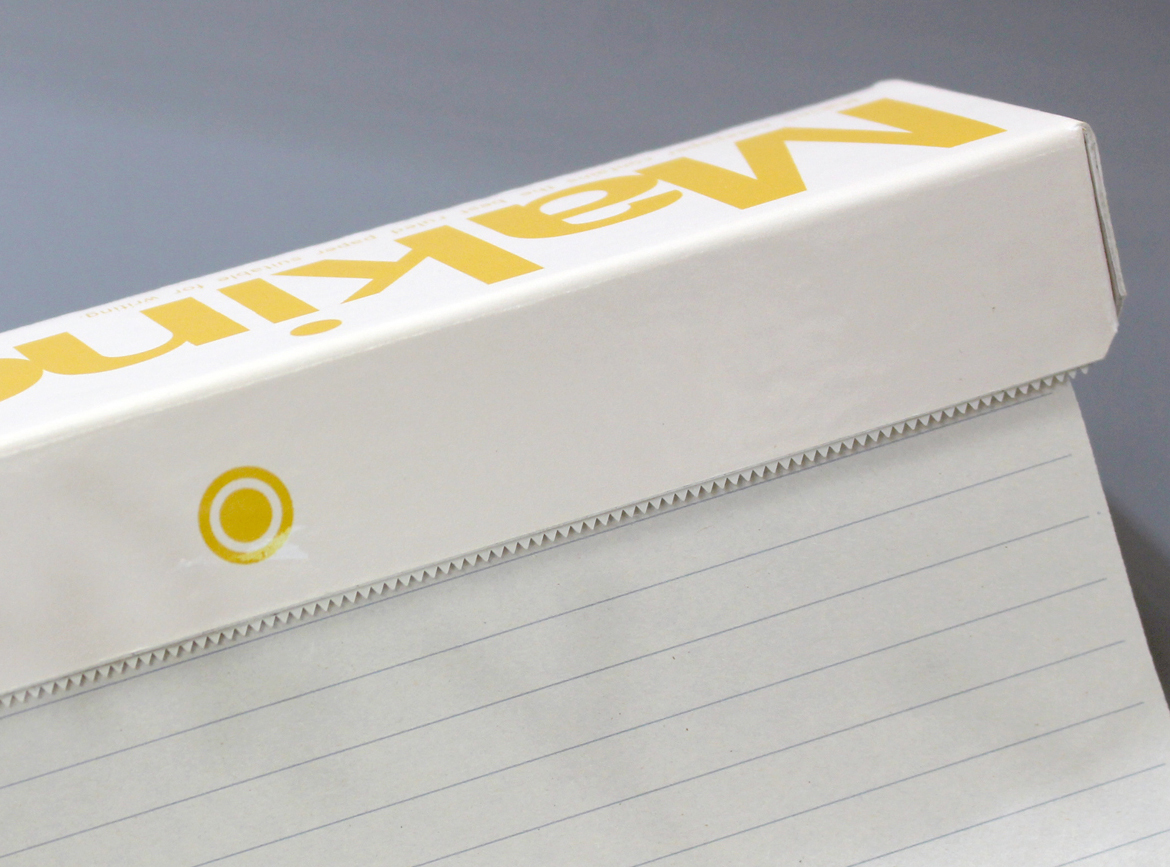 A mock-up of Makino made by Sasaki when she entered the competition
Sasaki, who was a student back then, is now a professional planner, and—as luck would have it—her new workplace, Sakai Printing, specializes in product packaging. Feeling that this was destiny, Sasaki talked to her boss, and got the company fully on board with the project. "We drew a loose line between roles—Sakai Printing made the packaging, and KOKUYO the product inside. We usually develop award-winning designs into commercial products with just the individual winner and KOKUYO. It was our first collaborative project with another company," remarks Fujiki.
Made Full Use of Packaging Expertise
Sakai Printing's engineer developed a design for packaging that could cut paper without using a blade so that the package would not infringe the patent. In order to make the package durable, the team changed materials, applied surface finishing, and went through a long process of trial and error. They were, however, not content with simply making a package that could cut paper. They were determined to maintain the features of the original design that made it a hit with the judges and won it the award—the satisfying sharp cut, and the playfulness that makes people want to use it. "We also thought of attaching a plastic blade or other hard edge instead of a metal blade, but it was not feasible in terms of cost and production efficiency. This package here is made from just one sheet of cardboard, and can be assembled without using any tape or glue. When you open and close it, it makes a clicking sound. I think it has a fun factor that makes people want to keep using it," comments Sasaki.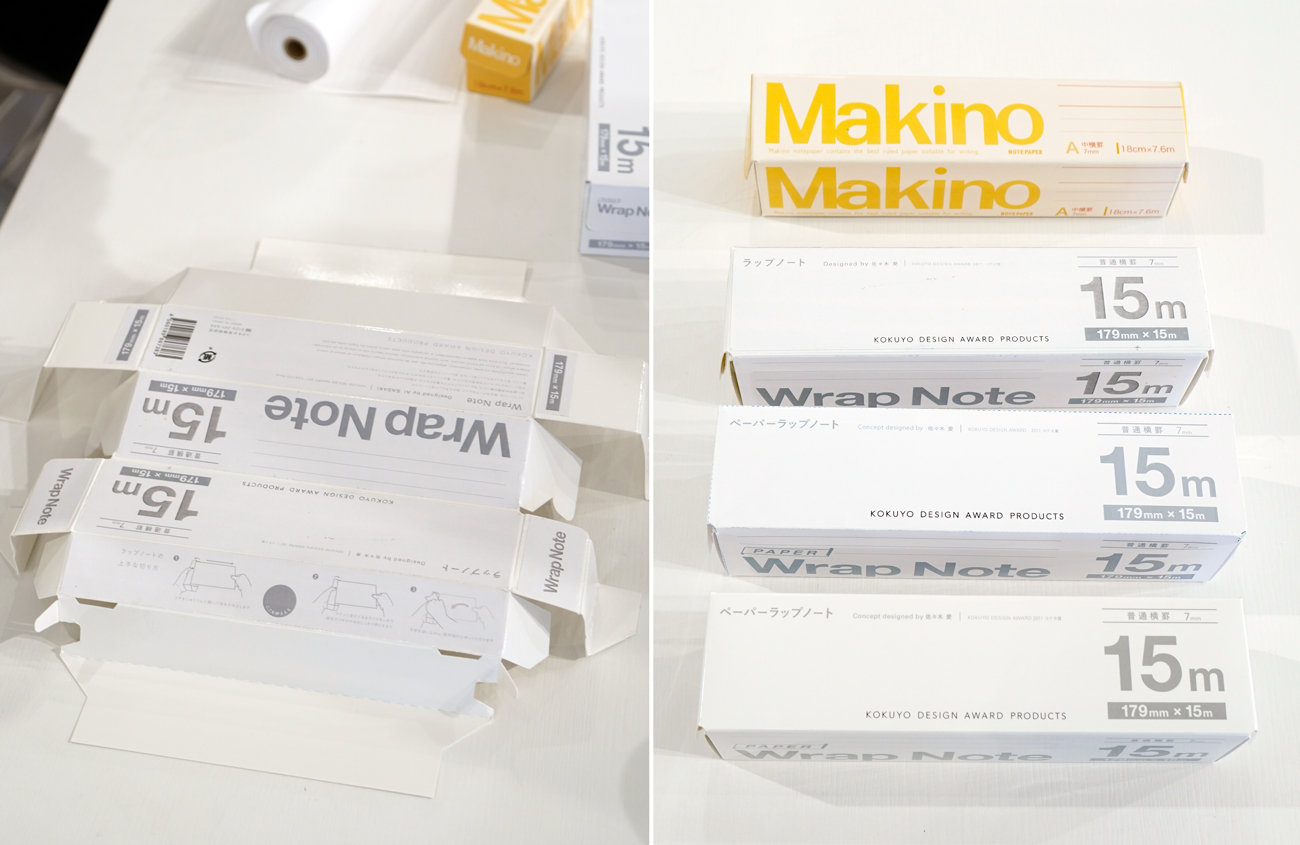 An array of mock-ups made for testing out the package structure and surface finishing
Meanwhile, KOKUYO sought out a way to make the paper roll that goes inside the "plastic wrap" box the best possible quality at the best possible cost. The paper roll is the same paper used in KOKUYO's Campus notebooks. The original design submitted to the competition used 7.6 meters of paper—the amount used in one whole notebook—but the commercial version uses 15 meters of paper, nearly two notebooks' worth, so that users can use the product without worrying about running out of paper. They tested the durability of the packaging by pulling out and cutting 10 centimeters of paper, 150 times.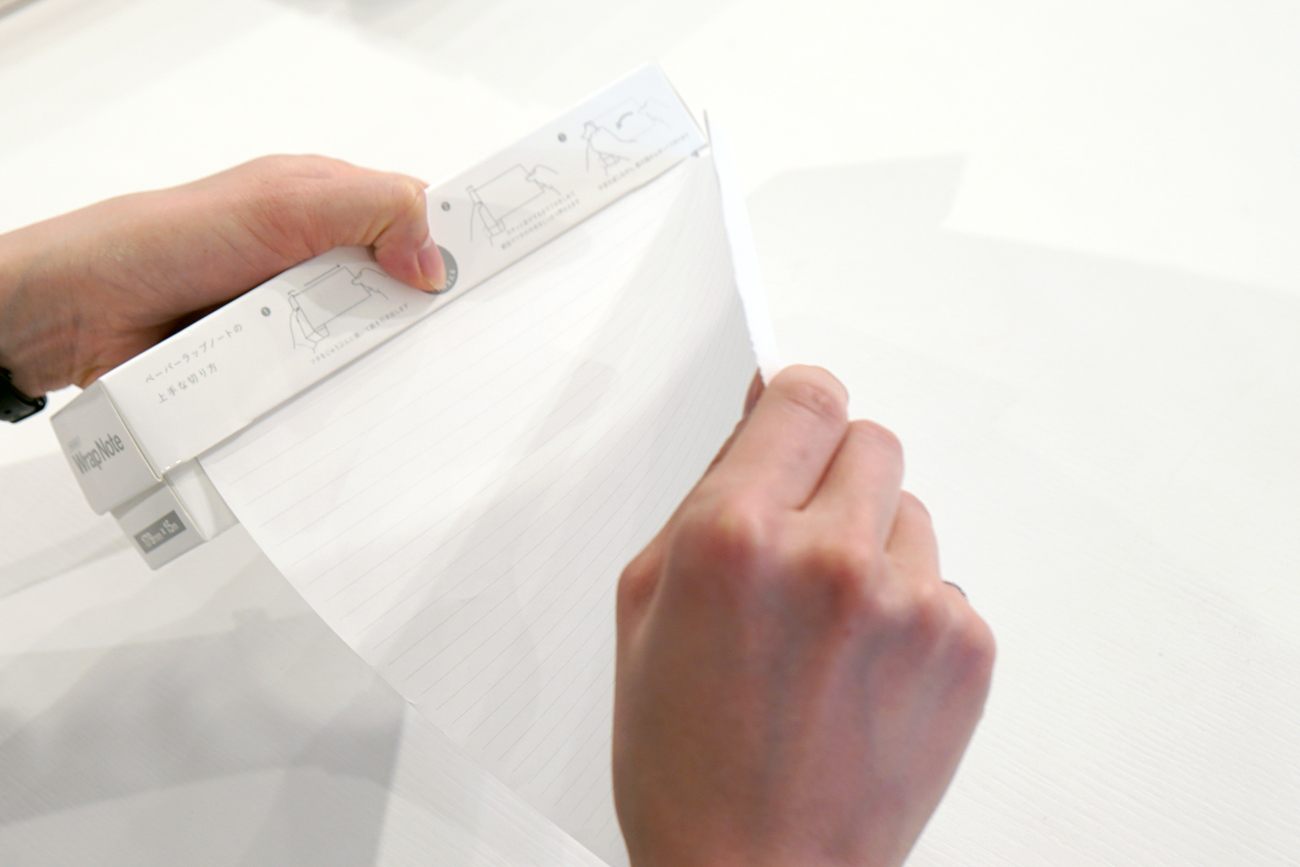 The product has a warmth that you don't get from cutting paper with a pair of scissors or a safety cutter.
The team decided to change the original name "Makino" into something easier to recognize and remember—"Paper Wrap Note." And here we have it: a cutting-edge notebook shaped like plastic wrap, that goes beyond fixed page sizes.
"The project was successful because we did it with Sakai Printing," reflects Fujiki. "If we had taken the design to others, they would've said that they couldn't do it, and we would've abandoned the project there, I think. It was a great advantage for us at KOKUYO that we were presented with an opportunity to collaborate with a company that had skills and experience that we didn't have." Sasaki also comments, "We faced the challenge of a patented design, and overcame it. This whole process of collaborating with my boss and our engineers on a project was a great experience that I learned a lot from."
Joyful Project
The "Paper Wrap Note" went on sale at the end of January, and is now available at THINK OF THINGS and pop-up shops in Marunouchi KITTE. The name of its creator, Sasaki, is featured on the packaging.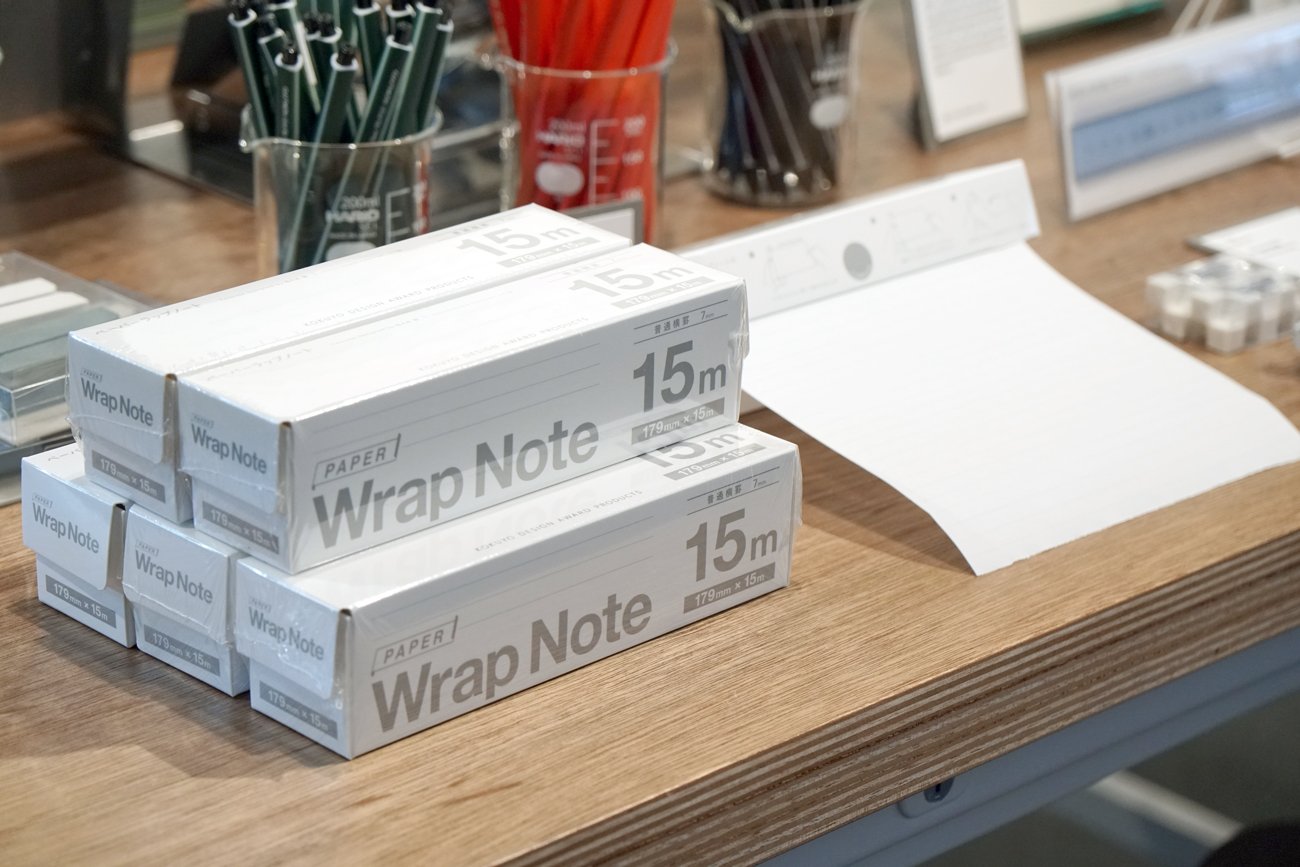 The finished product is already on the shelves at THINK OF THINGS, where customers can try it out themselves
"It's amazing that something I worked so hard on in my student days became a part of my career. I wish I could tell my past self about this. I'm very excited to see how people will use the Paper Wrap Note. I hope that our stationery is used in many different ways, and can find homes in many different places," says Sasaki.
"The KOKUYO DESIGN AWARD focuses on making its winning designs commercially available, but we don't rush into product development right away—we want to launch them as products that meet the needs of the times. It was truly a joy to see an award winner who had gone on to become a professional planner, and to start a project together," stated Fujiki.
When the time is ripe, creators connect and collaborate, and the most wonderful creations become a reality. The "Paper Wrap Note" embodies the KOKUYO DESIGN AWARD's ideal of making designs into commercial products.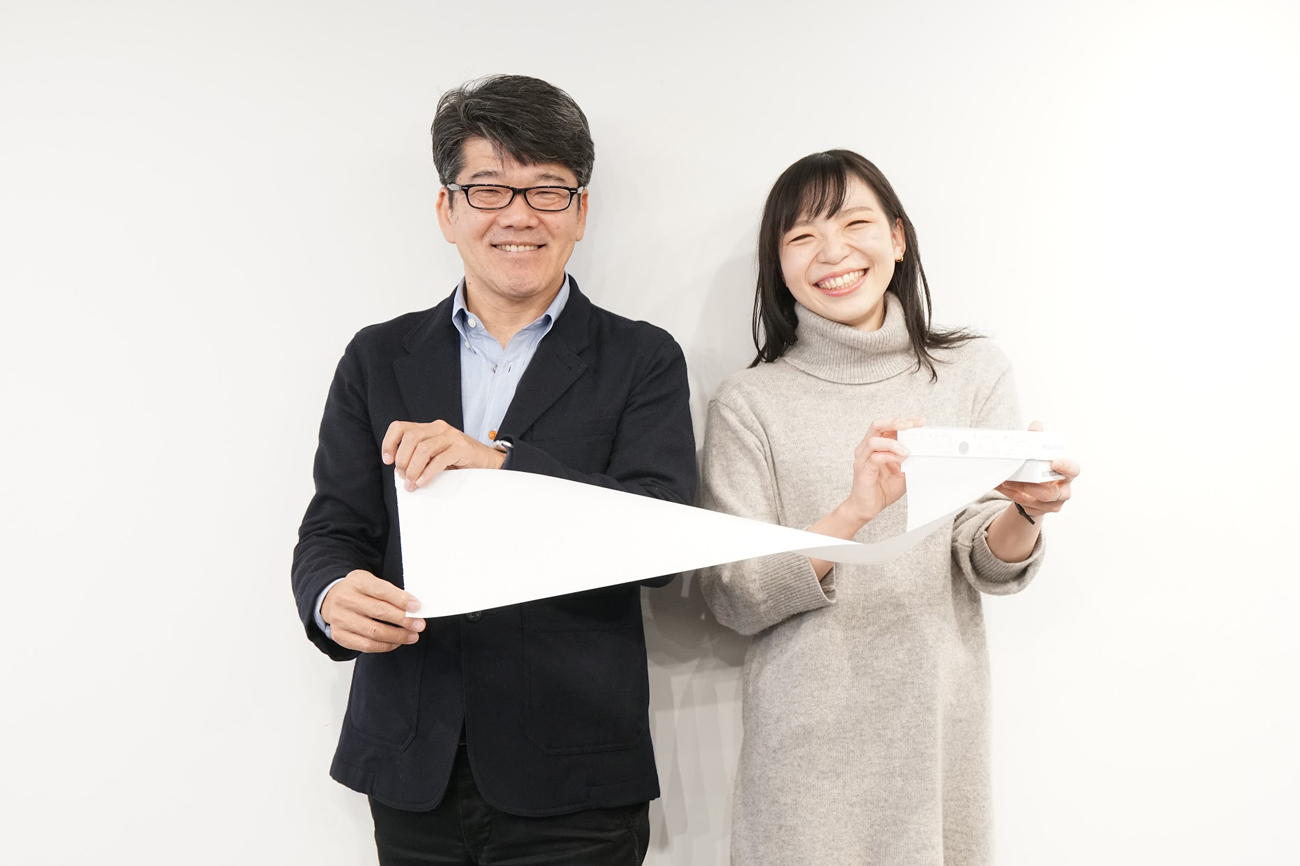 Ai Sasaki and Fujiki (from KOKUYO), with the newly finished product in hand