Pencil of Memories
<2020 Grand Prix>
What if pencils had a past life? We gave wood a new shape by using materials set to be discarded after fulfilling their purpose as part of a building or a piece of furniture. Each and every piece has a unique and rich feel to it—these are the signs of memories etched into the wood.
Wood grains and tanning marks. Texture, color, and subtle aroma. With the little piece of information printed on the pencil, try to draw up a story somewhere in your mind.
Introduction video about products :
https://youtu.be/wvnz2f3-FRE(YouTube)

*Only available for purchase in Japan.
Typical manufacturing methods will not suffice
The KOKUYO DESIGN AWARD 2020 Grand Prix winner, "Somewhere, Sometime" (product name: Pencil of Memories). In interpreting the theme of "♡" as "a heart of a person," the designers of obake (Natsuki Tomoda and Mai Miura) see a simple pencil as a "tool that will stimulate a person's imagination." Because we live in the digital age, the experience of drawing things by hand, the reexamination of the relationship between stationery and people's mind, the social message about the use of scrap wood from buildings and furniture, and the narrative behind the work have been highly acknowledged.
The commercial launch of this product was decided immediately after winning the award. However, the process was more difficult than expected. KOKUYO's Takeshi Fujiki, who is responsible for the product development of award winners, opened up about the project. "Today, most of the pencils sold by Japanese manufacturers are produced in China. I've made pencils in Japan on a different project, and I thought it wouldn't be difficult to make them if I could talk to a factory I know. However, because the raw material used for the pencils varies, and with problems regarding production lots, I realized that none of the factories that manufacture pencils in Japan could produce 'Pencil of Memories.'"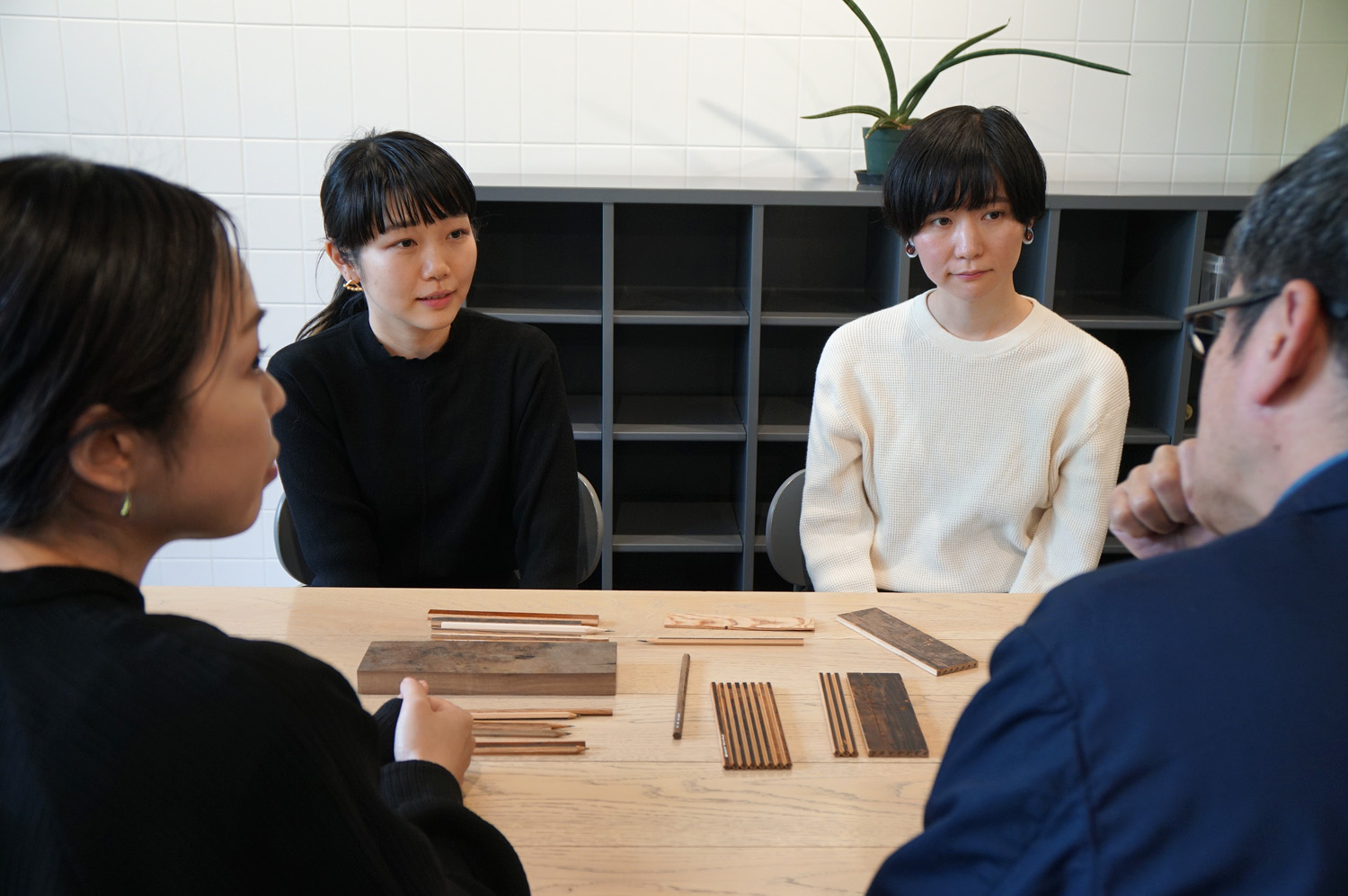 obake duo (left: Natsuki Tomoda, right: Mai Miura)
Thinking of ways to make the pencil from scratch
"The materials used to make "Pencil of Memories" are different from those of typical pencils. For that reason, we obviously had to change the manufacturing method too," says Kaoru Nakagawa, who worked with Fujiki on the commercialization project. Typically, resin is impregnated in wood—mostly North American cedar. Hexagonal pencils are then cut out of a slate made by binding the lead, which are then treated with a coating to make them strong. However, "Pencil of Memories" uses scrap wood from buildings and furniture. Scrap wood is very hard and can't be inserted into machines at pencil factories. Something else that differed from making typical pencils was producing a hexagonal shape while shaving as little surface off as possible. This was to deliver an aged texture as one of the features of the pencil.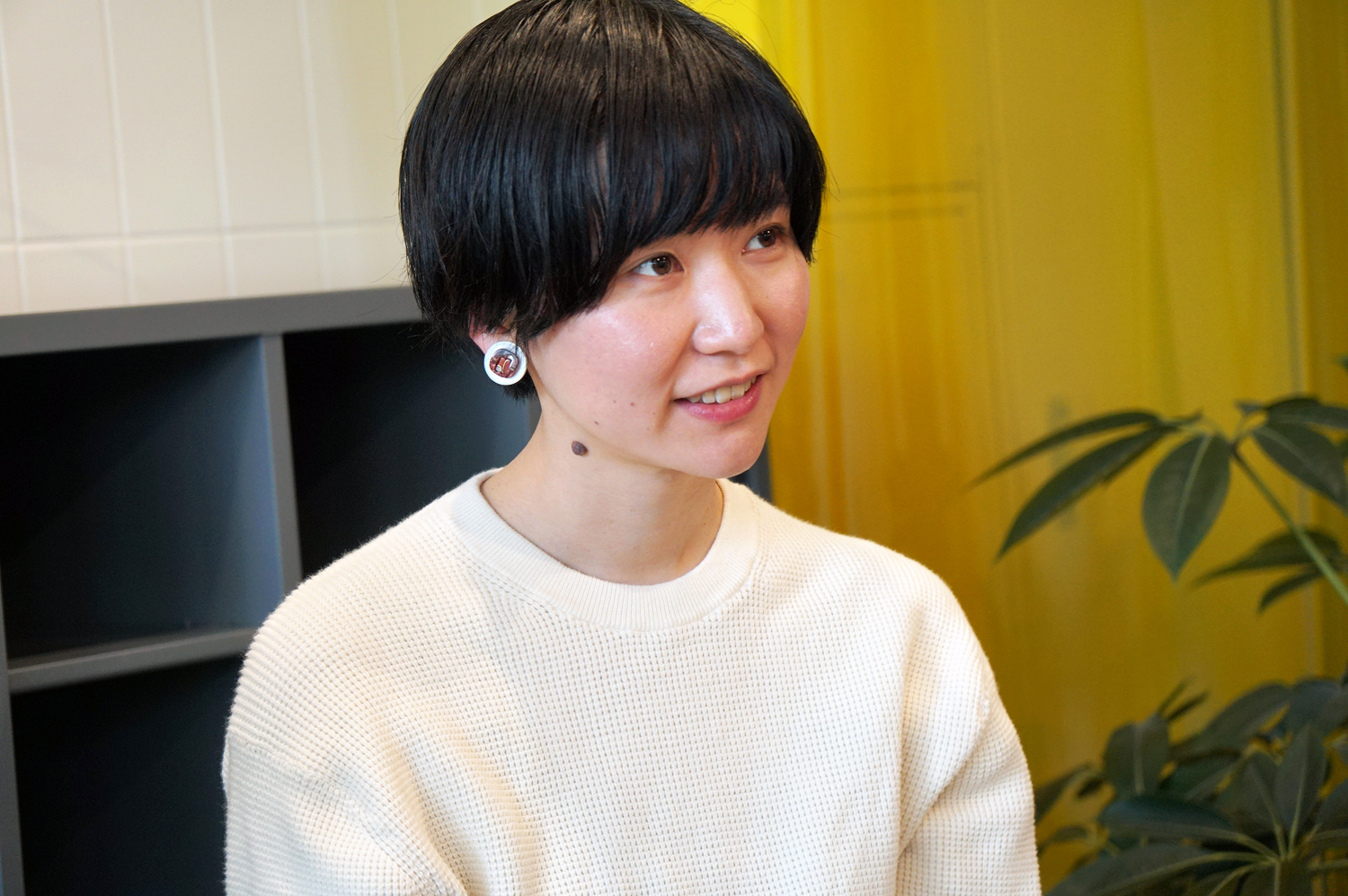 Where can we have such elaborate processing done? While Fujiki and Nakagawa were searching for a factory, the two designers of obake proceeded with reviewing PR methods and concepts for the commercial launch. "While expanding on the content that we presented in the Final Judging, we had countless discussions and also asked for the opinions of the people around us about how we could get people interested in the product," says Tomoda. They had to decide whether to promote this pencil bas a gift that holds personal memories, or as objet d'art that carries a story about, for example, a famous building. While discussing the various directions they could take the product in, they settled on the concept, thinking that, "If KOKUYO is making it into a commercial product, it'll be something that would be picked up by many people. We want to keep the focus on launching a product that puts importance on imagination rather than a straightforward commemorative product."
Appreciating the texture of scrap wood
As a result of the search for a factory, KOKUYO finally met SHARE WOODS (Kobe City, Hyogo Prefecture), a company that sells wood-based interior and exterior materials and creates wood products. They have experience in making pencils using thinned wood, and offered to help us starting from finding scrap wood for the pencils.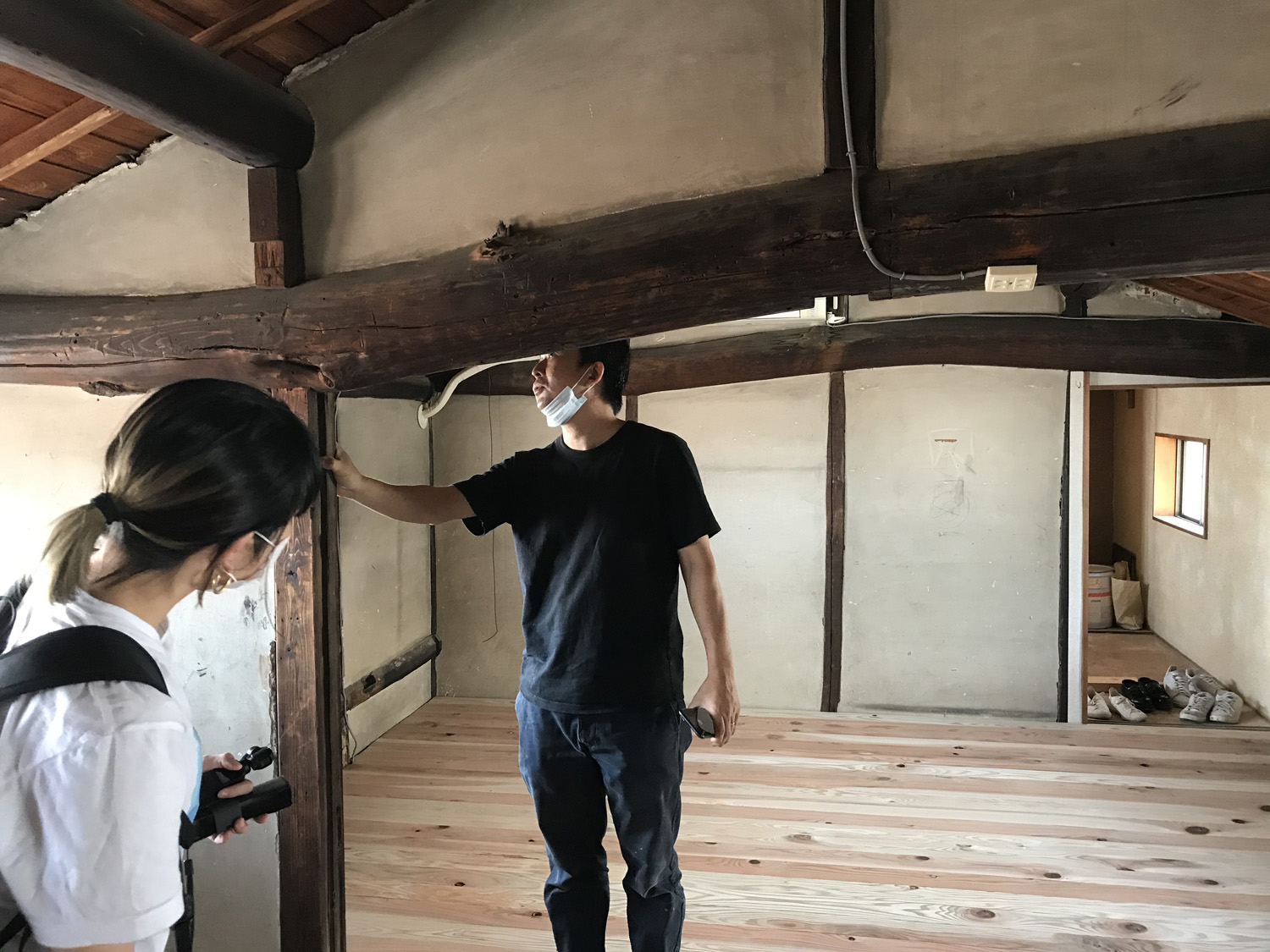 Visiting a 120-year-old house in search of scrap wood
It was the summer of 2020 when Fujiki and Nakagawa visited an old house in Kobe together with the two members of obake with the guidance of SHARE WOODS. The 120-year-old house was to be renovated as an office for a General Incorporated Association, and they got the chance to visit the house to gather some scrap wood prior to the renovation. "We focused on wood that showed characteristics of aging, such as columns and doors stained with soot," said Tomoda. Miura also commented "Considering the wood would be made into pencils, we tried to pick up pieces with an even surface as much as possible." Therefore, the wood for the pencils was collected from building materials and furniture board, and it was decided that about 300 pencils would be made from the gathered materials.
Processing at SHARE WOODS was difficult work because the scrap wood was dry, hard, and not smooth. To make pencils that were solid, we had to shave the surface quite a bit. However, the two members of obake also insisted on "retaining the surface as much as possible, so that the well-used feel to the wood would remain and help people imagine the story behind the product." We explained the intention of the work to the people engaged in processing, they somehow understood it, and we moved forward.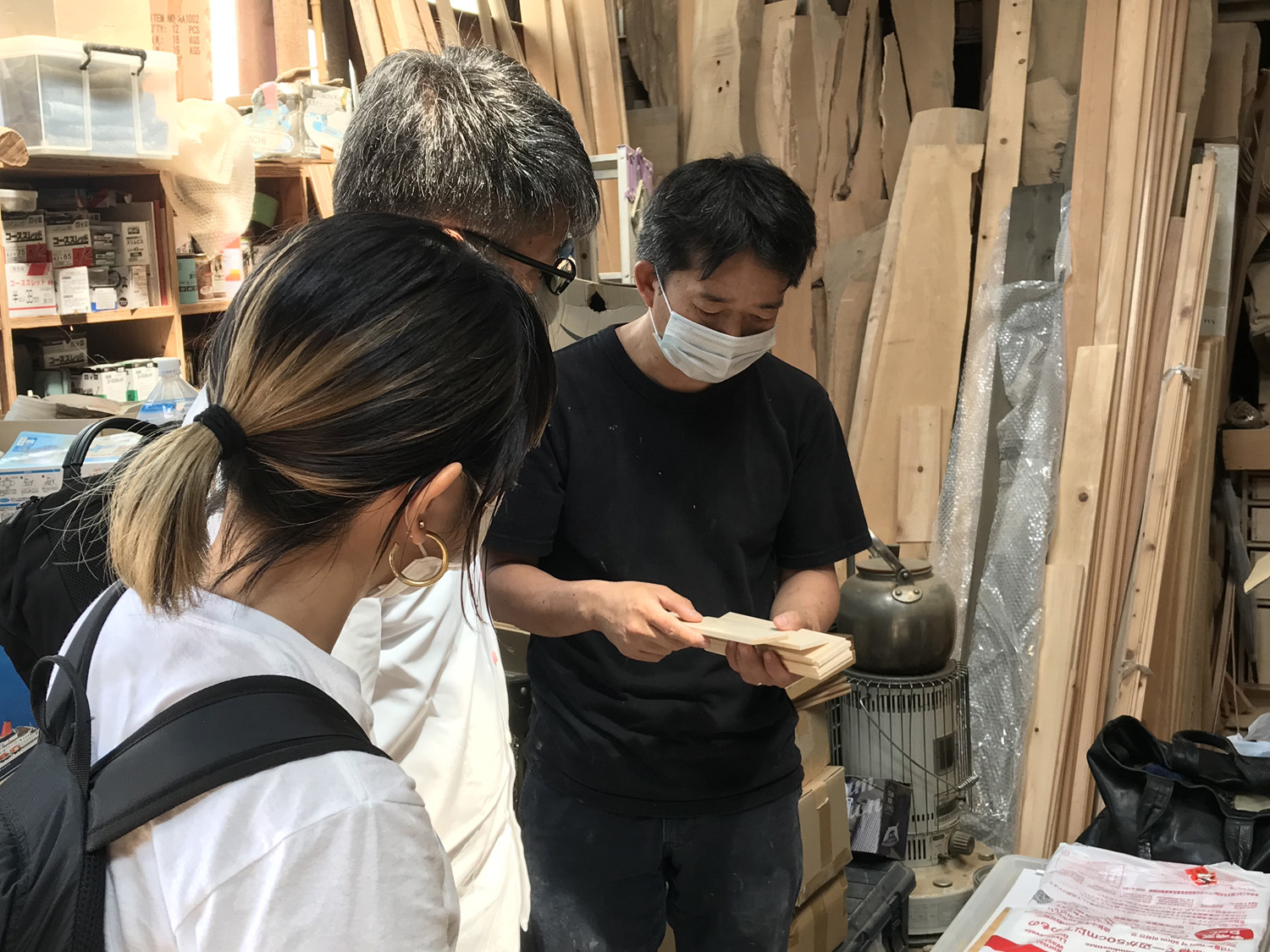 In the workshop of SHARE WOODS, which offered its cooperation in the commercialization project
Picking up a pencil you like
Talking about the foil stamping, Miura said "I was concerned about how much information, such as the age of the building, the location, etc., we should include in order to deliver the concept of sparking the imaginations of the people who use it." After considering things, we decided to keep it to a minimum. We figured that how users feel when they see or touch the pencil was more important. To make it "look like just a record with no extra emotion," we chose Minchotai, a basic newspaper font. The foil stamping process was also extremely difficult. Nakagawa says, "Although we have a dedicated machine, some pencils don't fit well because each one is different. This resulted in some trial and error in the foil stamping at SHARE WOODS."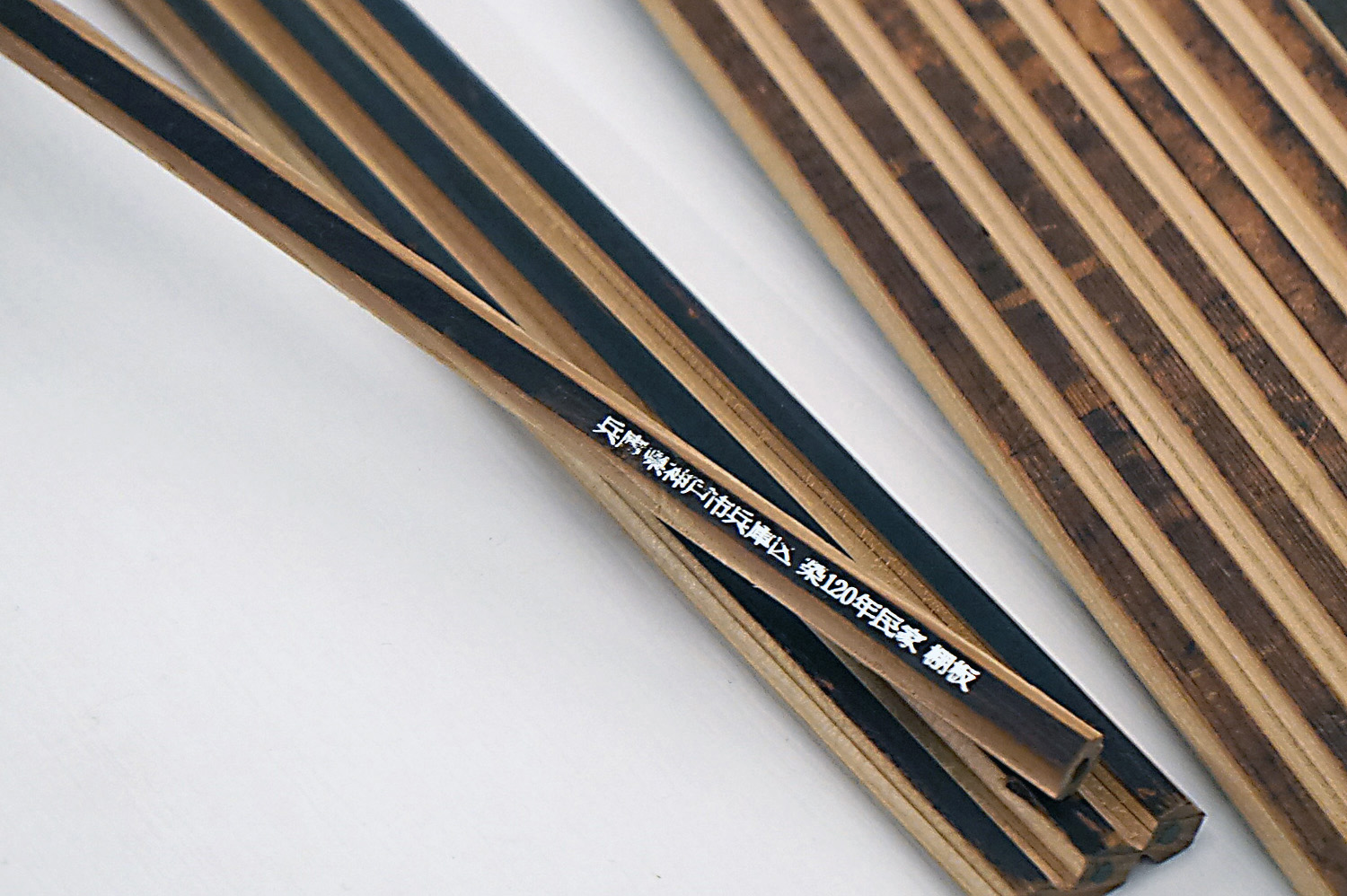 Information about the scrap wood, foil-stamped on prototypes
The hardness of the pencil lead is 2B. Because the pencil uses "raw wood" that is not impregnated with resin, the risk that the lead breaks in the pencil will increase if we use harder lead such as HB or B. Tomoda says, "I think 2B was a good choice since it's the right hardness for writing and casual drawing."
The finished product "Pencil of Memories" has been carefully packed one by one, and is scheduled to be sold in limited quantities at two stores, KOKUYO's directly managed store THINK OF THINGS (Shibuya, Tokyo) and THE CAMPUS (Shinagawa, Tokyo), starting from June 2021. Miura says, "While part of me wants to hold onto the pencil for a while, I also think it would be nice to actually use it to the end, and feel like I took care of the memories of the wood until the last minute." Tomoda also says, "When you put some of the pencils side by side, you'll see how each one is different. I hope through this people will feel closer to nature."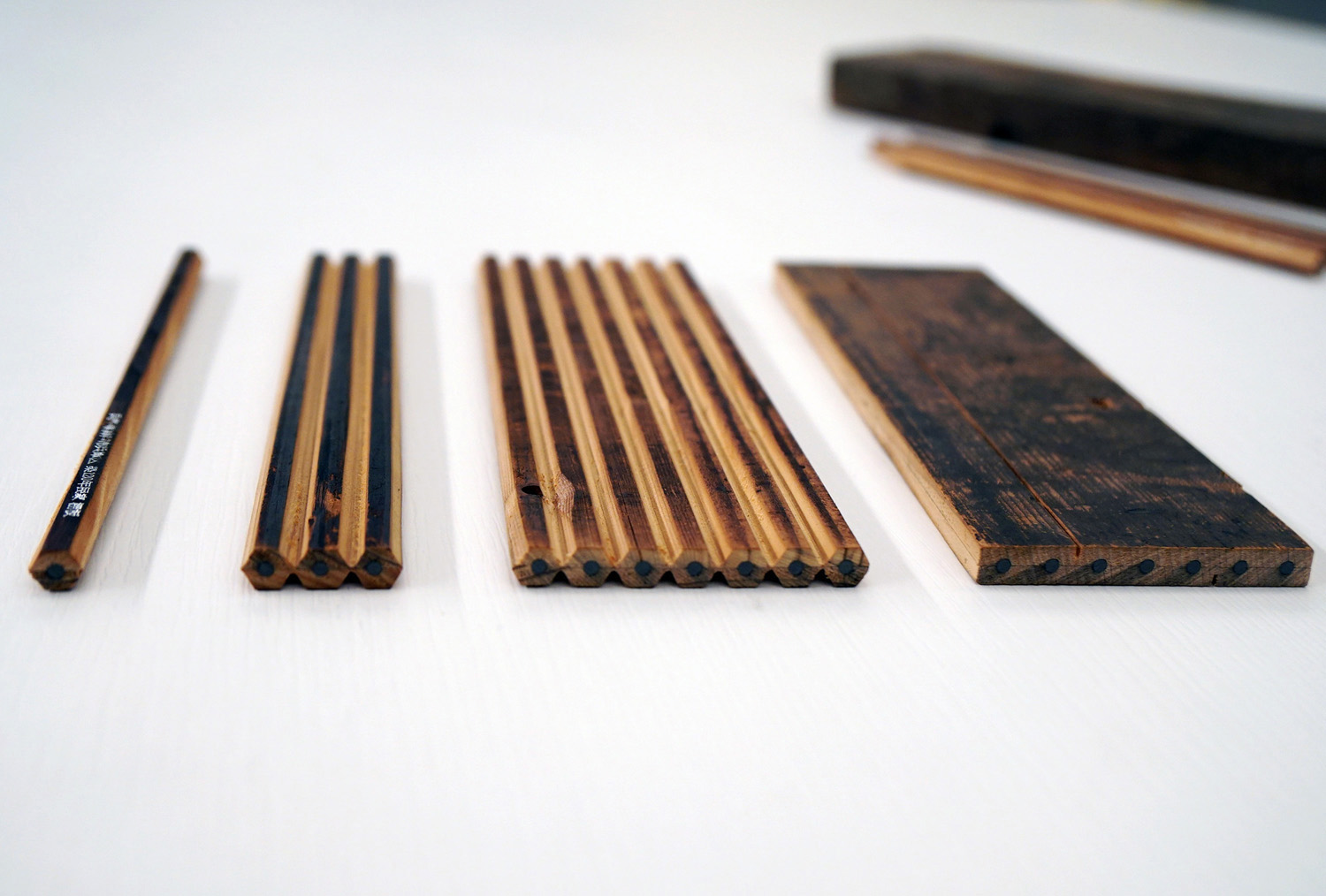 Shaving and cutting a wood board with lead in the middle to make pencils
The strength to move forward for the ideal we envision
KOKUYO has made it its mission to turn winners of its award into commercial products. Fujiki says "Were at a stage where we've managed to complete our first product." As for the future, he says, "A finished product doesn't mean it's over. From now on, we'd like to promote activities that convey the intent and concept of creators." We can consider some ideas—for example, planning a workshop using "Somewhere, Sometime," where participants can share the memories of buildings, or collecting scrap wood from the general public together along with the stories that go with them. Nakagawa also says, "Through this commercialization project, we learned that there were organizations and activities that promoted the utilization of scrap wood. We'd like to think about ways to develop products while connecting with these organizations."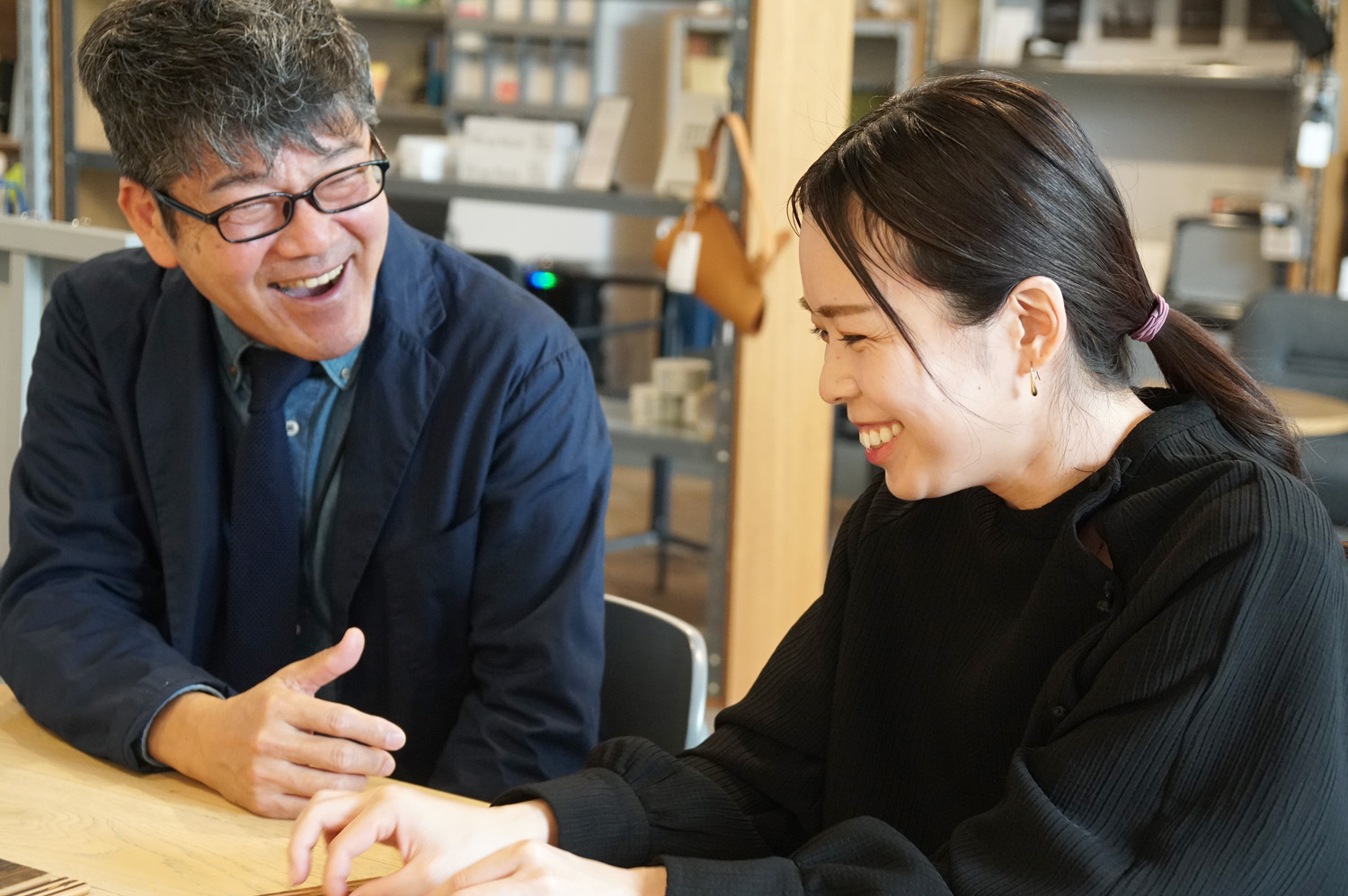 (Left) Takeshi Fujiki (Senior Designer, Stationery Development Department, KOKUYO), Kaoru Nakagawa (MD, THINK OF THINGS)
This project has finally succeeded in turning the design into a commercial product after overcoming many difficulties. Finally, we asked the two members of obake how they feel. "In the midst of many technical difficulties, I patiently explained things again and again to people so as not to lose sight of things I wouldn't compromise on. Starting from when we first entered the KOKUYO DESIGN AWARD 2020, we brushed up our ideas regarding the ideal product we envisioned and tried many different things. These efforts also supported me in the commercialization project." (Tomoda) "In an era where mass production and disposable products are questioned, I think it'll be an important message for KOKUYO, a product manufacturer, to make and sell this. I'm pleased that it's been given a commercial launch not as a personal art work or activity, but as something that can be felt more widely around the world." (Miura)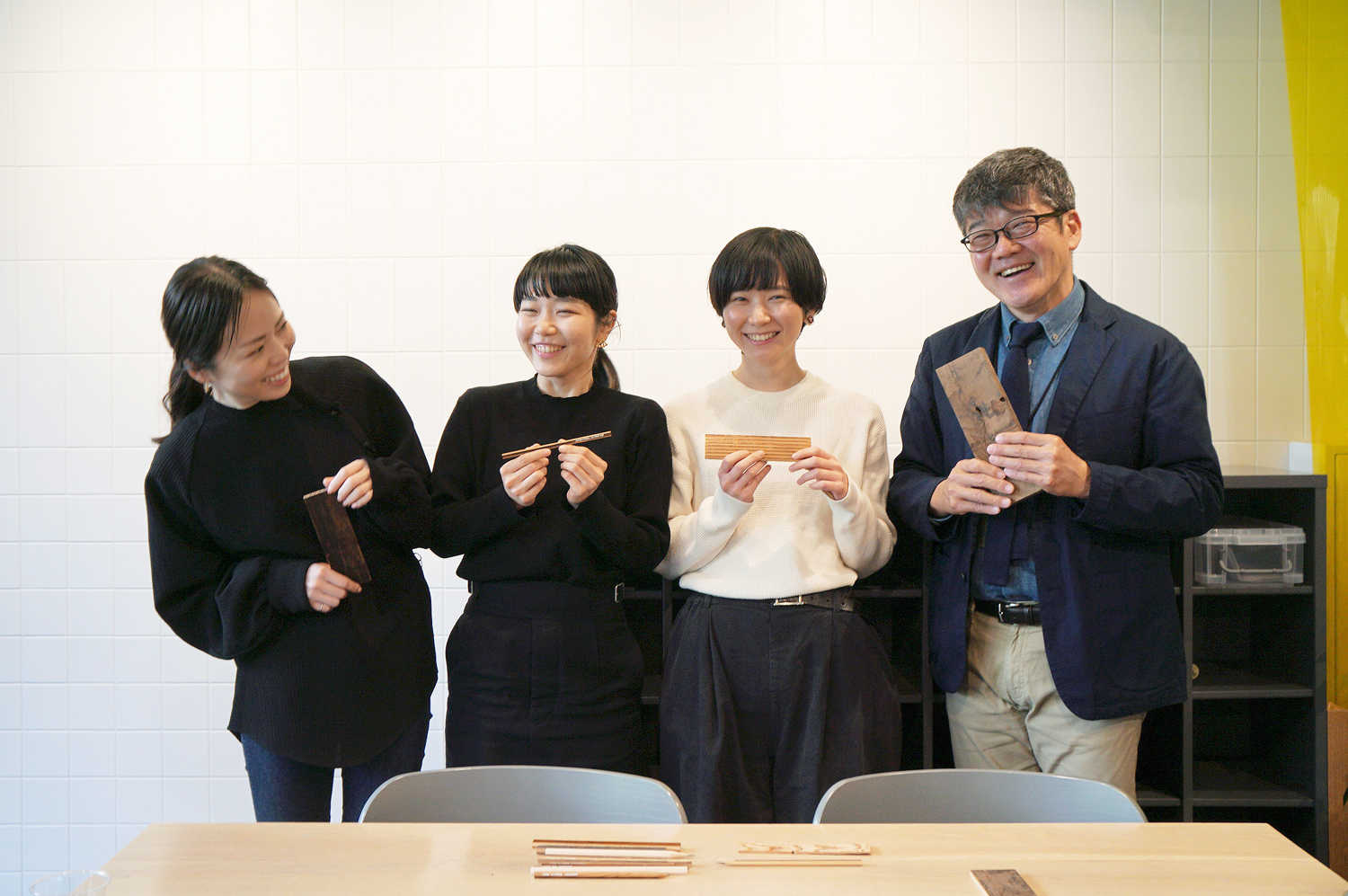 Members of the product development project