Interviews with Past Winners
nyokki (Daisuke Kakinoki / Haruka Mitani / Yuki Yawata)
Eatool
2017 Grand Prix
The design team "nyokki" won the KOKUYO DESIGN AWARD 2017 Grand Prix out of 1,326 entries. Their design "Eatool" is a proposal that redefines office snacks as office supplies, just like stationery, in order to help people work with a positive attitude. It was the first time that a food product had won an award at the KOKUYO DESIGN AWARDS. It was highly evaluated by judges as a work that "forges a new genre," "perfectly fits the theme NEW STORY," and "clearly presents when and how it will be used." We asked designers nyokki about how they devised their entry and their impressions on participating in the competition.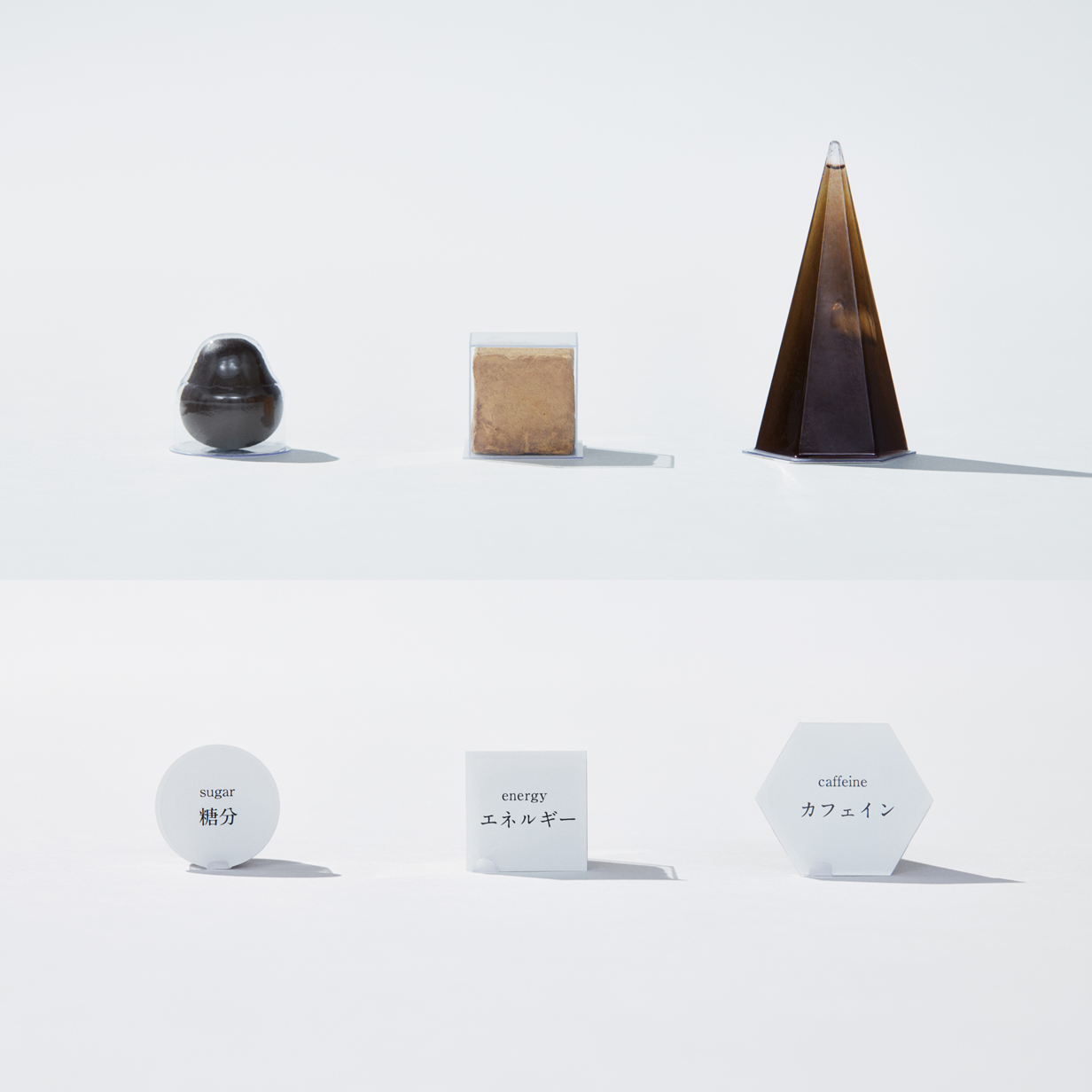 Thoroughly discuss the true meaning of the theme "NEW STORY".
――

What made you decide to enter the competition?

Kakinoki: Actually, this was the 4th attempt for Yawata and me. We submitted designs every year, but gradually lost creativity and ended up coming up with the same ideas.

Yawata: Mitani joined the team when we were looking for someone who could work with us.

Mitani: I also thought that if I was going to enter the KOKUYO DESIGN AWARD, I wanted to work with other people, because if one person has an idea, then discussing it with other people can develop it further, and I find that process exciting.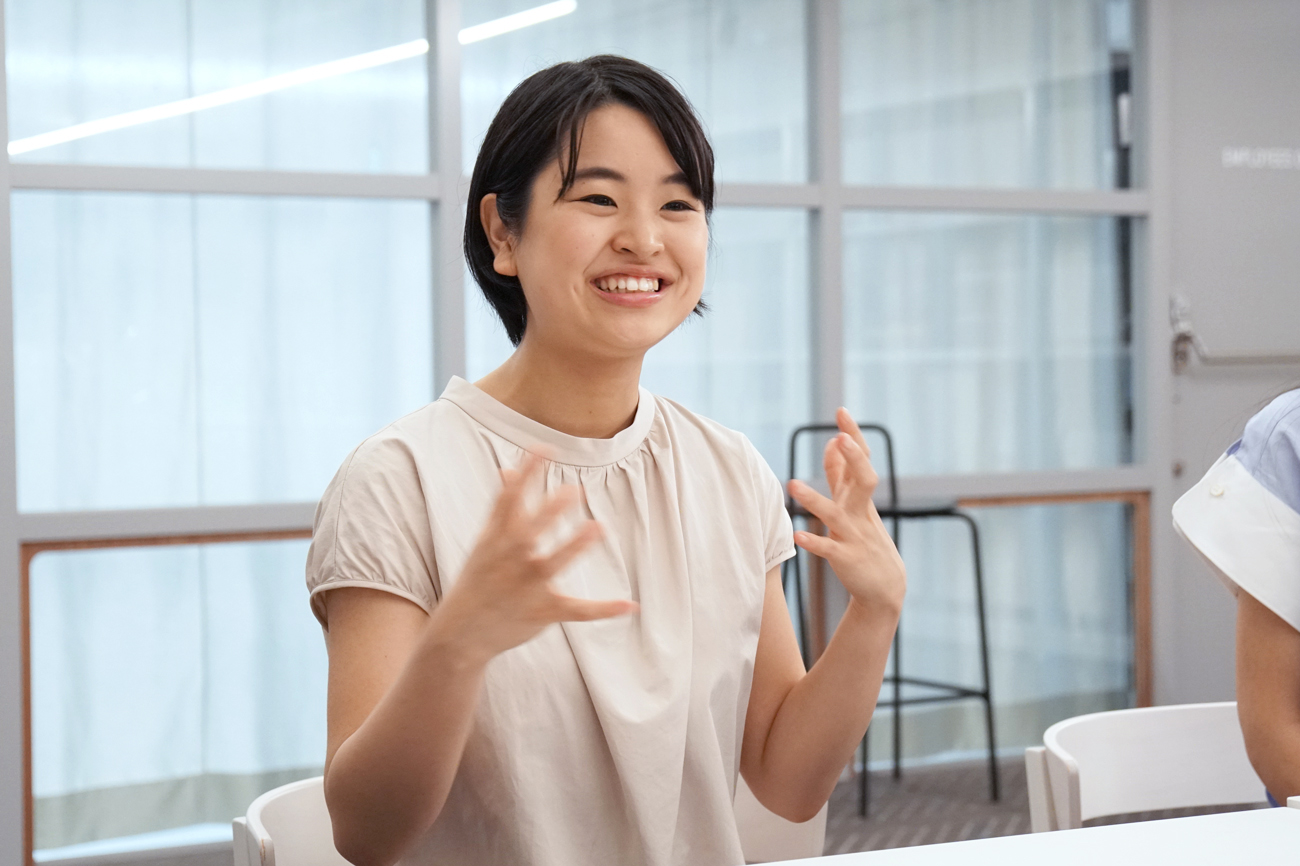 Haruka Mitani
――

How did you feel about the 2017 theme "NEW STORY"?

Kakinoki: I felt it was very difficult because it could mean anything. First, we tried to come up with more and more ideas, rather than narrowing them down. Like, thinking about what Japan will be like in the future, keeping in mind social movements like work style reform. When we ran out of ideas, we watched the interview videos of the judges, went back to square one, and gave ideas, then repeated the process over and over again.

Mitani: In the course of our discussions, we have come to see what the KOKUYO DESIGN AWARDS, which had celebrated its 15th anniversary, were seeking through the theme "NEW STORY" was maybe a "new genre". If so, it seemed that it would be better to propose something completely different to match this powerful theme, rather than review past winners of the awards.

Yawata: We got farther and farther away from the concept of stationery with ideas for things like gestures and sounds.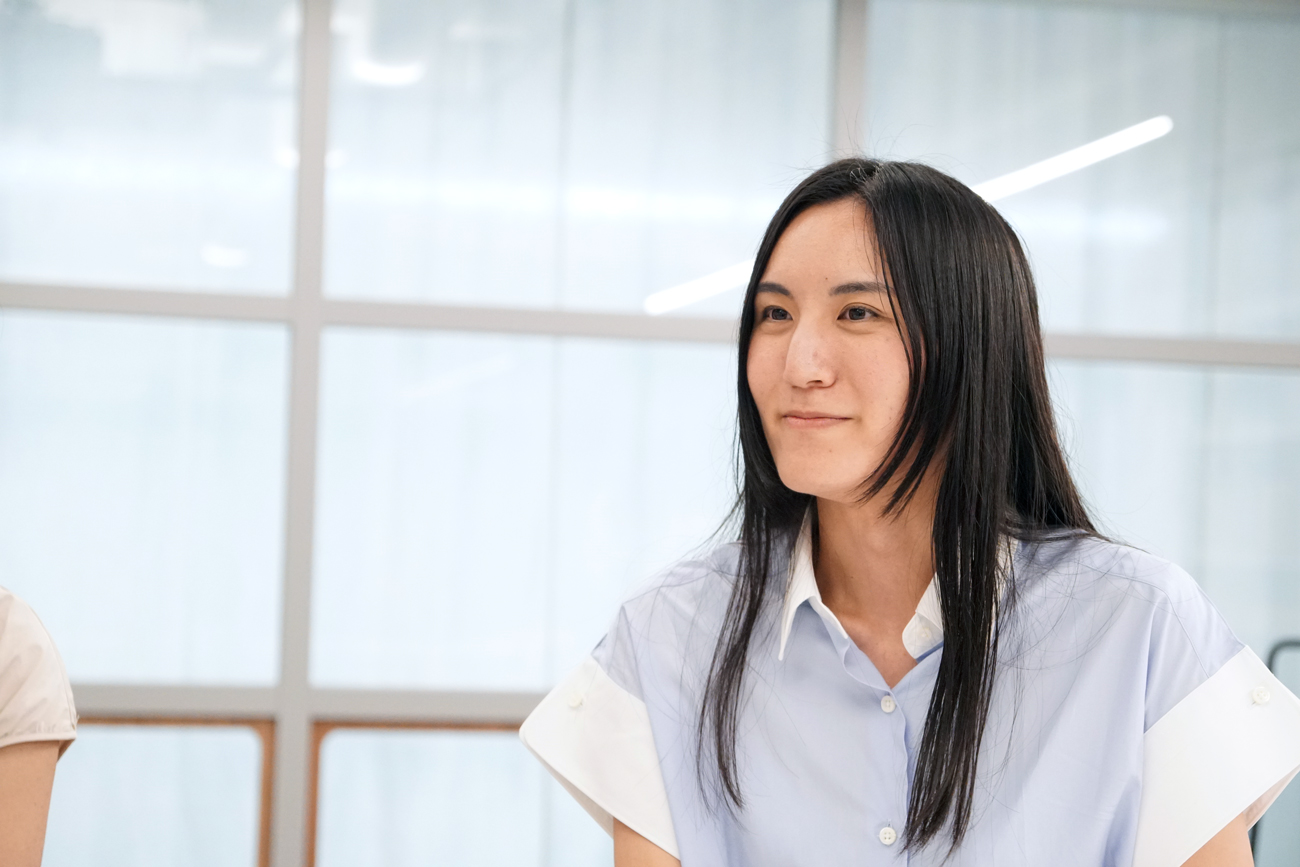 Yuki Yawata
Mitani: Suddenly, someone mentioned, "There are snacks in the drawer, right?" and we got excited coming up with ideas about food. The idea for our design came from an experience that Yawata and I had when we studied overseas. We saw that teachers and students would start to peel bananas during meetings or eat snacks during presentations. It was shocking to us. Usually, it is rare to see such a relaxed atmosphere in a meeting in Japan. I would think that snacks can be used as communication tools to make people feel relaxed, helping them actively work together.
――

Was there any disagreement?

Kakinoki: Honestly, I was a little confused. I usually work on cars and other products, so I hadn't thought about things that would become intangible. I thought it would be difficult to present the value of food in a design competition (laugh).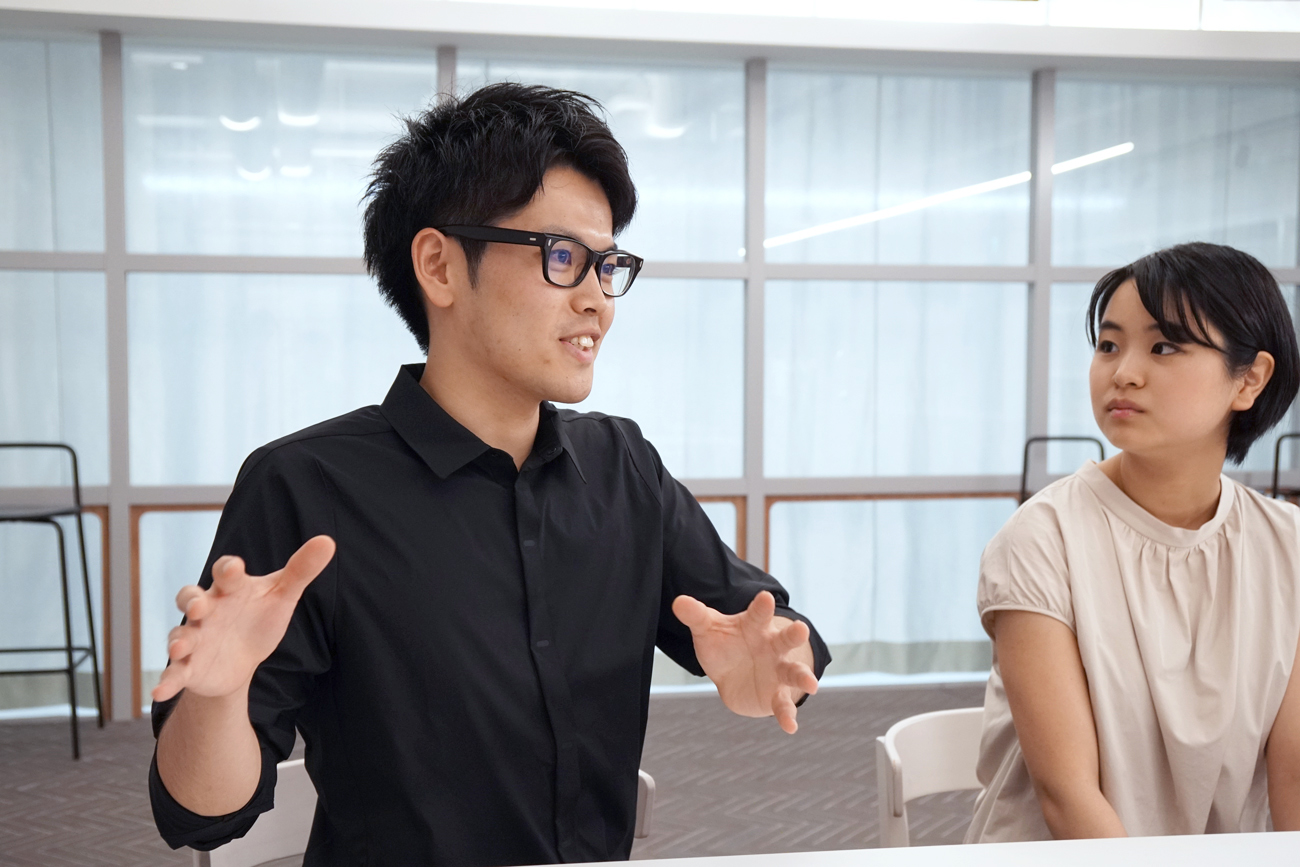 Daisuke Kakinoki
Mitani: The realist Kakinoki asked questions from a rational point of view, so we were able to see points of ambiguity and insufficient explanations and think them through again together.
Kakinoki: I myself got convinced that, if you change your point of view, food could also be considered a tool. I started to think that, if using tools and cars expands what humans are capable of, then so does food; it wakes us up and energizes us.
Mitani: There are departments for stationery and office furniture in KOKUYO, right? We began to think of snacks as tools, just like stationery, and, at the same time, as things that can be utilized by the office as a whole.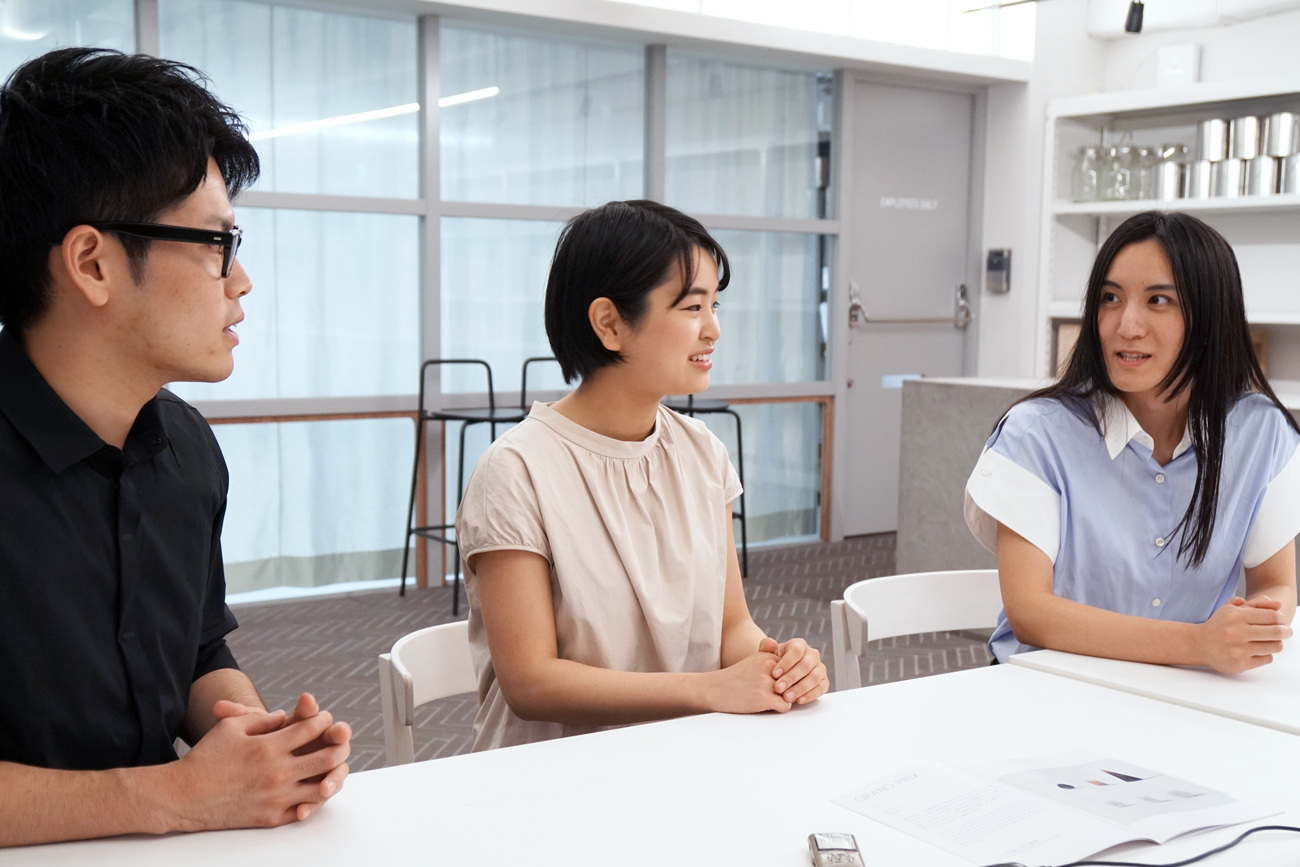 The group discussed their ideas from various perspectives until everyone was fully satisfied.
From a proposal geared toward individuals, to one geared toward offices.
――

What were you trying to convey at the initial judging?

Mitani: At the initial judging, we proposed "Eatool" as a product aimed at individuals. We imagined snacks kept at an individual's desk with other stationary, like scissors and pencils, and people reaching for them like they would pieces of stationary. We placed images of that in the center of our entry sheet.
――

Since there were over 1300 entry sheets and judges had to look through them all, perhaps it was important to make an impact visually. Your, nyokki's, sheet had the power to stand out and make people ask, "What's this one about?" How did you brush up your proposal for the final judging after that?

Mitani: We discussed the worries we were having. A snack isn't a tool if it's just sitting on a person's desk. When we need refreshment, it is often useful to stand up, do some stretches, and walk around. So, we expanded the idea by imagining the snacks hanging on the walls in hallways, and people going to get them and stopping to chat by the snack area. These concepts developed our proposal into one geared toward use in the office.

Yawata: We also thought it would be important at the final judging to clearly show how and when the product would be used. It wasn't impressive enough to only show a scene of how Eatool is kept and used at a desk, so we created a visual scene where a user stands up, walks, and actively goes for the snacks.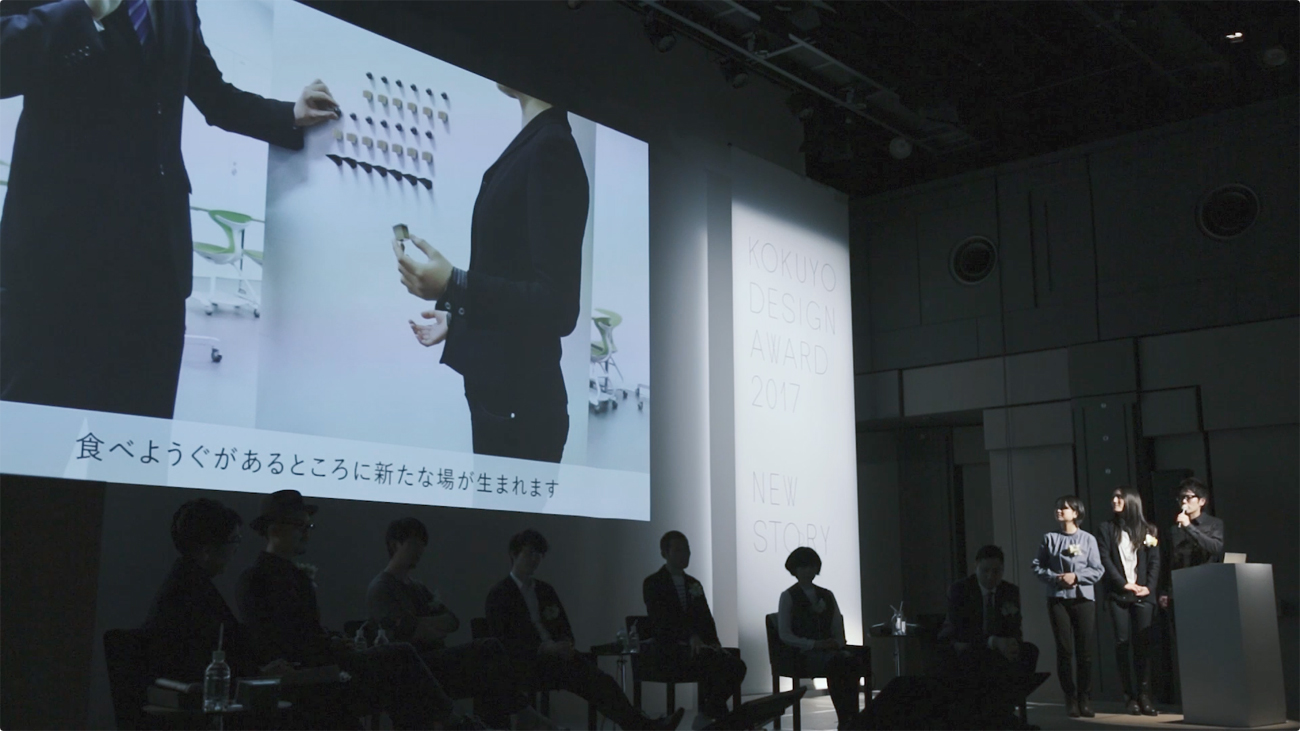 nyokki re-performed their final judging presentation at the Awards Ceremony.
Kakinoki: At that time, we were still students and didn't know much about the work scene, but we kept imagining what it would be like to work at an office.
Yawata: We thought that workers could consume snacks more easily if companies provided them as supplies, like scissors and tape. We came up with shapes and graphics that would be appropriate for meetings.
Doing our best to convey an idea.
――

The quality of the model was also highly evaluated. How did you make your model?

Yawata: The square package was made by cutting transparent sheets and sticking them together. As for the circular and triangular packages, we heated thin PVC sheets to make them soft and molded them using a self-built vacuum device. We placed a plaster model in the shape of the snack on a container with holes, covered it with a PVC sheet, and applied suction from the bottom with a vacuum cleaner to form the sheet into the shape.

Kakinoki: We found this method in an online video, but it was really difficult to actually do. I spent New Year's Eve and New Year's Day trying to make those models through trial and error (laugh).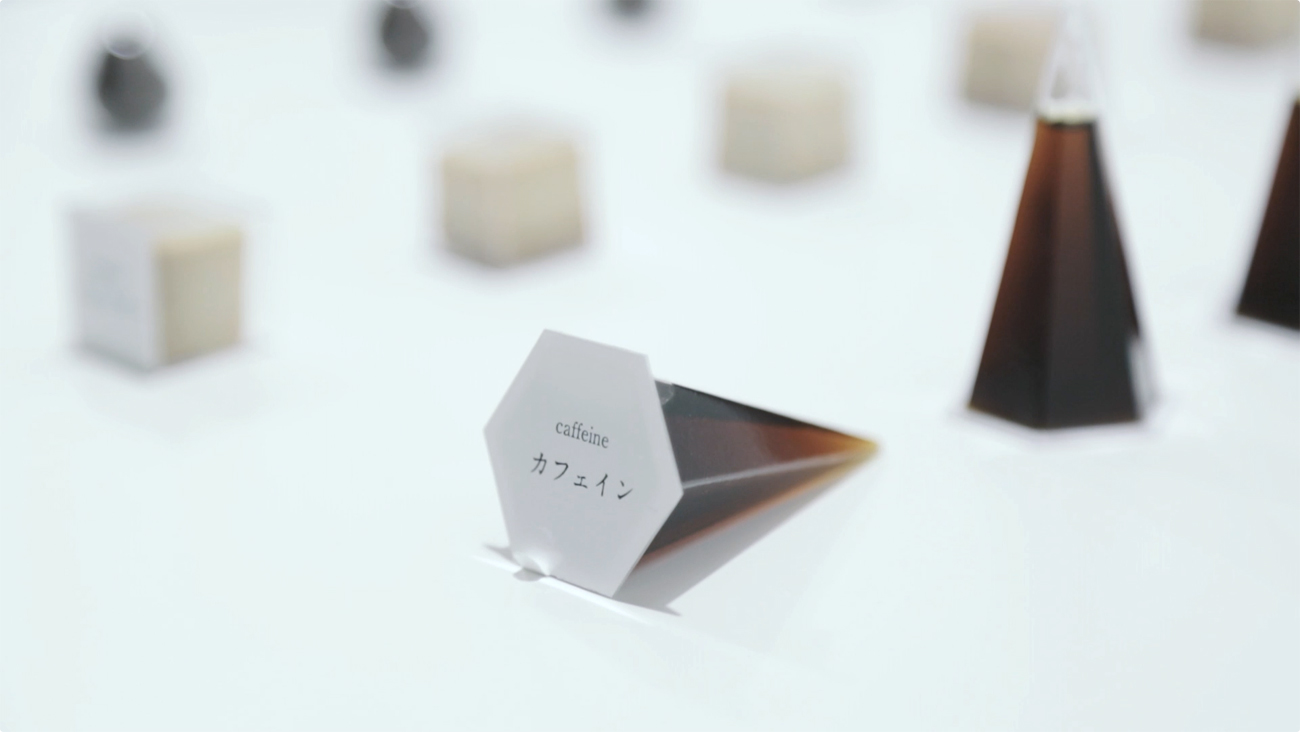 Shapes that represent the ingredients. They placed importance in the product's presence as a tool with discreet graphics.
――

At the final judging, there was also a taste test.

Yawata: To make the cube-shaped butter cookies, we looked for recipes, tried a bunch of them, and studied their texture and how filling a bite-sized cookie can get. We also used CG to make models of the snack and measure the volume, then compared them to snacks on the market, and tried to find the perfect size.
――

What kind of comments did you get from the judges?

Mitani: Mr. Masashi Kawamura told us, "All the elements were refined and well-presented, from the structure of the presentation to the presentation of scenes, the video, and the taste test at the end. As a series of programs, the presentation gave the sense of a completed product."
Through this competition, I learned how to convey an idea.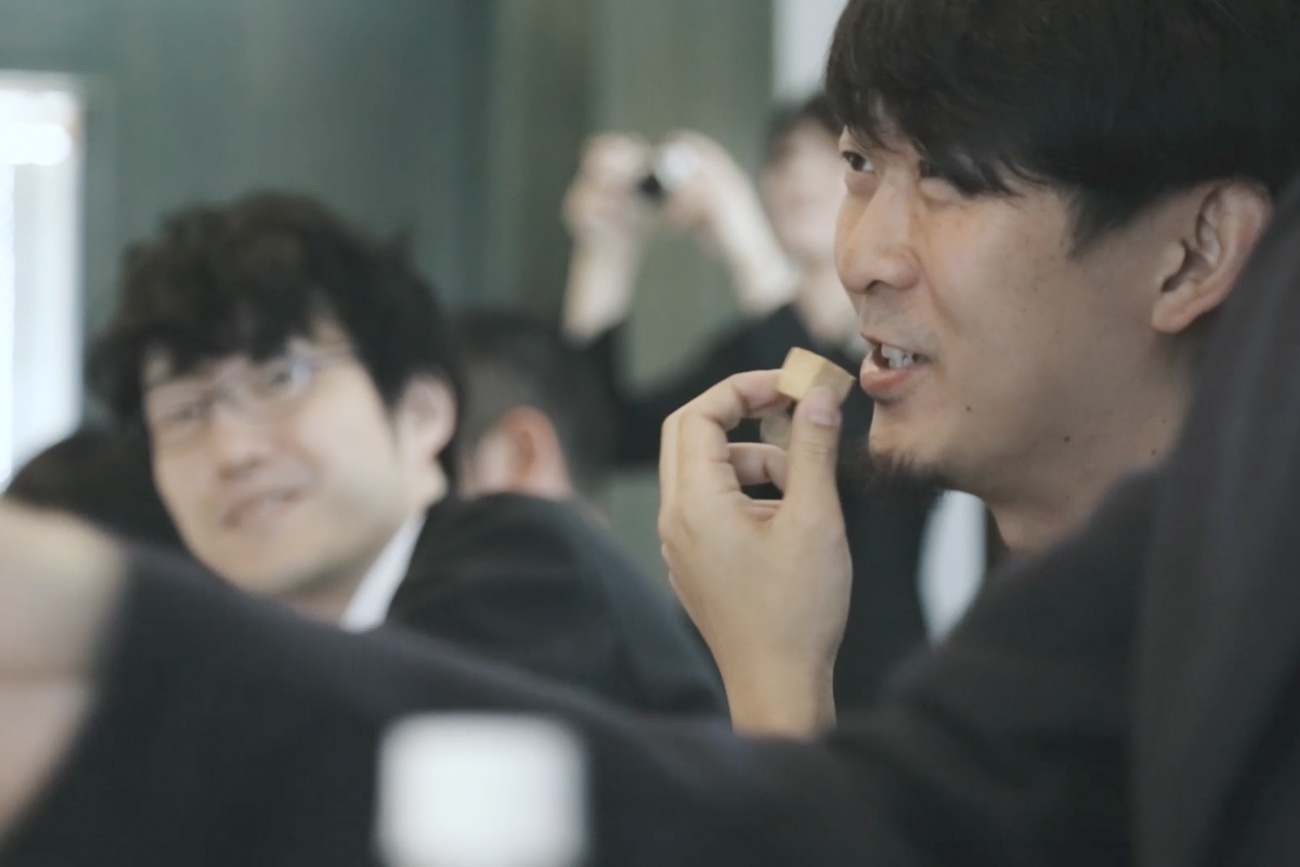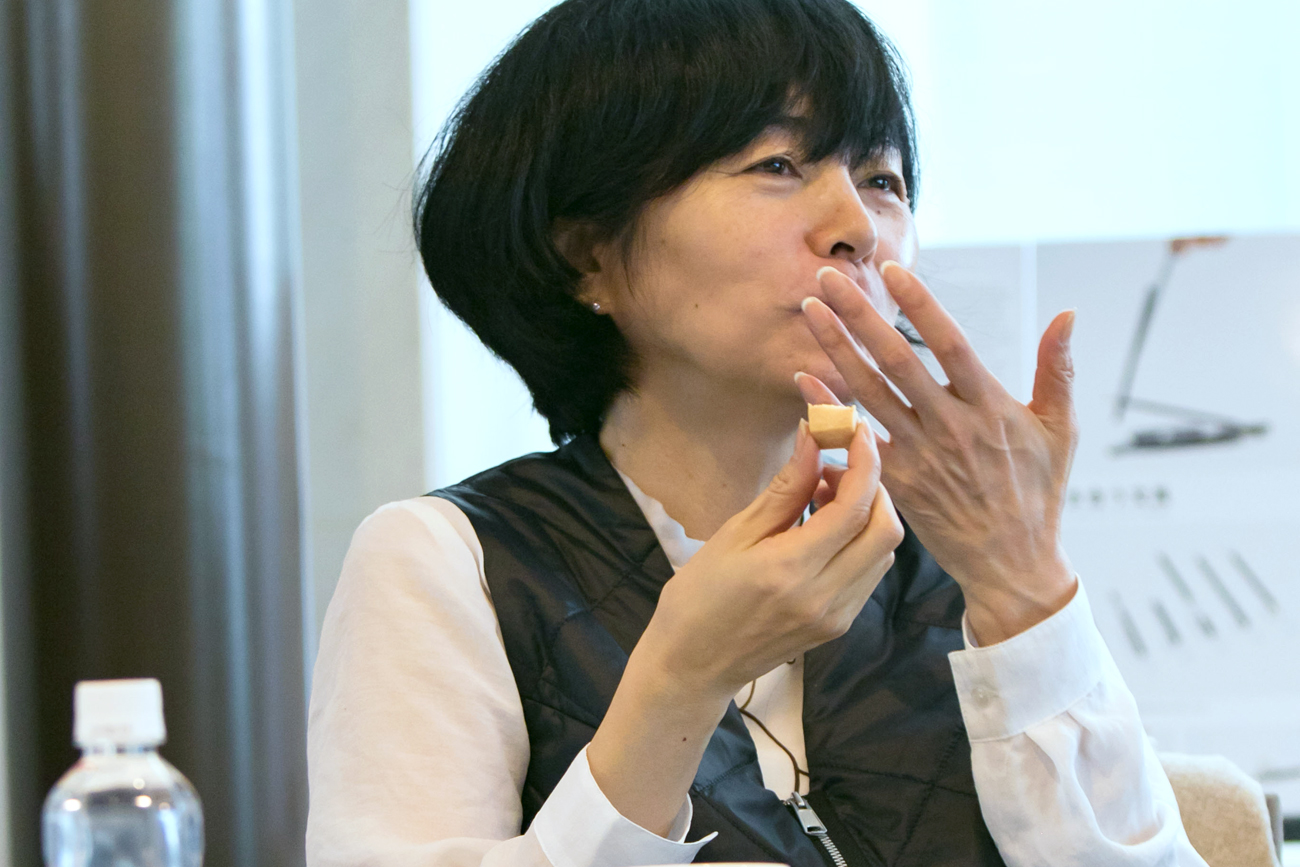 The judges enjoyed the taste test, saying, "It's our first time judging how something tastes."
Confront the theme until the very end.
――

What did you think about your participation in the KOKUYO DESIGN AWARDS?

Yawata: In the KOKUYO DESIGN AWARDS, the entire competition is a work of design, from the concept and themes to the trophies, award certificates, and processes. Through participating, I got to experience that design-oriented process, and it was very enjoyable.

Mitani: It was really interesting that, by participating in this competition, we came to think deeper and deeper, to the very core, before we knew it. I also felt that the competition understood what the participants were thinking fairly well.
――

To conclude the interview, would you give some advice to the people who will participate in this competition in the future?

Mitani: There is one thing that we put energy into from beginning to end. We kept judging our proposal, wondering "Is this really a NEW STORY?" Since the themes of the KOKUYO DESIGN AWARDS ask profound questions, you have to think about the true meaning of the theme while searching for the answer. Even if you think "This idea is fun," or, "I want one," you have to consider whether it's appropriate to the theme. If you're stuck on something, you have to confront it with sincerity. Then you'll find the answer.

Kakinoki: We made 4 attempts at the KOKUYO DESIGN AWARDS. At first, we didn't look back on what we had done before, but we started to feel frustrated and began to think about what was missing in our designs by examining works that had won awards in the past.

Yawata: Although we failed three times, we didn't give up and finally won the Grand Prix. Everyone has an equal chance, so please keep trying, even if you failed in the past.
――

Congratulations again on winning Grand Prix! Thank you so much.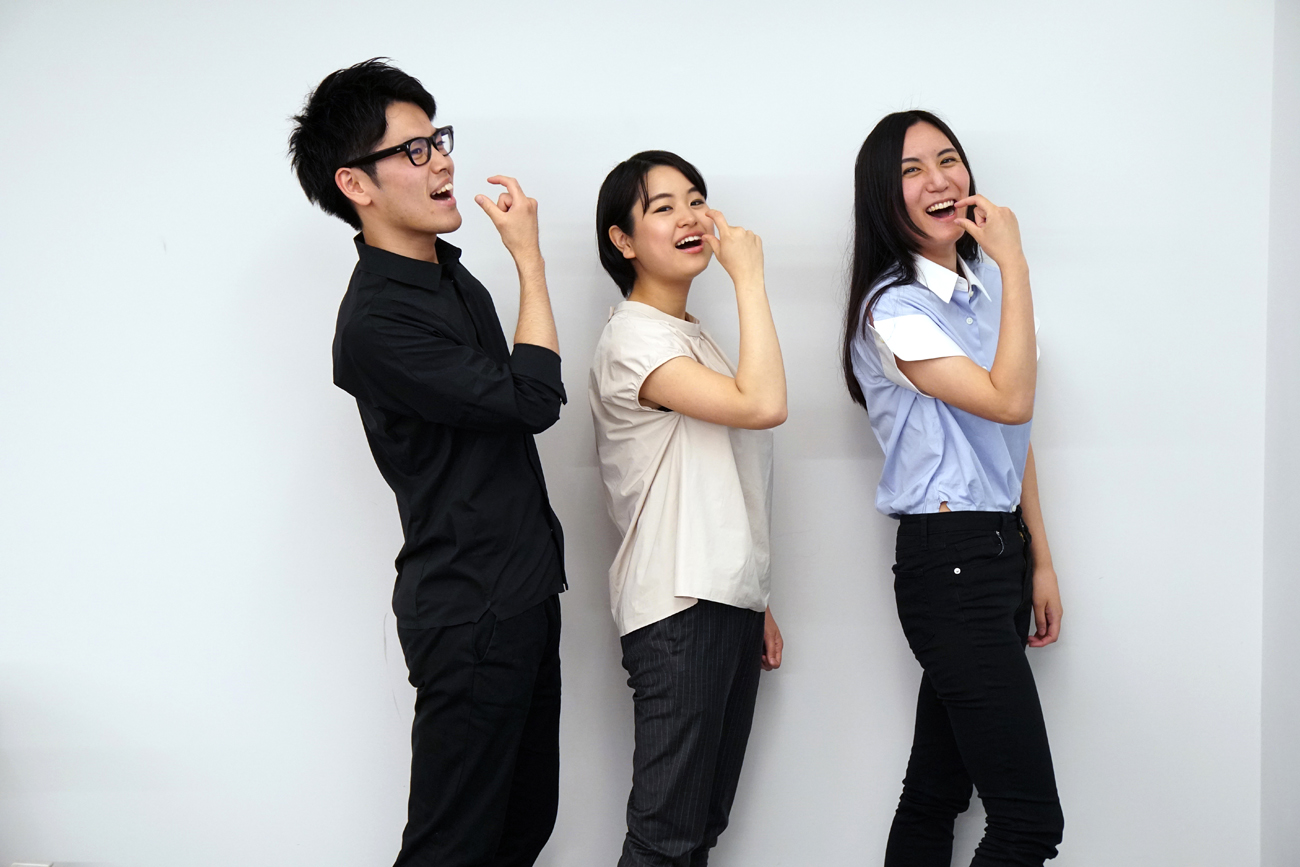 The three members of nyokki (from left, Daisuke Kakinoki, Haruka Mitani, Yuki Yawata). They were in the same course in university and entered the competition together. The team name, nyokki, comes from the game "Takenoko Nyokki," which they and their university friends loved to play. It carries the members' wishes to "freely grow and pop out ideas that are fun and easy to understand, with simple rules like the game, which is played in large groups and which anyone can join quickly."