Interviews with Past Winners
Milla & Erlend (Milla Eveliina Niskakoski and Erlend Storsul Opdahl)
"RAE"
2021 Grand Prix
Milla & Erlend won the Grand Prix in the KOKUYO DESIGN AWARD 2021, having been chosen from among 1,401 entries. In 2020, many found themselves in uncertain situations, with new or altered environments for productivity. The design "RAE" is a set of desktop organizers that will allow people to naturally create a connection to their new work environment, enabling their tools, space and mind to meet in a new context. The designer duo is now based in Finland after working in Asia for a long time. We asked them about the process from entering to winning the award, and what's changed for them since.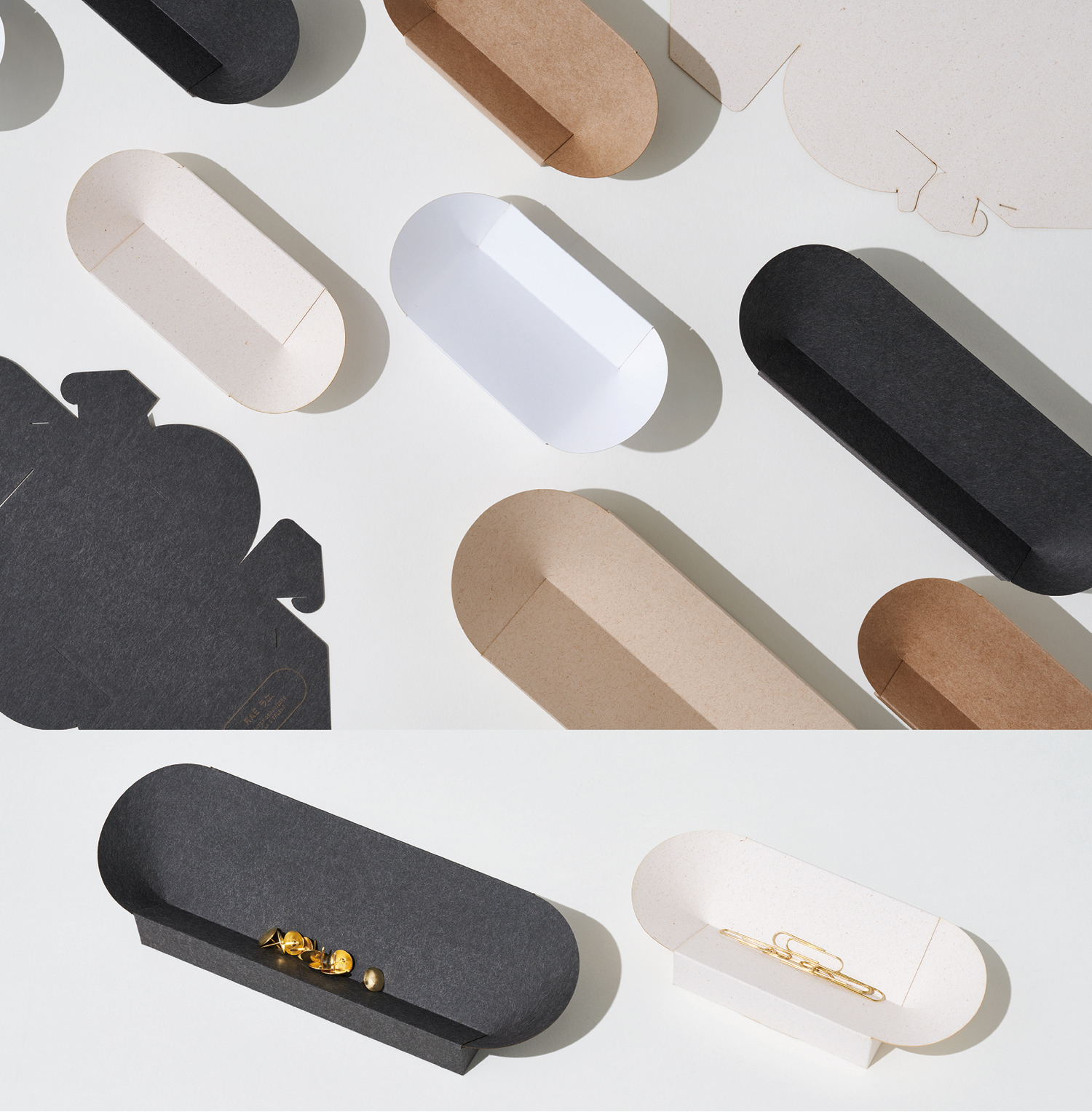 A team from Finland and Norway
――

When did you two start working as a team?

Milla: Around 6 years ago. I'm from Finland and Erlend is from Norway, and we met at a graduate school in Korea. We were both in the same product design department.

Erlend: My background is more industrial design. Milla specializes in product design.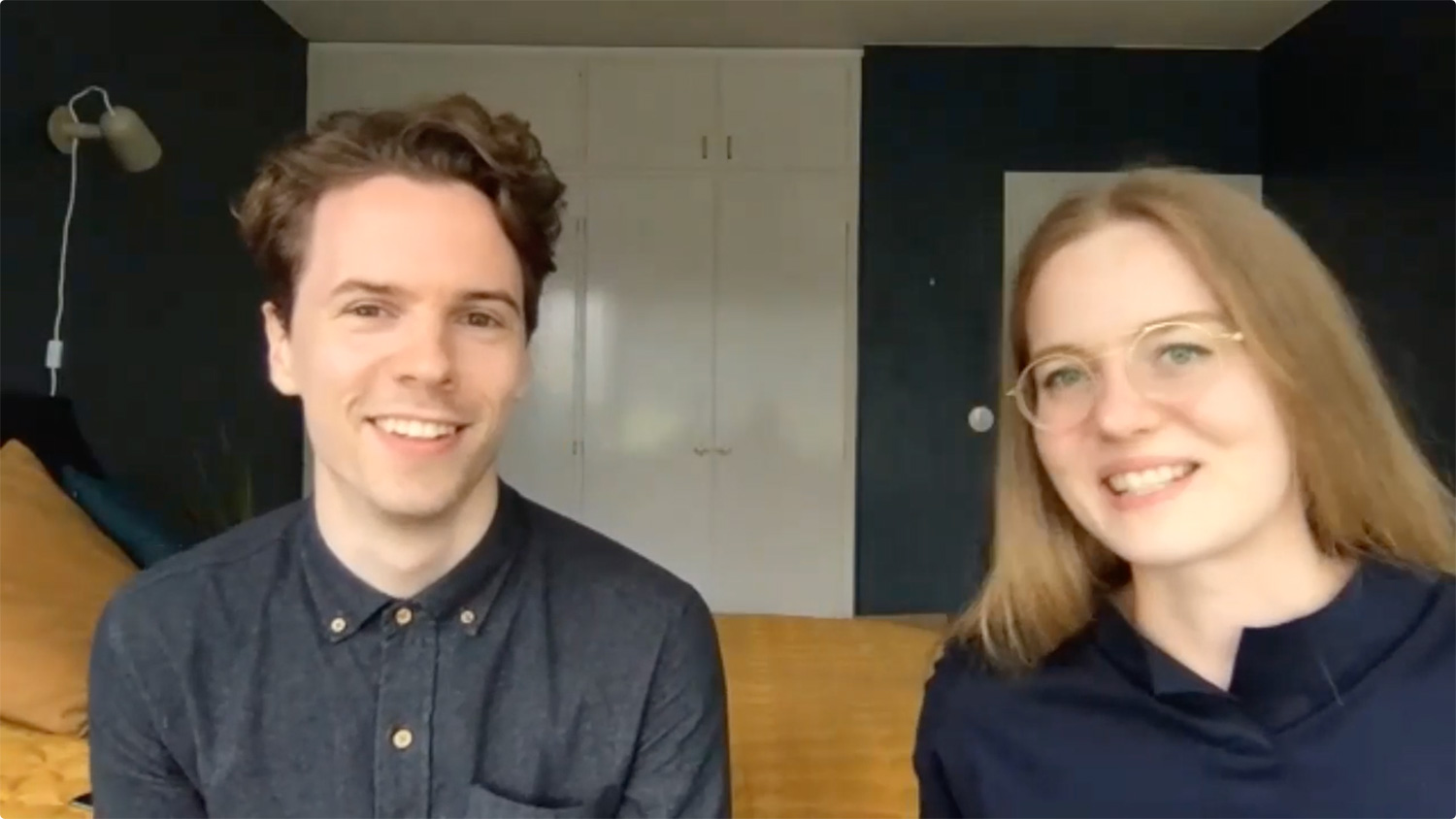 Milla & Erlend (Right: Milla Eveliina Niskakoski; Left: Erlend Storsul Opdahl
Milla: We work together on developing designs, but naturally fall into different roles. I'd rather work with my hands and prefer practical work like cutting and folding the materials.
Erlend: I enjoy theoretical work such as calculations and figuring out technical aspects. The good thing about working together is that if I get stuck on the theory, Milla keeps tinkering with her hands to find solutions. Conversely, when she gets stuck, I can take a more analytical approach and change our perspective.
――

Have you ever been to Japan?

Milla & Erlend: Many times!

Milla: Japan inspires us every time we go. There are lots of nice designs and it's a paradise for designers.

Erlend: We have some friends and colleagues in Japan, and like to go see them. Japan is also one of the best places in the world for food. We were looking forward to going to Japan for the Final Judging this time, so it was really disappointing that we couldn't.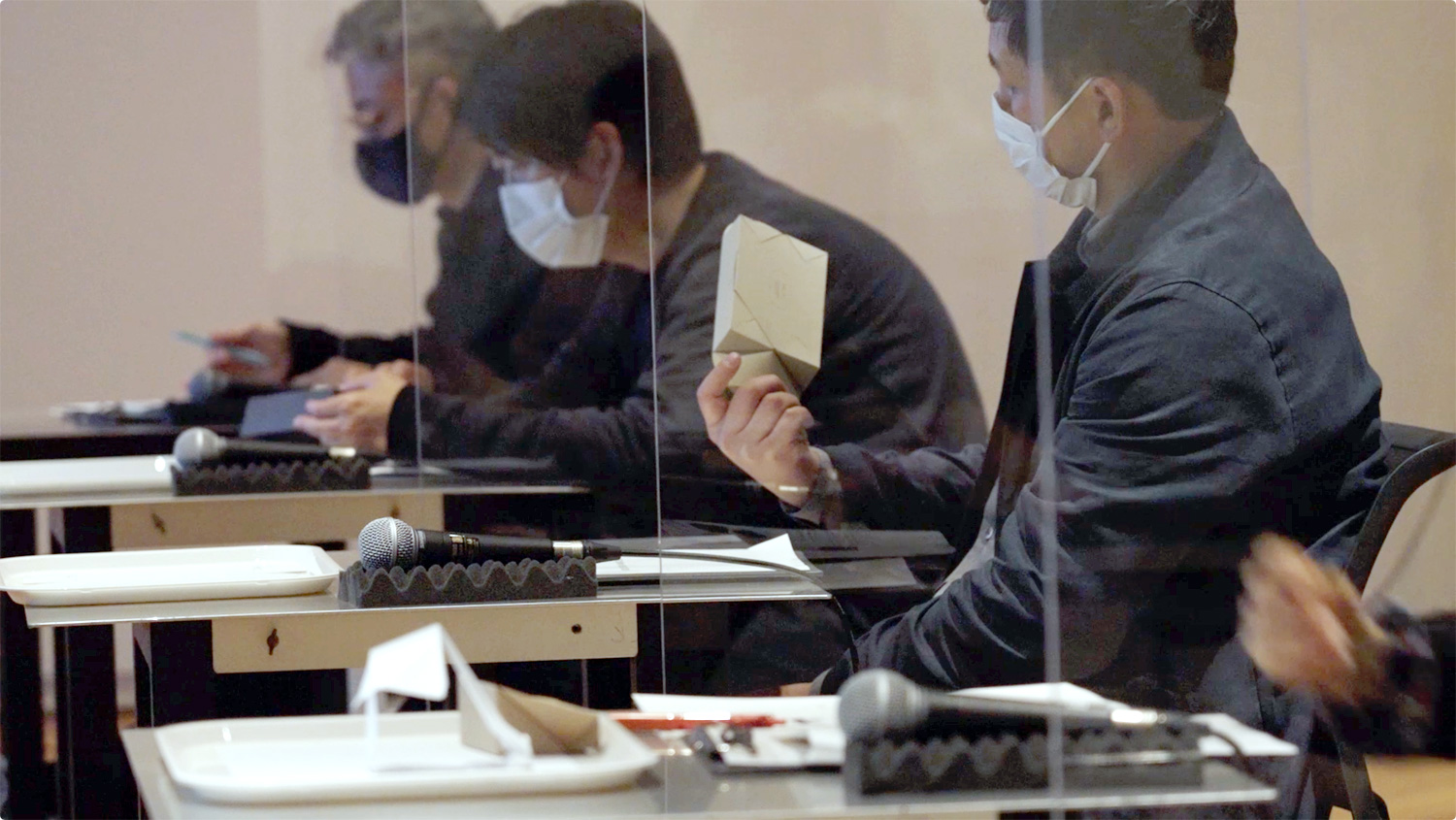 The judges checking the prototype of RAE during the Final Judging. Its beautiful structural design attracted attention.
Interpreting the theme and coming up with a concept
――

Tell us why you got interested in the KOKUYO DESIGN AWARD and what prompted you to enter.

Erlend: We were based in Korea, so we knew about the KOKUYO DESIGN AWARD from before. I think it's an extremely high-level competition, where being simple, smart, and minimal is valued highly. We like to think of ourselves as minimalists, so we really wanted to put our skills to the test by applying for this award.

Milla: In fact, it was the second time we'd applied for the KOKUYO DESIGN AWARD. The pandemic changed our lives, and gave us lots of time to think and make things. We knew that in order to win a high-level competition, we needed to take the time and put in the work. I thought we'd be able to do that now.
――

How did you interpret the theme "POST-NORMAL"?

Erlend: I thought it was a theme that was really getting into something very important during those circumstances. Everything was closed because of the pandemic, and society had changed. Many people are expecting to get back to normal again, but it'll never be the same again: it'll just be POST-NORMAL, which is what's after the normal we've had up to now. As designers, we often have to look at normal things from a new perspective and find a way for them to work in a new context.

Milla: For us, life has changed a lot, too. We were based in Korea until then, but now we've moved back to Finland. Going back to our old Scandinavian lifestyles is also a POST-NORMAL situation for us on a personal level.
――

How did you come up with your work "RAE" from there?

Erlend: We've created foldable products from different materials before, so the basic idea for RAE came by quite naturally.
This time, we wanted to create desktop organizers that help create a good work environment. They're not just for when you work from home, but also when you change offices or move house. We wanted them to be flat packed and easily folded into sturdy shapes that also had an appealing visual expression. Therefore, we wanted to bring soft curves into the design and not just hard, straight lines.
Another key part of the product is that the users build it themselves. Assembling it by yourself helps you create an emotional connection to it.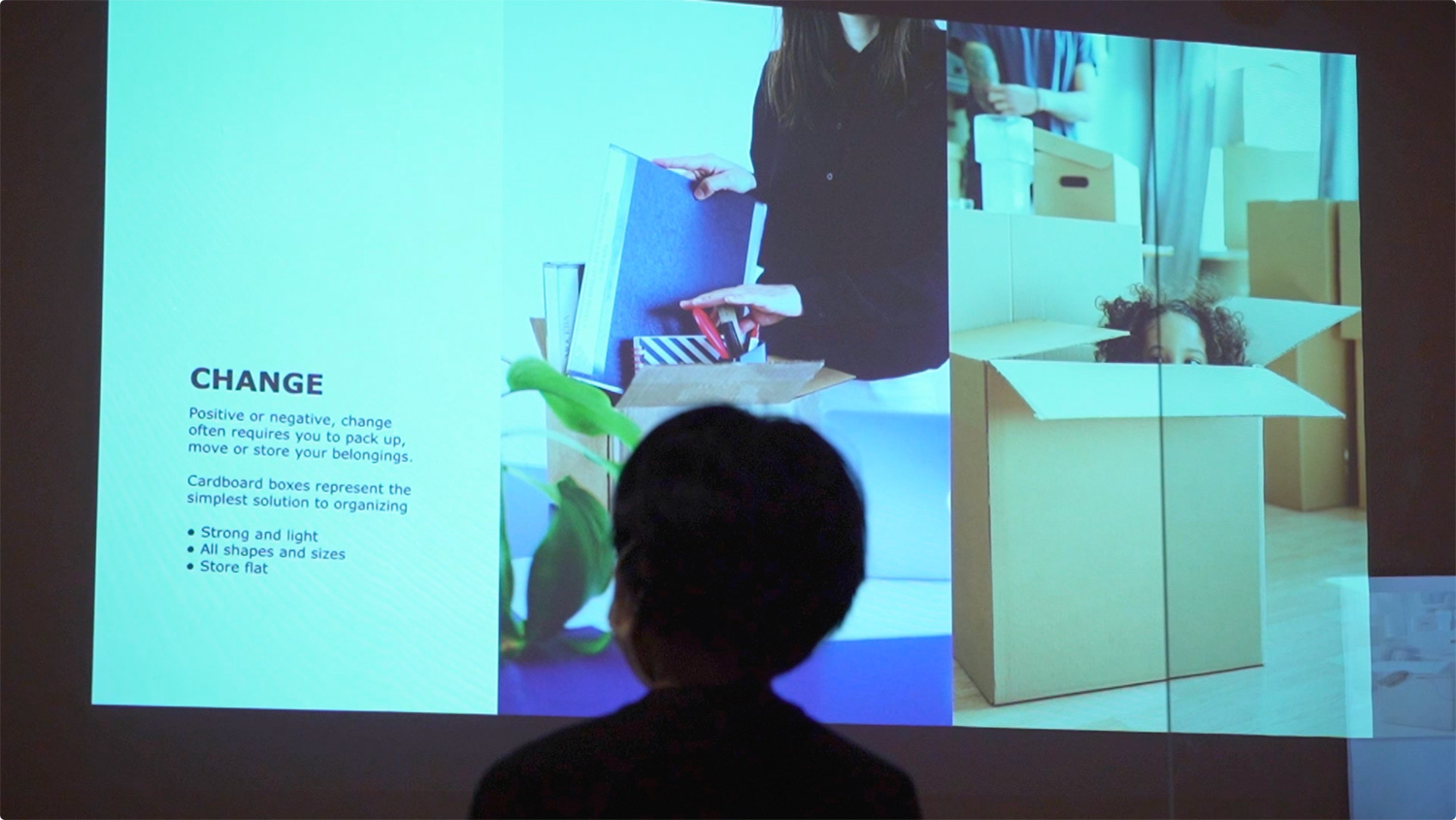 At the Final Judging.
Milla: During the pandemic, shipping charges soared. In light of this, we considered reducing the weight and volume. There are so many materials out there, but we landed on paper as it's light, easy to transport, and also available everywhere. We believe that as designers, we're not just responsible for proposing a beautiful design, but we're also responsible for taking into account the materials and manufacturing. We always try to design sustainable products in a way that minimizes their environmental impact.
――

By the way, where did the name RAE come from?

Milla: It's the name of my favorite Finnish candy. When we finished the design's shape, I thought it was similar to the candy's soft texture and oval shape. When I asked my Japanese friend, they said there are also crackers called "arare," and I thought it was interesting that the names have similar sounds. That's how I named it RAE.
The judging and how it felt to win
――

What approach did you take for the First Round of Judging?

Erlend: The presentation sheet has to be simple and present everything on just one page. So, we put one big impactful picture that captured the product's size, shape, and functionality so it could be understood at a glance. We included objects that are related and a hand to intuitively convey what they're used for. We also had drawings of the tray both folded and unfolded to clearly show it's actually made from only a single piece of paper.

Milla: Since there's more than 1,400 entries, you need to think how to instantly catch people's eye and get them interested in your design. So, first use a big picture to draw them in, then explain the details in the small drawings. A picture that can tell the whole story. That's what we tried to achieve.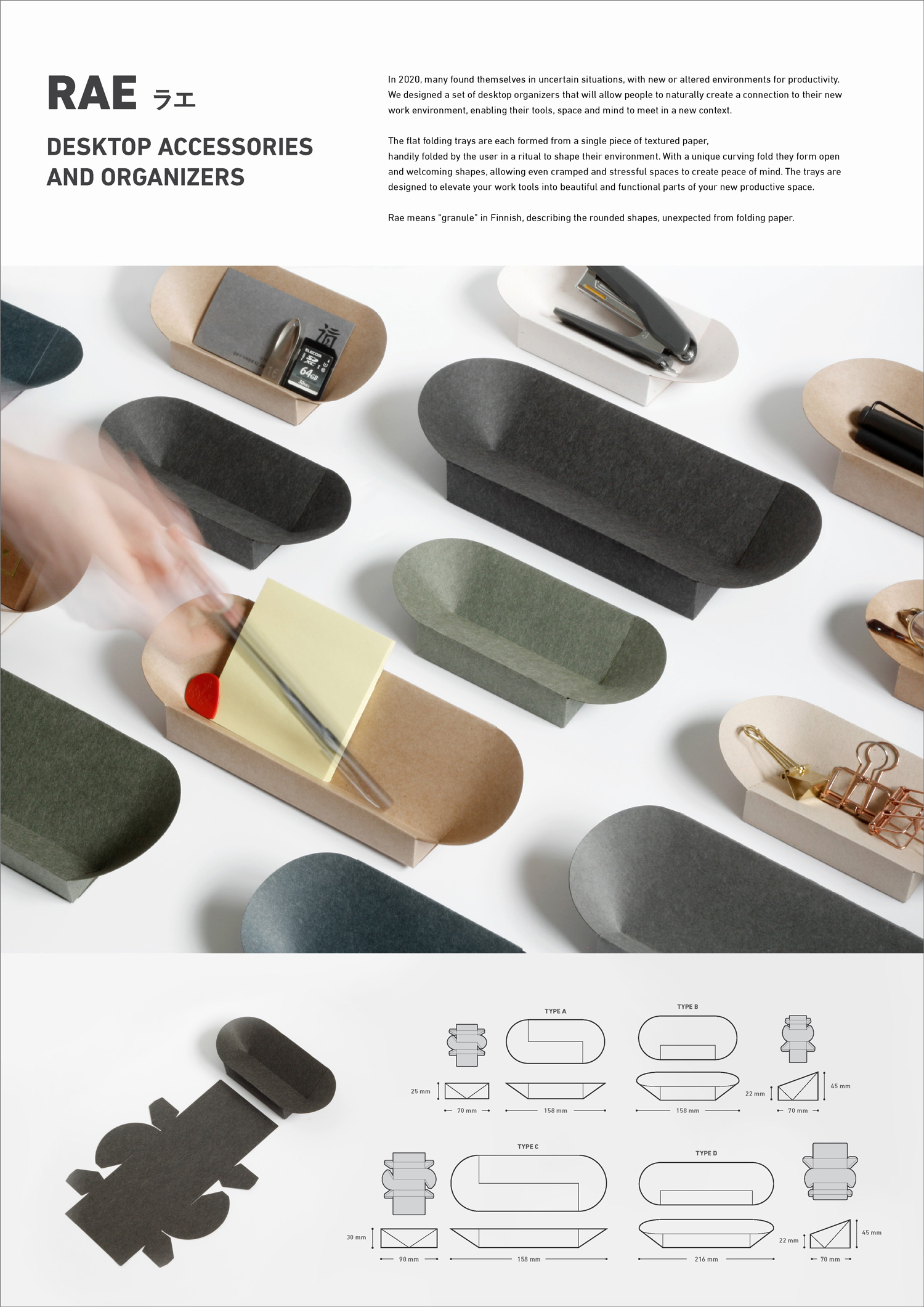 Their presentation sheet for the First Round of Judging.
――

Is there anything you struggled with in preparation for the Final Judging?

Milla: The real challenge began after we heard that we'd passed the First Round of Judging and made it to the Final. We had already developed the shape's concept, but the folding mechanism wasn't complete yet. We needed to make it perfect so that it could be assembled without tape. Back then, we'd just moved back from Korea and had very few tools, so we just hand-cut the paper with scissors, flooded our living room with prototypes, and tested out different folding methods.

Erlend: Figuring out the folding mechanism without any tape or glue was really hard—there were times when we almost gave up. Then finally came the moment when we realized one crucial detail that would make it work, and we were able to complete it.
――

The Final Judging was done online. What were your impressions of it?

Erlend: Since it was a pre-recorded video presentation, we were able to include everything we wanted to say without any stress. All of the judges' comments were very meaningful and full of insight, and I felt that they'd looked closely at our idea's background as well. One comment that particularly stuck with me was "I didn't think much of it in the First Round of Judging, but when I actually assembled it, I found out just how good the design was." I was delighted that they frankly told us how they'd gone back on their initial impression.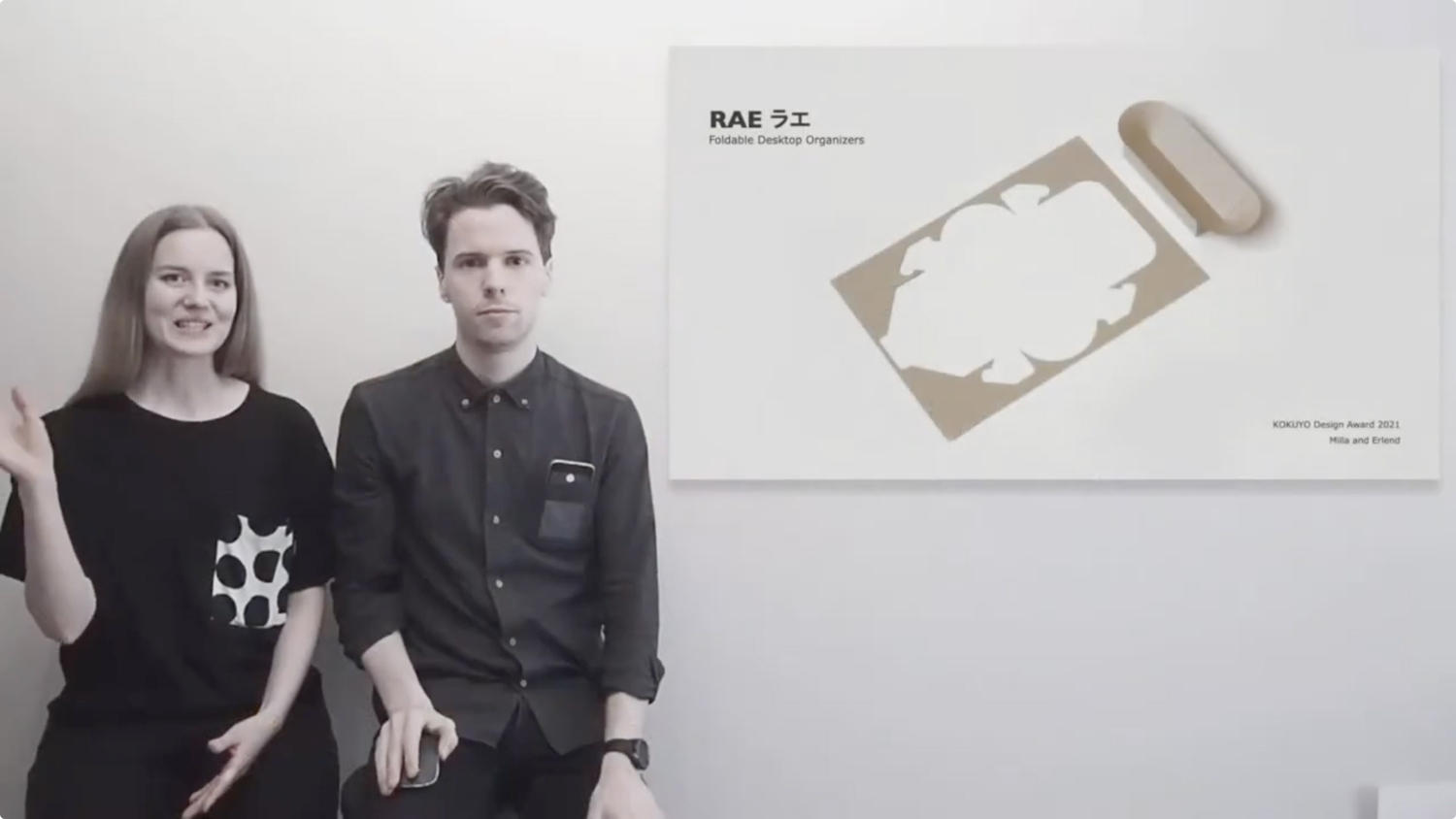 All finalists gave their presentations using pre-recorded videos to ensure fairness for those who couldn't attend the Final Judging in person due to the pandemic.
――

What impact did winning the Grand Prix have?

Erlend: I think it's a little difficult to answer. After first slowing down, the world is finally moving again and new things are also beginning, so it's hard to determine whether it's thanks to the award or not. But nevertheless, winning the award gave us a great boost in morale. We're glad to get some recognition, and share RAE with the world. We have high expectations for the commercial launch, too.

Milla: The KOKUYO DESIGN AWARD is well known in Asia, so my Korean friends were very excited that we actually won it.

Erlend: We thought we were crazy for submitting a design made from folding paper, considering how Japan is famous for its origami tradition. I hope future participants will not be afraid to submit their ideas no matter where they are from.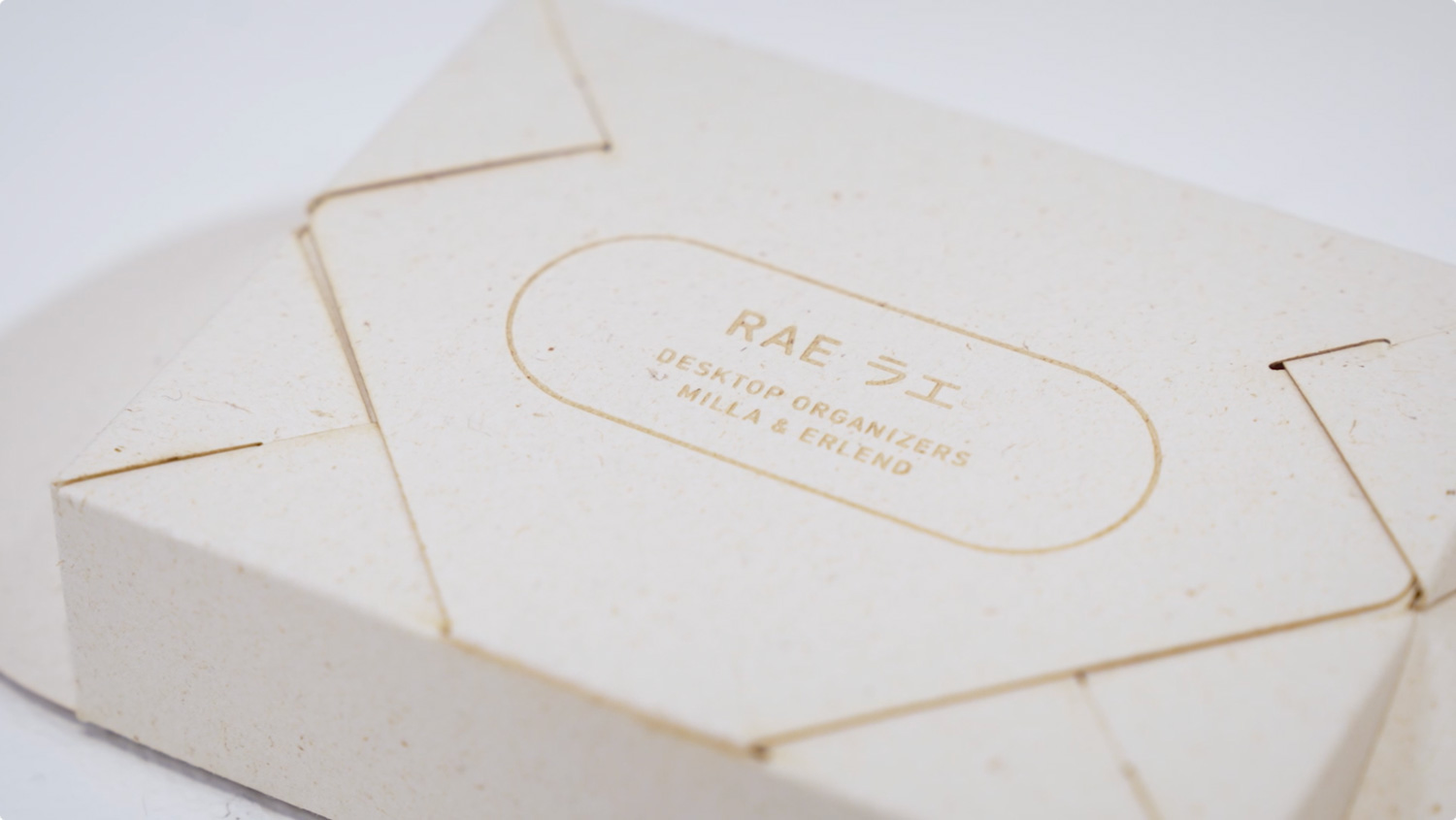 The bottom is designed in such a way that the fold lines fit beautifully while maintaining strength, and with the work's name, etc. also imprinted on it.
――

Tell us how you felt at the moment when you won the Grand Prix.

Milla: We were following the online ceremony in Japanese. We kind of guessed that we'd won the award, but we weren't 100 percent sure...

Erlend: I thought I heard our names called, but it could've been for a participation trophy or an honorable mention, so I didn't know if I should celebrate yet. I was so happy and relieved when we were able to confirm it in English.
――

Milla had tears.

Milla: Our original goal was winning a Merit Award, so I got really disappointed when we didn't get called at that point. So when I realized that we'd won the Grand Prix, it was such an emotional rollercoaster, and it felt so amazing after our hard work.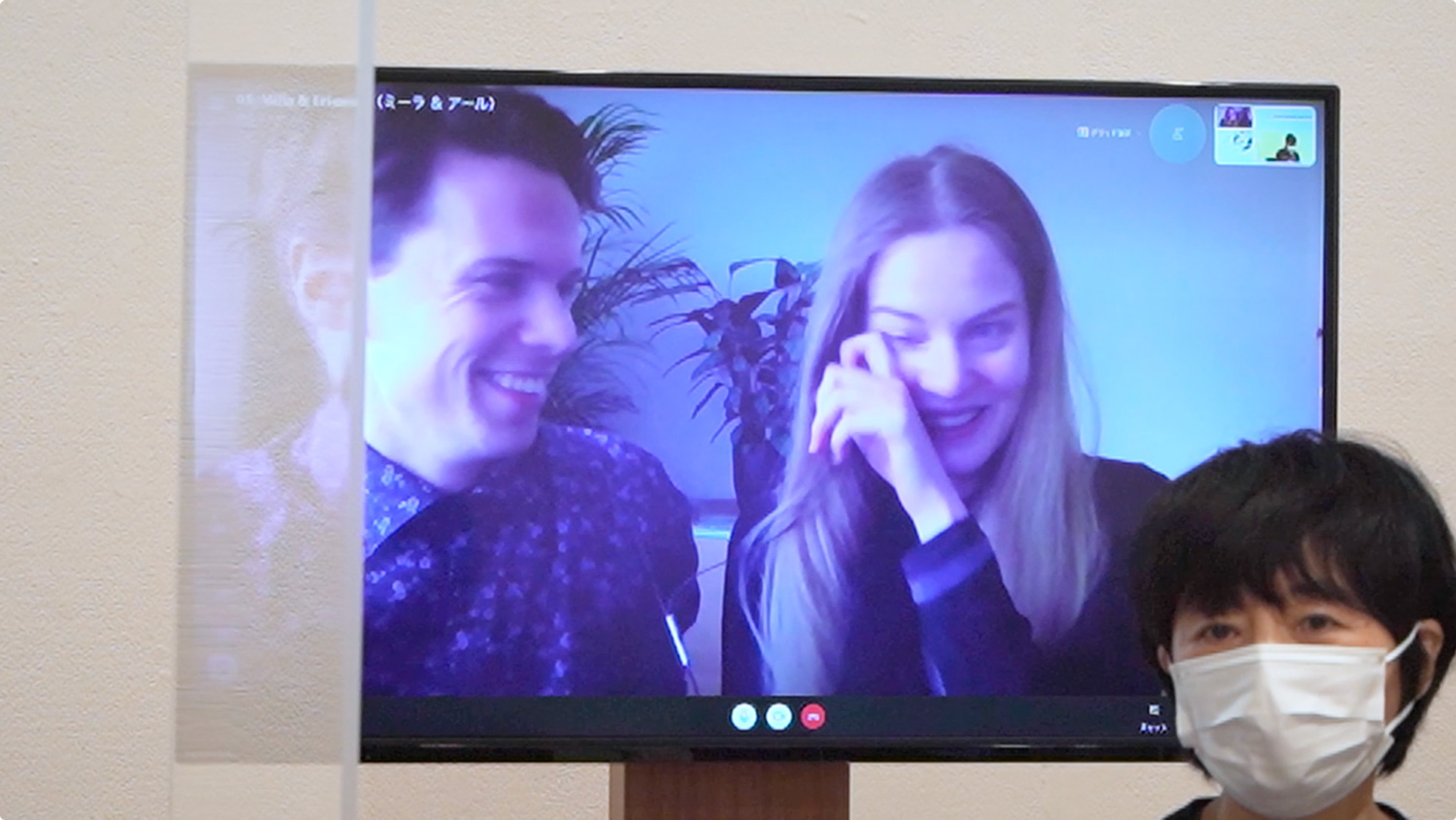 Milla & Erlend, upon hearing that they won the Grand Prix.
Love your ideas and your designs
――

Having participated in the KOKUYO DESIGN AWARD, did you notice any differences between an international competition and a Japanese one?

Milla: We've never entered a European competition. We've applied for various competitions in Asia, but the KOKUYO DESIGN AWARD in particular was well organized and well prepared.

Erlend: We were told well in advance what to submit and by when, so it was easy to plan and we could focus on finishing the design and making the prototypes.
――

With it being a Japanese award, is there anything you were careful about?

Erlend: Not really, because we've been working in Asia for a long time and have some experience. It's not like we just tried to design something that we thought people in Japan or at KOKUYO would like, but rather we tried to create a design that we ourselves believed was good.

Milla: We expected Japanese design competitions would place an importance on being simple and meticulous about detail, so we were confident that our style would be a good fit.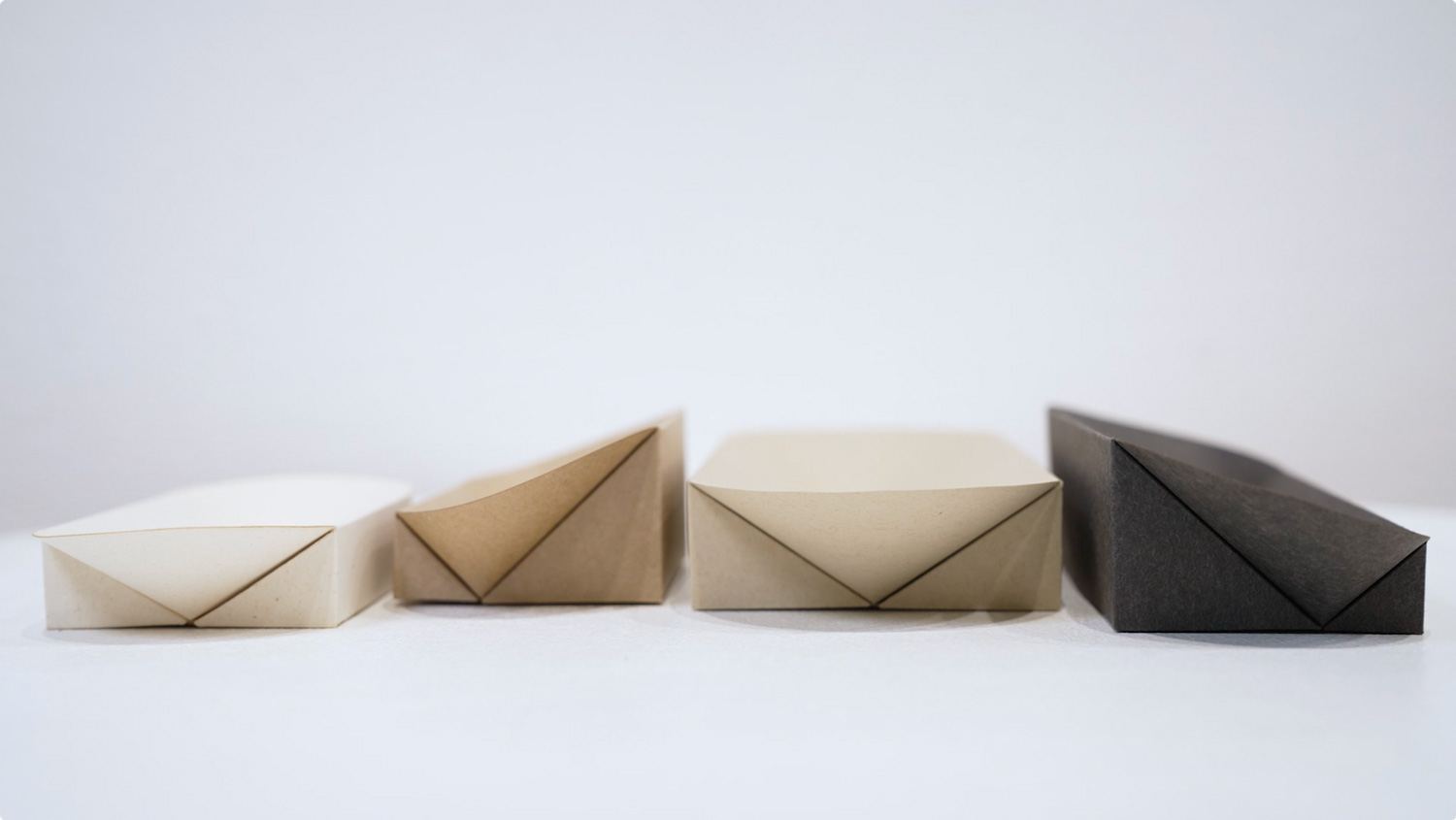 The pair produced four models. Even the sides were beautifully designed.
――

What plans do you have for Milla & Erlend in the future?

Erlend: We've just moved back to Finland, so right now we're settling down here and figuring things out. I myself would like to help make things that solve problems. I want to make small changes in the world by providing products that are easy to create and use.

Milla: Me, too. I'd like to continue making things and work on projects that will give people joy. Personally, I'd love to live in Japan sometime and work there for a while.
――

Finally, please give a message to people entering the competition.

Milla: First of all, you should cherish and love what you do. Love your idea, love the process, and love your work.

Erlend: We believed that this idea and design were good. But in a competition, you have to convey it to people and be able to convince them. To do that, you need to put your heart and soul into your work. I find that people can intuitively appreciate a product that's had a lot of care and effort put into it. That's why you should work on an idea that you believe in and care about. We hope that you have fun, and love your work.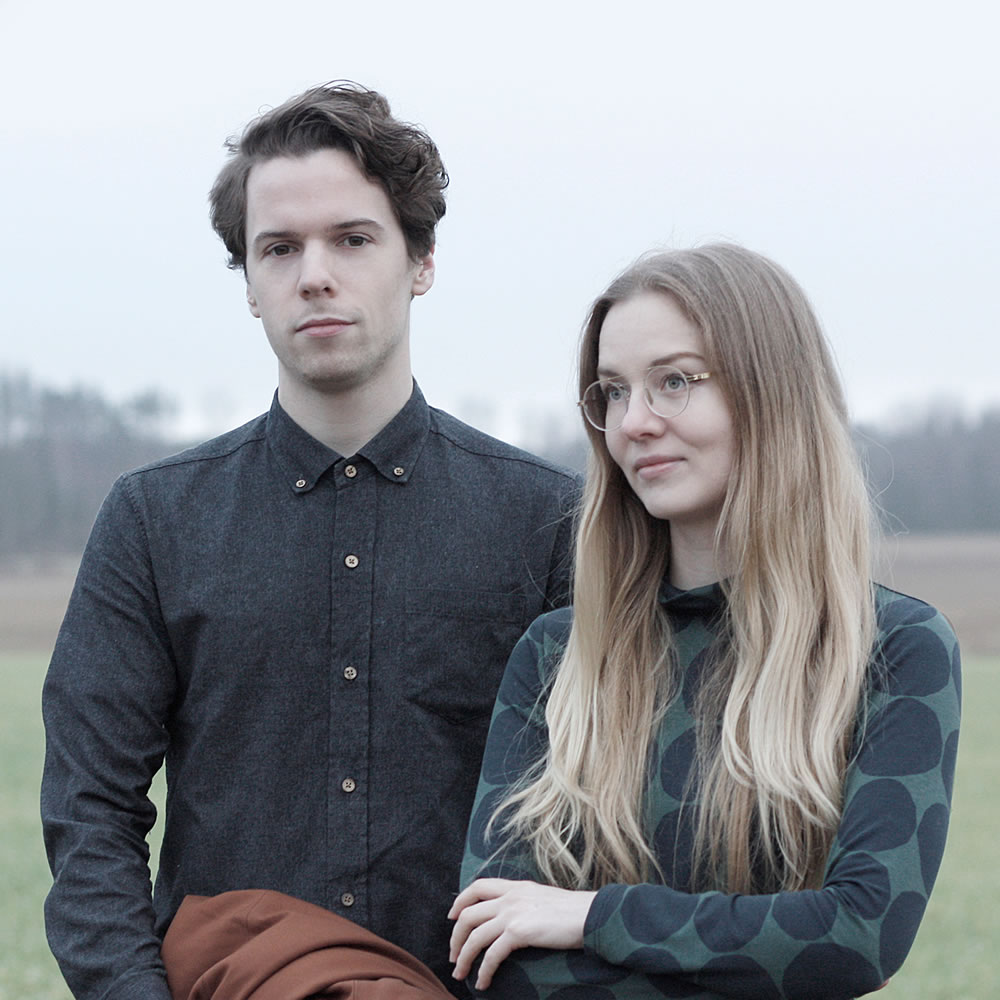 Milla & Erlend (Milla Eveliina Niskakoski and Erlend Storsul Opdahl)